In this post we'll learn about:
BTC, DOGE, LTC, XLM,TRX, BCH, XMR,BSV,ABC,VSYS and NBX
And contract transactions of ETH & ERC-20 coins( ETH, USDT, LINC, DAI, USDC, MANA, BAT, ENJ, EURS & VNDC)
Having a smooth,hassle-free and instant deposit or withdrawals process is every gamers dream! Here at BC.Game we take this seriously and we have made a super easy and convenient process for our players. As a newbie it might get a little confusing for you, so keep reading to understand the process!
(Psshh: this post can be helpful for our not-noob players too because let's face it you might have messed up with a wrong memo or tag and ended up waiting longer for that transaction to process than required!?)
DEPOSITS: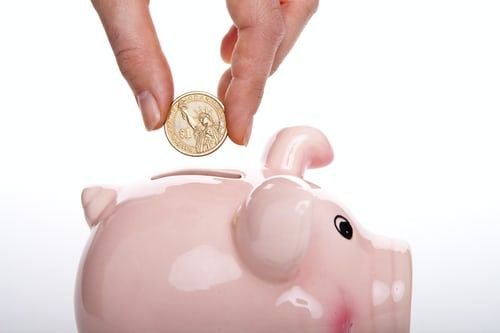 Please find below the step-by-step process of how you can deposit funds from your wallet into your BC.Game account wallet. We have also mentioned a few wallet names most compatible with the corresponding coins for our new users.
Go to your BC.Game wallet by clicking the 'wallet' icon next to balance on top right corner.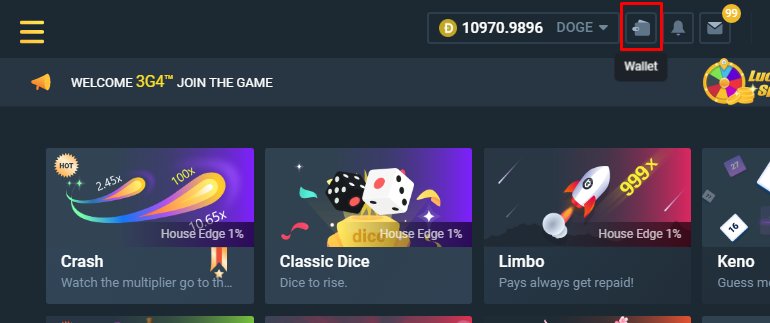 2. Now choose the coin you want to add funds in your BC Wallet. (For explanation purpose let us consider this as BTC)
3. A window with your wallet address for the corresponding coin will show up on your screen.
4. Copy this address. This is your BC.Game wallet address for the coin you chose.

5. Open your crypto wallet/exchange and select the same coin. (As in point 2, please select BTC)
6. Now click on 'Send'.
7. It will ask you to paste the address of your wallet and the amount you want to send.
8. Now paste the address you copied from your BC.Game wallet in this space and mention the amount you want to add to your BC.Game account.
8. Click 'Send'
9. Now the transaction will initiate.
Once the transaction is initiated your funds go to the Blockchain for confirmations and then reach your BC.Game account. Now sometimes these blockchain confirmations take time leading to a delay in deposit. Sadly, we cannot hasten this process as it is beyond our control. However, as soon as the required confirmations are met on blockchain your funds are sent to your BC.Game wallet which is instantly approved by our super fast system and it is then available for you to use!
Some of the wallets & exchanges liked by the crypto gamers which support multiple coins and have the minimal transaction fees are as follows:
As stated on deposit page, BC.Game wallet is not compatible with smart contract deposits for ETH. Hence kindly use the wallets such as Metamask, Atomic wallet, Trust wallet, MyEther wallet, Coinbase, etc which support non contract based ETH transactions.
Note: If you have sent a contract transaction from your Crypto wallet in error, do not worry. You can contact help.bc.game and provide the required details and we will assist you in tracking and crediting the transaction to your BC.Game account.
WITHDRAWALS: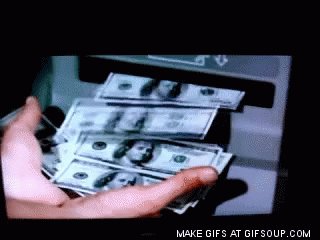 Now you have had good wins ? and want to withdraw that moolah to your own account! But you cannot figure out how to do that! ? Fret not! Keep on reading to know the super easy and instant withdrawal process here at BC.Game:
Go to your crypto wallet where you want to send your withdrawal amount to.
Select the coin.
Copy the wallet address of the selected coin from the screen
Then go to BC.Game wallet and select the same coin which you wish to withdraw
Now click on 'withdraw'
Now paste your crypto wallet address which you copied in point 3.
Enter the amount you wish to withdraw.( There are minimum withdrawal limits on each coin which is stated below the amount)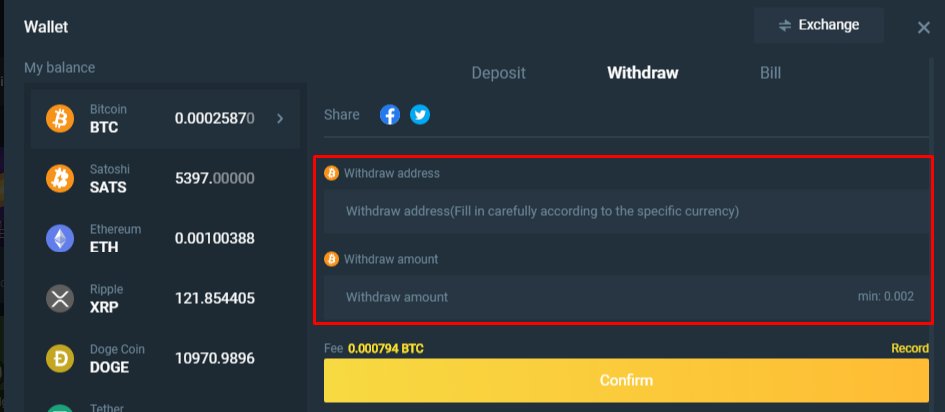 8. Now click confirm.
9. Now a pop up will show on your screen asking your withdrawal password/2FA code.
10. Fill in the required info and click confirm.
11. Now the withdrawal process is initiated and it can take 5-45 minutes to reach your wallet(depending on blockchain confirmations).
To know about deposit and withdrawal process for Coins which require memo/tag/payment id please check out part 2 of the post.