We want to share with you another piece of news! BC.Game is again recognised as the "Crypto Casino Of The Year." This time, from one of the popular names in iGaming–Affpapa iGaming.
As the voting period ended last June 24th, Affpapa recognised top iGaming industry performers. The first awarding session evaluated more than 20 nominees, including affiliates and operators. Those nominated on Affpapa are usually the biggest names on iGaming. But, there are also small industry players who participated this year.
For its first year of awarding, BC.Game got the title for being "Crypto Casino Of The Year," and one of the many reasons for receiving such recognition is how successful our platform is when closing deals with other affiliates. Of course, many other achievements made us stand out from the rest.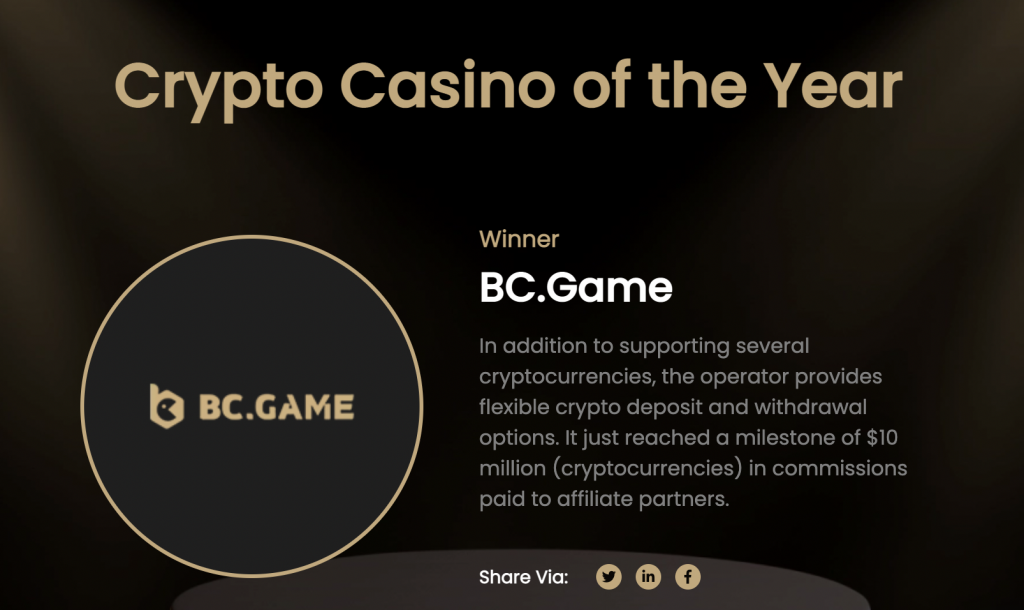 For your information, BC.Game is a highly-reputable online casino with positive feedback from the community. Aside from our user-friendly interface, our casino theme is one of our advantages, catching our players' attention. We keep our players engaged by encouraging them to use cryptocurrency for more bonuses from deposits and free spins for new players on the platform. You can also play these through a web player without installing every game. We also connect with excellent game developers and crypto providers to give our players an exceptional gambling experience.
Last 2021, Affpapa and BC.Game announced a partnership and looked forward to an excellent business relationship in the future. Through this new knot, BC.Game will be able to give players high offers and more exciting games online.
The awarding ceremony will take place on July 5th at iGaming Club Amsterdam and is expected to be attended by over 120 individuals. With its notable partners and sponsors, Affpapa iGaming Awards look for more and bigger events in the upcoming years.