Goldstruck Blasts is fast gaining popularity among online gambling enthusiasts. BC.GAME is adding this title to its extensive collection of popular slot games for users to explore.
Slot games are a vital component of online casino action. They have undergone massive improvement in the age of ever-improving computer graphics, and newer releases like Goldstruck Blasts are at the frontier of this development. Most slot games also feature simple gameplay with fascinating themes that should be straightforward for players at all levels. Nonetheless, there is always room for honing your craft and becoming a master at gameplay for individual games. Let's explore what this title entails.
Goldstruck Blasts
This slot game is a fairly recent addition by gaming studio High 5 Games. It was released in 2022 as an adventure-themed slot game on a large field. Goldstruck Blasts features six reels, six rows, and 20 pay lines, which work well for its users.
The game takes users on a mining adventure with excellent graphics. Its animations through the field add life to the game. This title is arguably the best release by High 5 Gaming yet, and its popularity a year into its release proves its quality.
A mine slot follows a fairly straightforward concept. The player gets into a virtual mine containing minerals like gemstones and gold. These minerals appear as symbols on the screen. The more characters you can collect, the more ground you can make in the mine and increase your potential for collecting symbols.
Goldstruck Blasts has a return to player (RTP) of 94-96 %, which are excellent margins, with eight pay symbols being five low and three high pay, respectively. The low pay symbols have small gems with different colors but standard pay. Notably, the high-pay symbols differ in type, and there are special symbols, including Nugget Wilds and Dynamite symbols.
Players can unlock extra features, such as free spins, upon collecting the required number of high-pay symbols. The free spins and a chance to bet on the game jackpot are the icings on the cake of an exciting gaming experience. Goldstruck Blasts can be rewarding for dedicated players because of all the extra features in the game. The mining theme has high production value to distinguish it from similar games, and players are in for a fun adventure.
What About This Game Stands Out?
Aesthetics
Goldstruck Blasts has an exciting design with precision detail and fascinating color schemes. This slot brings the mining theme to life with minerals like gems with cutting-edge graphics and explosions feeling more real than most slot games. Great aesthetics are the essence of a slot game as they aim to entertain over and above rewarding users.
The Wild Train feature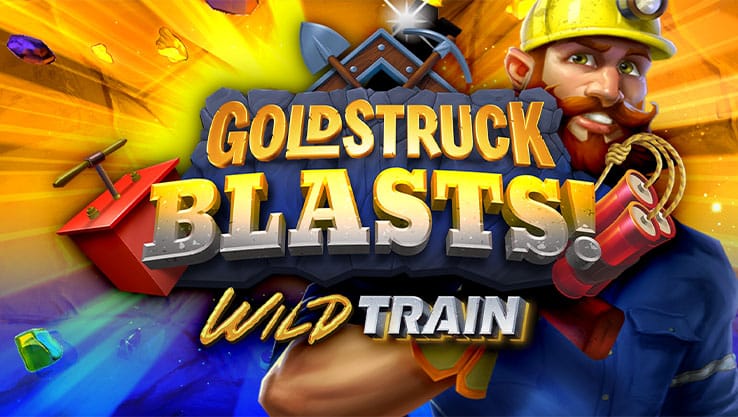 This feature only becomes active when the player gets three special feature icons alongside the other symbols in the game. The Wild Train feature allows a player to multiply their winnings considerably as the symbols overlap and allow a player to cover ground.
The Jackpot
This feature is the goldmine incarnate of Goldstruck Blasts. Players get the jackpot, which multiplies their stake by 5,000x after collecting at least 21 gold symbols in the Free Game Bonus and Wild Train Feature.
About High 5 Games

This gaming studio has been around for quite some time. It was founded in 1995 and has gradually grown into one of the most vibrant independent gaming studios. The flagship product is an array of slot games available in over 100 countries and enjoyed by millions of online gaming fans.
High 5 Games operates from New York, with major offices in New Jersey and Kansas City in the United States. On the international scene, it has offices in London and Gibraltar to guide operations in those parts of the globe. Having offices in these jurisdictions is also vital for regulatory compliance.
The expansive slog game portfolio features hundreds of exciting titles. High 5 Games is keen on detail, and games like Goldstruck Blasts will showcase an artistic charm unique to the studio. Other interactive elements within the game increase the level of engagement for users. Overall, the games are easy to understand but can suit the skillset of strategic gamers who do all kinds of analysis.
Other notable titles include Double Da Vinci Diamonds and All That Cash. Double DaVinci uses the vintage slot game theme of Leonardo DaVinci's artistry. Players explore fascinating portraits and glittering jewels as they try to win prizes. All That Cash is pretty straightforward; its theme is money and more of it. The game features unique twists, with multipliers and free spins for a chance to win all that cash!
Play GoldStruck Blasts on BC.GAME
A mining slot is as straightforward as they come. You go on an adventure in a mine and collect some precious minerals. Does it get any better?
Goldstruck Blasts has recreated the euphoria of a gold rush for users. This slot has a rewarding feeling, hence the popularity it has attained within a year of launch. High 5 Games will take some credit for the graphics work as well. This studio has cemented its place among the top independent game studios in the gaming landscape.
BC.GAME is your ultimate destination for online slot games. These solutions are possible because high-level software provider partners ensure gamers have their catalog full. The added possibility of wagering using crypto broadens opportunities for gaming enthusiasts. Explore Goldstruck Blasts today on BC.GAME.