We can't deny that technology, like artificial intelligence, has become the most influential aspect of the 21st century. From the growth of connectivity to the expansion of Crypto gambling and commerce, technology has played a direct hand in the advancement of human convenience.
One of the latest inventions and talking points in artificial intelligence and 5G and how these two integrations have played a role in online casinos. Crypto gambling is one of the main industries to gain from the growth. This article will look at how artificial intelligence and 5G are improving online casinos that accept Bitcoin.
What Is Artificial Intelligence (AI)?
Artificial intelligence or AI has become more involved in our day-to-day lives than one would like to admit. For those who use face ID to unlock devices, social media, and many other tech features, you may not be aware, but this is all AI, working behind the scenes to make life more convenient.
With people increasingly accepting the integration of AI. The gambling industry is now taking advantage of all the aspects that can help improve and upgrade an already rewarding industry.
How Does AI Benefit Online Crypto Gambling?
The internet provides more for uses than ever before. One of the most rewarding is crypto gambling, which incorporates the thrill of casinos with the advantages of cryptocurrency. As technology advances, so do the ways to win online, and with AI now integrated into the industry, the excitement is more apparent than ever.
Key factors on artificial intelligence benefit the crypto gambling industry:
AI technology improves the computers detection of gambling addicts. This is done by analyzing the data and identifying problematic behavior.
Through personalized and speedier support, AI benefits users' experience through the likes of chatbots or live support.
AI can utilize player behavior to create personalized casino bonuses based on the habits of players.
AI technology accelerates the industry's innovation, creating a more customized approach.
One of artificial intelligence's most significant accomplishments in the crypto gambling industry has been virtual reality (VR) games. VR games allow gamblers to further immerse themselves in online crypto betting.
Virtual reality casinos are gambling platforms that offer VR games. To put it simply, a VR casino is a digital version of a brick-and-mortar casino, which can be enjoyed anywhere. To take full advantage of VR gambling, players will need to pick a platform that supports the games, as well as utilize a VR headset.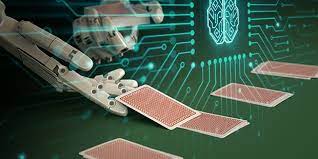 What Is 5G?
5G has been a buzzword for quite a while now, triggering people's interest-based in its advanced opportunities and upgraded systems. 5G is the 5th generation mobile network, which revolutionizes the market, empowering users with a faster, more secure, and highly adaptable internet access point.
Out of all the crypto gambling sectors affected by 5G, sports betting will be the easiest to see. Providing easier in the moment betting, customized content, products, and real-time data without the worry of lost connection caused by the current limitations of weak network coverage.
Another side of gambling that will benefit from the use of 5G is the live dealer titles. 5G will now provide a more seamless and interactive approach. It's estimated that by 2024 74% of mobile traffic will adopt the video format. This goes to show why 5G is incredibly beneficial for the virtual crypto gambling market.
How Does 5G Benefit Online Crypto Gambling?
Online gambling continues to grow, which can be attributed mainly to technology and offers like 5G and artificial intelligence. 5G, on the one hand, has done a phenomenal job at speeding up the operations and improving the security of the industry while keeping the integrity of the fun.
Besides that, 5G provides players with a larger gaming capacity, faster connections, and more reliable networks. With these benefits, gamblers can play more games simultaneously.
Key Factors of 5G On The Crypto Gaming Industry
It provides increased result rates, making surfing the web easier and more efficient.
5G allows players to utilize instant betting across casino and sports games.
Allows for the fastest game access, with high-quality graphics and gaming features.
Improves gaming control and security
Crypto Gambling Is An Industry With Endless Potential
Since the beginning of time, gambling has held a place in the entertainment industry. As things start to advance, so do the opportunities the industry offers. With technology expanding at a drastic rate, who knows where we could be in ten years' time. If the success rate of the gambling industry is anything to go by, we are destined for a dynamic and reading adventure.
Conclusion
Join the online gambling ecosystem and enjoy all there is to offer. As time goes by, the opportunities to win expand. If there ever was a time to take up ways to pocket the extra cash, it is now!