What is Rakeback at BC.GAME? And how does Rakeback work for crypto casinos? This question will be explained to you in this article in great detail. Let us first begin with understanding what Rakeback means. If you are a beginner at crypto gambling or an experienced player, you may have heard the term 'Rakeback' tossed around in conversations many times! You might have noticed pro players stating how they have used their Rakeback to play and win more!
What is Rakeback?
'Rake' is the money the "house" (in this case, the site) makes directly from the players. In a game, the house takes a small amount out of every bet, which goes into the site's revenue. Rakeback enables you to get a percentage of the money back that the house took from you in rake. In easy words, it's a 'cash-back' reward for a player! Rakeback is a continual and never-ending rebate in an online casino. Many crypto gambling sites do not offer Rakeback to their users as it is free money for the user to grab!
History of Rakeback
Rakeback began as an innovation developed by poker site affiliates. These affiliates partnered with online poker rooms to make new users register. In return, the affiliate got a fraction of those players' NGR (net gross rake) as commission. Some affiliates began sharing this money with their references to lure people to sign up through them rather than through their competitors. These monthly Rakeback deals were made because that's how often affiliates got paid, and the RB cash would come straight out of the affiliate's pocket.
Rakeback at BC.GAME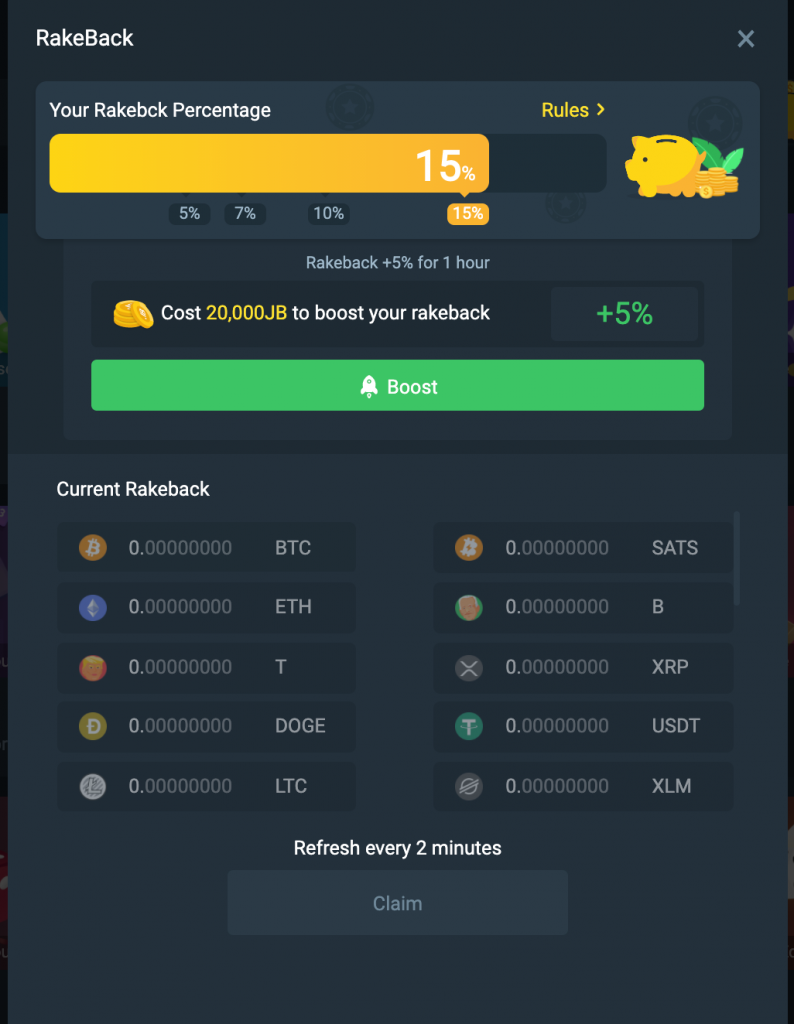 BC.GAME has, however, streamlined this process. Every player (level 14 & above) who places even one bet on any game on BC.GAME is eligible for Rakeback!
Level 14- 21. = 5% of the House Edge
Level 22-29. = 7% of the House Edge
Level 30-37. = 10% of the House Edge
Level 38 & above. = 15% of the House Edge
As per the chart above, your percentage of Rakeback at BC.GAME keeps increasing according to your levels!
You can easily calculate your Rakeback with the following formula:
Rakeback = Wager x 1% x (percentage according to your level)
Example: Suppose you are on Level 33 on BC.GAME. You are eligible for a 10% Rakeback as per the table above. Therefore your Rakeback will be calculated as: Rakeback = 5 x 1% x 10%
You can also boost your Rakeback percentage for one hour using your JB coins!
20,000 JB coins will boost 5% of your Rakeback percentage by one hour! Rakeback details are refreshed every two minutes. It is, however, ready for you to claim every 30 mins. You can see the details of your Rakeback based on your coins by clicking on the Piggy Bank icon on the top menu bar of the site!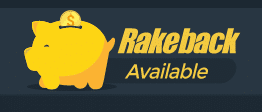 Rakeback is usually permanent – as long as you keep playing, you'll keep earning Rakeback regularly. In this respect, it's better than bonuses, leaderboards, and other similar promotions, which are only active for a limited time. You can explore BC.GAME Rakeback if you'd like to benefit from steady cash infusions to your wallet!