Crypto casinos and crypto gambling are growing in popularity as the world of cryptocurrencies continue to expand and gain more momentum. Most people have at least heard of Bitcoin, but crypto in its entirety is a vast and seemingly complicated territory.
It is so vast that crypto coins can be categorized into several groups, depending on their use cases. If you are a gambler at heart, already a crypto expert, or wish to dip your toe into the world of crypto gambling, take a look at some of the most popular stablecoins, the best crypto casinos for stablecoins, and what doors they may open for you.
What is a Stablecoin?
Stablecoins are a category of cryptocurrency. The reason stablecoins have 'stable' in their name is that their value is pegged to either a fiat currency like EUR or USD or even to another cryptocurrency.
What makes stablecoins popular amongst crypto fans, gamblers, and investors, is that this digital currency is less susceptible to volatility, unlike other cryptocurrencies. For gambling, this is especially great since you can reduce the risk. When you play with stablecoins, the volatility is eliminated, and players don't have to gamble with the coins and their betting.
They are more common than you think – your favorite casino probably offers several stablecoins payment options for crypto gambling. Stablecoins belong to well-known cryptocurrencies such as Tether, Dai, Binance, etc.
What Makes Stablecoins Different?
Why and how exactly are stablecoins different from regular cryptocurrencies?
Firstly, they are less volatile than some of the most popular cryptos, like Bitcoin, and consequently, they are a safer option for long-term investments or even for crypto gambling.
Stablecoins technically fall under a larger category of crypto tokens. Cryptocurrencies like Bitcoin or Ethereum are created on their own blockchain and, therefore, according to the strictest definition, are considered a crypto coin. Tether, in contrast, is also a stand-alone crypto, but it was built on Ethereum's blockchain. Transactions with crypto tokens naturally take place on the blockchain that the token operates on, and in the case of Ethereum, smart contracts are utilized.
As already briefly noted, some crypto tokens are also referred to as stablecoins since their value is tied to fiat money or other cryptos. Tether is a perfect example once again. Tether's value is pegged to that of one USD (or EUR, CNH, XAU, or MXN), and as a consequence, it does not fluctuate as much as the values of some other, more volatile cryptos.
Exciting Facts About Stablecoins:
At the time of writing, CoinMarketcap currently lists 99 different stablecoins. 10 of them make it to the top 100 coins by market capitalization list: Tether, USD Coin, Binance USD, Dai, TrueUSD, TerraUSD, Pax Dollar, Neutrino USD, USDD, and Fei USD.
The higher the stablecoin market cap is, the more represented it tends to be in casinos. This is unsurprising since a higher market cap also means more interest in that particular coin.
Tether is the most popular and common stablecoin out there, being provided to gamblers as a playing currency in over 70 % of all crypto casinos. It is followed closely by USD Coin and Binance USD.
Players can typically find around 8 stablecoins to make deposits and withdrawals at different crypto casinos: Tether, USD Coin, Binance USD, Dai, TrueUSD, Pax Dollar, Gemini Dollar, and STASIS EURO.
BC.Game is a rare crypto casino that offers STASIS EURO as a crypto gambling currency.
The Most Popular Stablecoins in Crypto Casinos
Most players and gamblers who like to take their hobby into the online environment value anonymity, security, and safety when making transactions. Crypto casinos are aware of this, and more of them strive to provide their punters with precisely these conditions. Still, they also wish to give them a choice to select a cryptocurrency that suits them best – be it the most popular one or the rarest one on the market, be it a token or a stablecoin. Some crypto casinos like BC. Game even has its own internal currencies that provide its players with several benefits.
But first, let's look at the most popular stablecoins that you can get to play with at the crypto casino of your choice:
Tether (USDT): Tether, the world's first and largest stablecoin, is one of the most popular. Its value was pegged to that of 1 USD, but it is important to note that Tether recently dropped below 1 USD. Tether has been criticized for lack of transparency in the past, but it remains one of the most well-known stablecoins on the market of crypto gambling and other investments. Its withdrawal fees range from $0 on some exchanges, but the average is around $12.
Dai (DAI): Dai also operates on the Ethereum blockchain network, and like several stablecoins, is also pegged to the value of a USD. They have a multi-collateral option and rely on smart contracts to guarantee transparency and increase the stability of this crypto coin. Dai's withdrawal fees start at $0.004, to about $11 on average.
Binance USD (BUSD): BUSD is also pegged to the USD, and was created by one of the largest crypto exchanges, Binance. BUSD is thus its native stablecoin, and its primary goal is to optimize and increase the speed of digital transactions. Its withdrawal fees are free on Bleutrade but average at around $13.
With more and more crypto casinos online opting for a wide variety of payment options, there are many choices on the market. You may choose your favorite crypto gambling casino based on various criteria. Perhaps you value a good bonus or loyalty program. Payment options are one of the top priorities for many gamblers and players alike.
One of the top casinos for stablecoins and crypto, in general, is BC. Game. BC. Game casino allows you to deposit and withdraw in various cryptocurrencies. Still, they also have their internal currency (or token) that provides you with several benefits, called BC Dollar. Besides BCD, you can pay with USDT, BTC, ETH, LTC, DOGE, etc. And, as already mentioned, BC. Game casino is one of the rare few crypto casinos (possibly the only one) that offers you the opportunity to play with STASIS EURO stablecoin.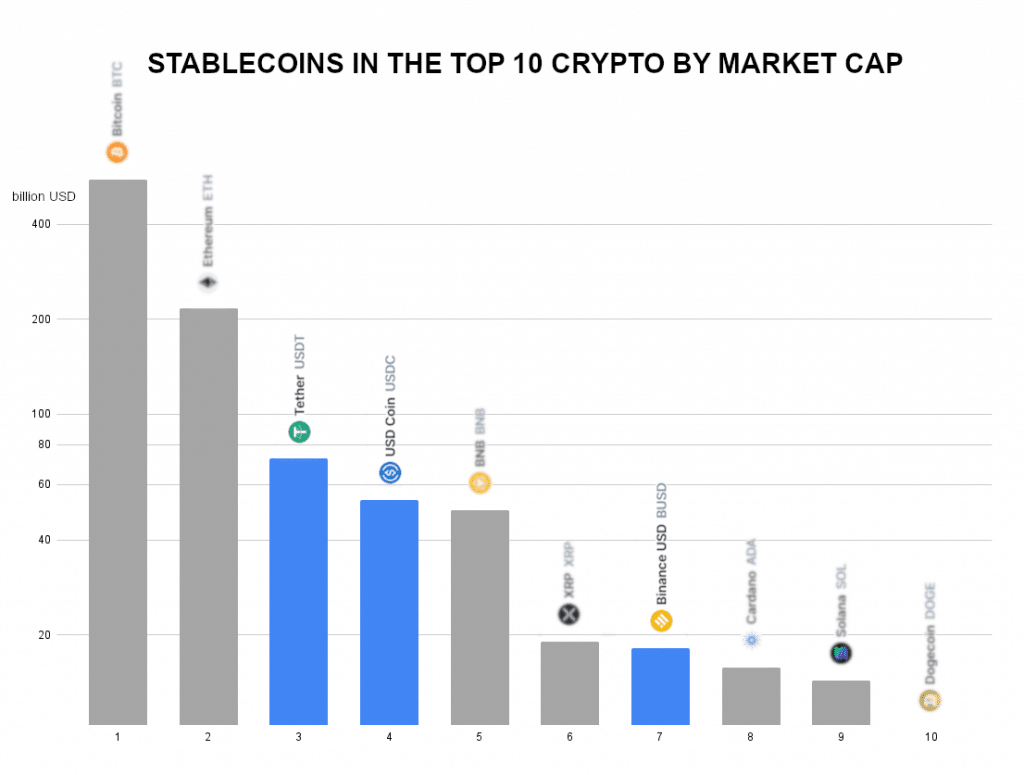 Stablecoins versus BCD
BCD, or BC. Game dollar is BC. Game casino's very own currency.
BC. Game casino is one of the top crypto casinos because it has a significant number and various online games. It has a large selection of cryptocurrencies to play with and its very own BC. Game dollar.
BCD is the casino's on-site currency that gives you many advantages and improves your casino experience. You can use the currency to play games, for coin drops and rain. You can get up to 10 % annualized rate of returns for storing BCD in the Vault Pro and many more features.
Securing some of your own BCD is very easy. By registering at BC. Game Casino and becoming their player, you can acquire BC. Game dollars. Players can do this by taking part in their tasks, making deposits, partaking in the daily spin, or even taking a more direct route and exchanging your other types of crypto for BCD via BCSwap.
You also don't have to worry about volatility. BC Dollar is a stablecoin, pegged to the USD. The value of one BCD equals one US dollar, so it is pretty similar to many stablecoins out there. Although it is less known and widespread than some, it has excellent benefits for BC. Game players.
Technically speaking, BCD could be classified as a utility stablecoin – its purpose is to be used as a stablecoin in the casino to gain certain benefits and even earn money. Compared to other stablecoins on the market (where some are also utility tokens), it can't be traded, bought, or sold in crypto exchanges, as its use is explicitly tied to BC. Game.
Conclusion
What is the best stablecoin for crypto gambling? It depends on your individual preferences. Overall, stablecoins are an excellent investment as their value does not fluctuate and is pegged to another asset or currency. Stablecoins like BC. Game's BCD is also worth considering due to its added benefits for crypto gambling, especially if you are a loyal member of a casino with its own on-site crypto token.