Virtual reality or VR games are a new craze in the tech world. Recently, online casinos have started to integrate the offer with high-quality games, which require VR headsets. These games offer many player benefits, like increased engagement, more significant offers, and big cash wins.
Gaming has improved tremendously in the last ten years, offering more game variants and contributing software providers. From where it started to where it is now, the gambling industry holds much to be desired.
The best part is that more players can participate in the experience with the progression of moving online. Secondly, VR games enhance the already inclusive and engaging experience, appealing to a bigger player pool.
This offer of VR games contributes to general games and casino titles and allows players to hop online and step into a virtual reality setting.
What Is VR Gambling?
Virtual reality gambling, or VR gambling, allows casino lovers to enter the ultimate experience. This opportunity to enjoy a virtual experience at home is hard to turn down, and now anyone can get involved; all they need is a VR headset.
Microgaming is one of the first software developers to get involved in VR gambling. Microgaming has taken the title as one of the most reputable software providers in the game, with thousands of titles to showcase to its players. Unsurprisingly, Microgame made the first move and created a VR roulette game involving high-quality graphics with engaging gameplay and features.
VR gambling is an excellent way for players to up the intensity of their experience and steps into a virtual recreation of the Vegas Strip. Although this is the most popular theme, casino games offer plenty of adventures, and as technology expands, more opportunities will be available for players to get involved.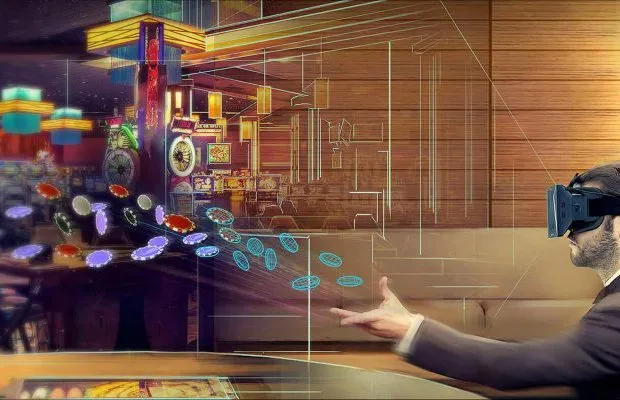 What Is VR Gambling?
Advantages of VR for games at casino sites
VR gambling allows players to read and observe hand and body language and gestures.
Authentic casino sounds and surroundings replicate the atmosphere of a brick-and-mortar casino.
Enhanced graphics and features help players feel fully immersed.
Realistic casino game designs.
3D game tables, where you feel part of the action by sitting at the table.
The online gambling experience becomes much more entertaining and social with in-game chats!
Disadvantages Of VR Gambling
VR gambling has many positives, which can somewhat outweigh the disadvantages. Although that may be the case, players need to know the potential drawbacks.
The most significant disadvantage is inclusiveness. With the need to have new gear to get involved, VR gambling could segregate the market, making it harder for some to get involved. A way to improve the prospects of this outcome is by increasing the production of VR sets and lowering the selling price to make it affordable for all.
Other Gambling Categories To Try
The gambling industry continues to grow. Whether online or land-based, casino games are more adventurous and entertaining than ever before. If you enjoy the thought of fast-paced fun, try out new gambling options like esports or virtual sports.
eSports is one of the top trends, offering players 24/7 access to the industry's most action-packed opportunities. eSports involves video games like CS:GO, Leagues of Legends, Warcraft 2 and many others.
VR For Games
VR for games has improved the prospects for profits, allowing for a more interactive and reality-driven experience. With all the growth BC.Game saw in the recent month, it wouldn't be surprising if the site branched out into VR for games.
Great games for VR gambling include Fifa and Hitman 3. Just about any game can be transformed into VR with the assistance of the right equipment, like a VR headset. As the market grows, more online casinos will start to offer the option of VR with games.
In the meantime, players can gain the upper hand by getting familiar with current VR games and technologies. Learn how to engage with the games and get comfortable with the controls. VR games also bring a new betting opportunity, allowing gamblers to wagering on VR game outcomes.
Conclusion
Start your gambling evolution today by getting in with the latest online trends like VR for games, esports and NFT casino games. If that is not enough, head to BC.Game and try out all the house and live games on offer, with the chance to claim the daily free spin, giving away up to 1 BTC per day!