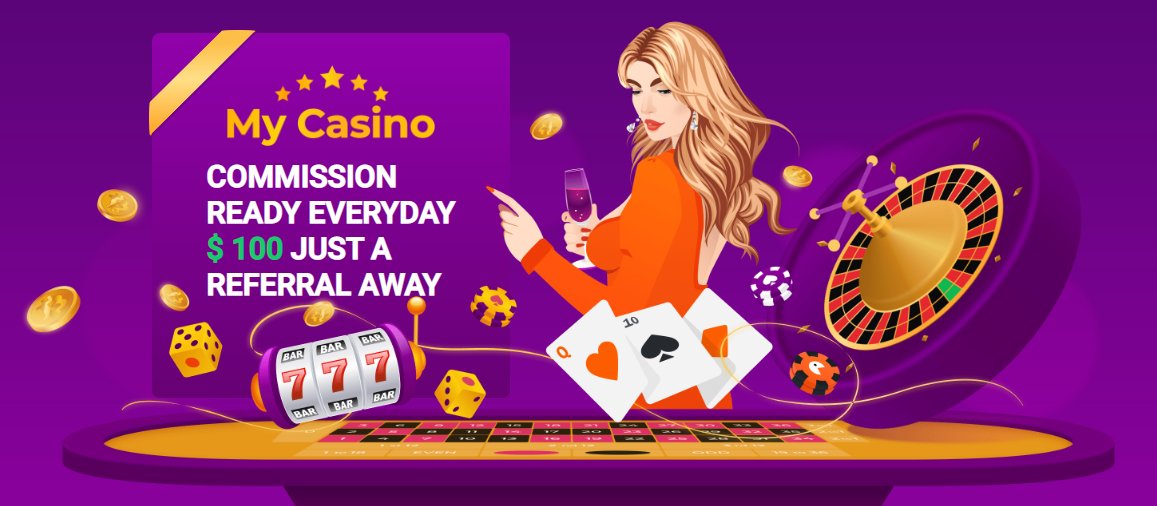 A referral program or an affiliate program as we call it is nothing but a reward system for users to bring in new users through them! It simply means you will get reward if a user joins via you and plays on the site!
It is a win-win situation as the casino gets new users and you get rewards for bringing in the new user! It is a passive income opportunity of a lifetime for you as you will keep earning as and when the user keeps playing!
In this post let us learn about the new 'My Casino' referral system here at BC.Game:
MY CASINO USD REWARDS:
BC.Game offers a 'My Casino' USD rewards over and above the normal commission rewards for referring users.
My Casino USD rewards is a total amount of $100 divided as a reward for every level up between level 3 to level 22 for every referral that joins via you. That means over the period of time when your referral achieves new levels upto level 22 you will earn extra USD over and above your normal commission rewards!
Is the 'My Casino USD reward' applicable on VIP referral transfers?
Now many of you might have your buddies do a VIP transfer from other casinos to BC.Game. Suppose your friend does a transfer and gets a level 13 at BC.Game. In that case you will receive only the next level reward when your friend reaches the next level i.e level 14 and so on for the next achieved levels upto level 22. It is not applicable on the levels which have been directly achieved by a transfer process. Users are eligible for rewards for levels achieved through wagering.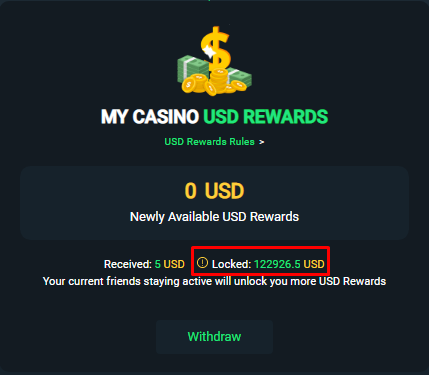 As you see in the above image, there is a 'Locked Fund' amount mentioned. This is nothing but your own rewards which you will gradually receive when your referrals upgrade and achieve a new level.
For eg: if you have 50 referrals and as per the 'My Casino USD Rewards' each referral will give you $100, then the total locked fund will be 50*$100=$5000
But this amount will gradually and step by step unlock only when any of those 50 referrals level up.
You can refer the detailed level up reward table below: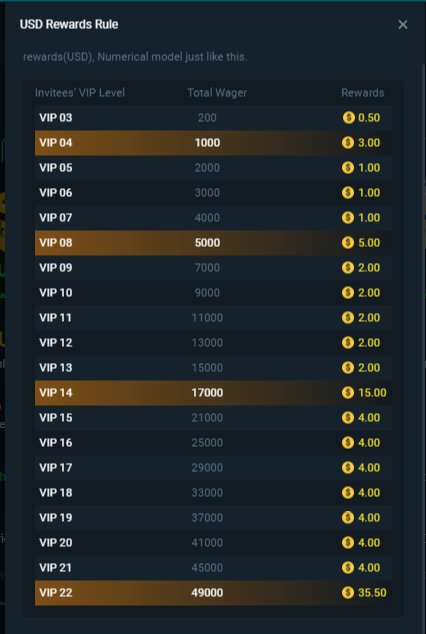 MY COMMISSION REWARDS:
It is simply a passive earning way for you as you earn commission rewards when someone you referred plays on BC.Game. You will earn irrespective of your referral winning or losing!
A small percentage of your referrals wager amount will be calculated based on the following formula as a reward for you!
Your Commission= REFERRAL WAGER x HOUSE EDGE x 25%
House Edge is different for every game and it ranges from 1% to 2.7% depending on which game your referral plays.
Roulette : Wager x 2.7% x 25%
Oriental Beauties: Wager x 2.1% x 25%
Blackjack: Wager x 0.48% x 25%
Saviour Sword: Wager x 2.1% x 25%
Other games: Wager x 1% x 25 %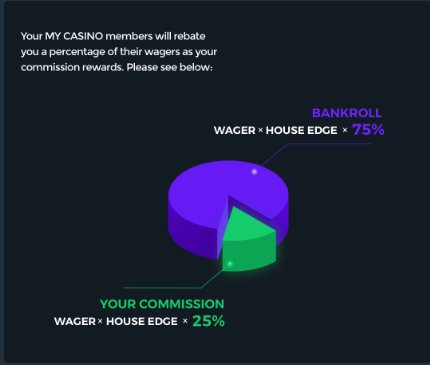 Please note that commissions are calculated once every 24 hours.