Blockchain is already disrupting and transforming industries across the board. But blockchain games user interface (UI), sensible functionality, and user experience (UX) that ultimately lead to its progress. There are two aspects of blockchain, helping the technology stand out: transparency and decentralization. The latter enables crypto gambling dApps to diffuse control to the gamer.
On the other hand, the rise of some of the best crypto games has come by maximizing the advantages of launching from a transparent platform.  All their gaming activities, be it payouts and whatnot, can be viewed transparently by coin depositors.
Whenever they play Bitcoin Crash or spin the Wheel, their odds of winning can be seen by everyone. Admittedly, beneath the chatter of blockchain and its potential are on-chain problems that can't be discounted. 
For instance, blockchain isn't yet shooting to the stars because not everyone accesses the internet. Under their inaccessibility, would-be gamers can purchase and hold cryptocurrencies that prime leading blockchain gaming, including Bitcoin gambling games.
The good news is online gaming platforms like BC Game are cognizant of these challenges. 
They have made it their objective to support as many tokens as possible and launch as many games as they can without sacrificing distinctive characteristics that make them so desirable. And most importantly, made their user interface (UI) intuitive and easy-to-use. 
By this, it means gamers can easily navigate, wheeling through the different offerings, and dabble once they deposit any of the over 15 supported cryptocurrencies.
The User Interface (UI) Problem
Still, across the board, blockchain games are struggling with cracking open the user interface problem. Blockchain games user interface(UI) directly impacts experience. To get the hang of how this is consequential, a better understanding of what user experience(UX) means is essential. 
According to a Nielsen Norman Group definition, user experience (UX) entails meeting the customer's exact needs without fuss from a simple yet elegant user interface that brings joy to own and use as it superseded client expectations. 
From this, it boils down to usability. This simply refers to the ease of use by a user interfacing with the technology. There are different heuristics to measure usability. Some of them include memorability gauged by the comfort of the gamer to re-establish proficiency after some times, learnability measured by how easy it is for a gamer to navigate on the first date of interaction, and error rate determined by the number of errors made by the gamer and how quickly they recover.
When combined with inaccessibility in some instances, the above explains why blockchain gaming is yet to be widely adopted and push the wheel despite its offering. 
A poorly designed interface has a bearing on usability. In some instances, the process of signing up and understanding how to interact with the application can be arduous, confusing, and involve a lot of steps and complicated procedures. Connecting to the user wallets, identifying the deposit and withdrawal wallets, redeeming profits, and others can be complex, mostly when the correct website wireframing isn't done. 
Improving the Blockchain Games UI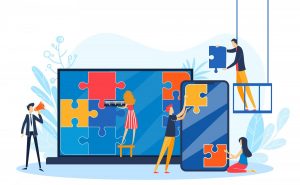 For new users, getting to wade through applications via unconventional user interfaces (UI) can be a steep learning curve forcing some to revert back to centralized gaming applications despite their advantages. 
Therefore, for blockchain gaming, they can focus on building superior applications with baked-in benefits. Still, they can, at any time, ensure ease of use, diversifying their objectives to cut across gamers of all categories.
Investing in the user interface (UI) often translates to better onboarding rates. Besides that, there will be confidence, accelerating use.
Clearly, how well blockchain gaming will find traction lies in how well gaming developers will take it upon themselves to create a simple path for gamers-most of whom are transiting from traditional settings. 
A big part of this will be creating modules from the consideration of the decentralization feature and their main value proposition, i.e., channeling funds from and to their wallets. This can prove a hard nut to crack, more so when the would-be gamer doesn't understand what cryptocurrencies are in the first place. 
Education and Iteration
The immediate solution that could ultimately help in better transition and conversion is education. Already, there are incentivized campaigns across the broader blockchain community towards that end. 
However, perfection also lies on the blockchain gaming companies. Depending on their efforts and comprehension that a suitable UX can't be found in the first iteration, their determination and further experimentation on their first interface styling would go a long way in adoption. 
Blockchain gaming developers should walk closely with designers to launch a user interface with usability in mind. In this case, there should be a form of ingrained advocacy for every step a new gamer makes in their interaction. 
It will be retrogressive for blockchain gamers to build very secure games that get the job done but end up being scrappy, confusing, and experimentally bland for new gamers. Blockchain games user interface (UI) and user experience (UX) should go hand in hand.
For the success of blockchain gaming, developers should work hand in hand with designers to launch not only secure and functional gaming with options, but their user interface (UI) ought to be clean, aesthetically pleasing, and provide better navigation experiences improving memorability and learnability.