The world of crypto has been exploding since the start of the pandemic. From that point on, several new cryptocurrencies entered the market. They have brought with them exciting projects to entice budding investors.
Playing at the best crypto casino or dabbling in some online shopping may tickle your fancy. But, many people are turning their attention to exploring up-and-coming cryptocurrencies. It is to diversify their portfolios and maximize their returns.
It's common knowledge in the market that not all new crypto projects live to tell the tale. Sometimes, investors risk the funds they commit to new cryptos entering the market.
One such cryptocurrency was Grumpy Cat Coin – a project belonging to Grumpy Finance. This project offered plenty of promise for investors. Yet, stakeholders abandoned it at the end of the day, leaving everyone in a tailspin. Read on as we explore more about Grumpy Cat Coin. Besides that, we look at how Pawthereum capitalized on this exciting project.
What is Grumpy Finance?
Grumpy Finance started as a decentralized global community with a mission to help vulnerable animals. Their mission was to bring the world a new use case for cryptocurrencies and DeFi. At first, developers launched it on Uniswap as a cat-themed crypto coin.
Over time, its trading volume surpassed an impressive $6 million at its peak. The central concept of Grumpy Finance was that token holders could earn rewards from 1% of every transaction fee charged. With each transaction, token holders would receive an instant distribution into their crypto wallets.
The Grumpy Cat Coin Project
Grumpy Cat Coin came into the world in February 2021. The purpose of Grumpy Cat Coin was to offer charities, especially animal shelters, an innovative way to accept donations. But after showing promise, the developers abandoned the project for personal reasons.
March 2021 helped a glimpse of optimism as the crypto community tried to revive Grumpy Cat Coin. Volunteers came on board to help rebuild and revitalize this project.
It led to increased investor interest. Now, the project appeared to have dedicated leadership. It also had a solid and committed community and a clear vision to help vulnerable animals while generating a passive income for its members.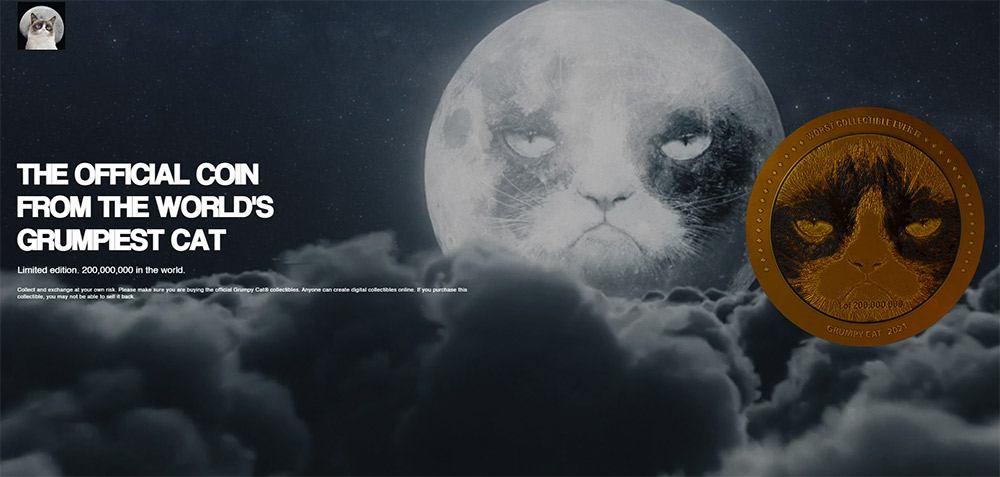 While several popular crypto exchanges listed Grumpy Cat Coin, you couldn't use fiat currencies to buy it. Even so, it was easy for investors to get their hands on Grumpy Cat Coin with Ethereum.
Grumpy Cat Coin's community drove the charity rallies it's famous for. In every case, the demonstrations supported organizations that focused on vulnerable animals. It was a cause close to many people's hearts. So, it wasn't long before Grumpy Cat Coin gained a loyal investor following.
NFT Auction
The coin's popularity was evident in an NFT auction in the first part of 2021. An NFT of Grumpy Cat managed to garner over $70,000 in its first charity drive. The NFT in question was based on a photograph of the original online grumpy cat – Tardar Sauce – who won the hearts of millions across the globe back in 2012.
Sauce's unmistakable frown inspired Grumpy Cat's NFT, which has since become known as the "Worst NFT Ever." Despite this, the auction hosted by Foundation NFT Marketplace closed at 44ETH or roughly $78,000 at the time!
At the time, the Foundation NFT Marketplace described the Grumpy Cat NFT as an "Original remastered Grumpy Cat photographic image. This special keepsake is available as a 1/1 authenticated edition NFT. Arguably the planet's most famous feline, Grumpy Cat is a New York Times bestselling author, the star of her Lifetime Christmas movie, and the first cat in history to be honoured with a Madame Tussaud's wax figure. Grumpy became a pop-cultural icon on September 23, 2012, after her frowning photo was posted to Reddit."
With all this talk about Grumpy Cat Coin, you might want to know where Pawthereum comes into the picture. Well, let's dive a little deeper and find out the story.
How Does Pawthereum Fit In The Picture?
Pawthereum is a decentralized global community. Its purpose is to help vulnerable animals while introducing new use cases for cryptocurrencies and DeFi. According to its website, the platform is a digital advocate for needy animals.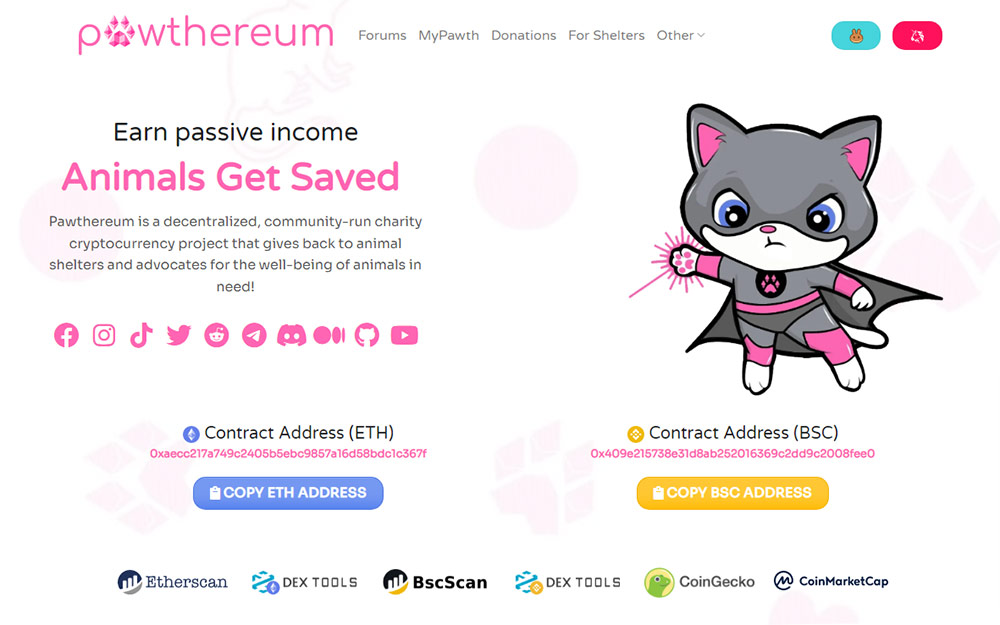 Pawthereum is a branch of Grumpy Finance – Grumpy Cat Coin's parent company. As mentioned earlier, investors abandoned the project. It was in part due to the trademarked "Grumpy" name. Volunteers tried to revive the project in March 2021. But, there were ongoing legal issues to deal with.
These legal matters saw the creation of Pawthereum with its token $PAWTH. Also, they had a clear vision centred on vulnerable animals' well-being. Within the new project sat a dedicated leadership structure.
In essence, Pawthereum is a community-run charity crypto project. It operates on an Ethereum blockchain, run by an all-volunteer team that rescued, rebranded, and revitalized the abandoned Grumpy Finance project.
Pawthereum and Blockchain
On Pawthereum's platform, the $PAWTH token has a built-in charitable feature. It sends a percentage of every transaction to a charity crypto wallet voted on by Pawthereum token owners.
Pawthereum is all too aware that smaller animal shelters struggle with finance. They are often overlooked and overshadowed by larger animal charities that get the lion's share of donations and aid. With that in mind, Pawthereum was created to be the champion for the little guys. As a result, it is to become the leading disruptor of charitable inclusion.
Pawthereum aims to do this by leveraging the benefits of blockchain technology to gain funding. It bypasses the middleman in the process, allowing donors to contribute directly to smaller animal shelters worldwide.
Their vision isn't only to provide aid to animal shelters. They also have grand plans to educate animal-based charities about the advantages of decentralized finance and digital asset ownership – critical components of their long-term roadmap.
It appears that Pawthereum has successfully taken the mantle from Grumpy Cat Coin. It has the potential to transform the fortunes of smaller animal charities across the globe and safeguard the rights of vulnerable animals. Doing so will keep the flame of Grumpy Cat Coin alive.
Pawthereum's Impact
Pawthereum has made charitable contributions that total more than $72,000 in donations at the time of writing. It's a figure that is rising with each passing day. Pawthereum has grand plans to exceed that figure in the coming year and has already made significant strides to reach its goals.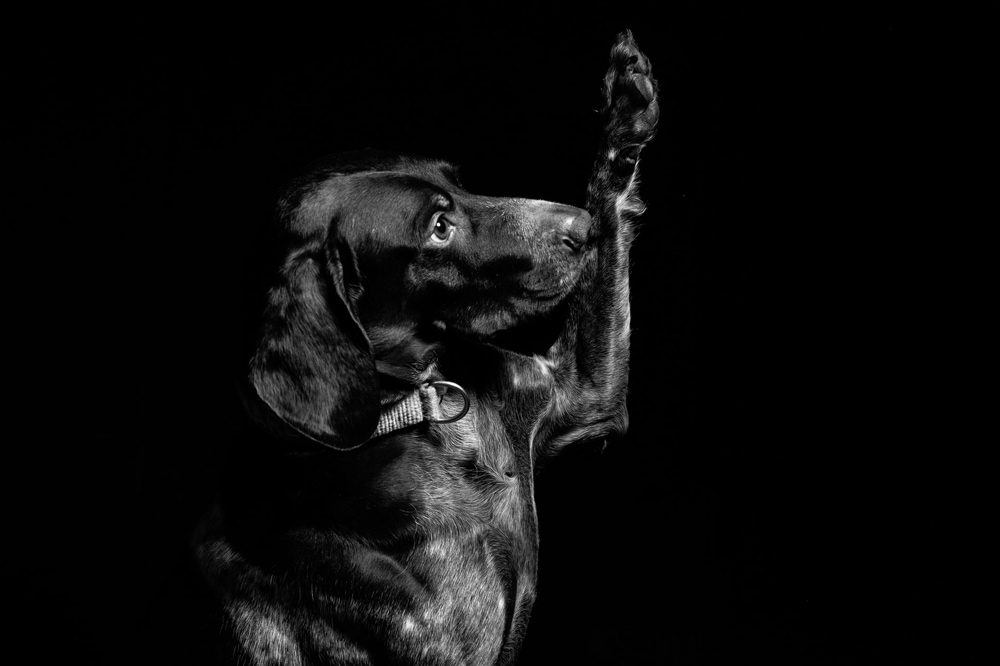 Project leader – Nawzad Amir – is optimistic about the future of Pawthereum. He recently remarked, "We aim to become a leading disruptor of charitable inclusion by utilizing blockchain technology to obtain funding, bypass the middleman, and donate directly to smaller animal shelters worldwide who need assistance. The vision behind Pawthereum is not limited to providing aid to animal shelters. We also plan to educate animal-based charities on the benefits of digital assets, so more shelters set up the capability to receive donations in cryptocurrency, and we can help more animals."
$PAWTH has fantastic built-in features, including community reflections, that often reward token holders. Pawthereum's team also has plans to use customized pet NFTs in collaboration with international artists. It is to boost their donations to animal shelters across the globe.
A unique aspect of Pawthereum's project in the crypto arena is that its leadership team uses real names. It means that they are fully doxed internally. The rationale behind this is that it creates legitimacy and credibility for the long-term objectives of such an elaborate project. Community moderator Antony Gutierrez underscores these sentiments. He claimed that "Building and maintaining the trust of our pawesome community has been priority number one from the start. We are in this for the animals and have big plans for Pawthereum into the future."
Where To Buy Pawthereum
Pawthereum is available on many established platforms. Investors can instantly convert their existing cryptocurrencies for $PAWTH on the following platforms:
PawSwap – this is Pawthereum's very own customized interface. It is based on Uniswap's crypto exchange and operated on the Ethereum blockchain.
Uniswap – an established decentralized crypto exchange that operates on Ethereum's blockchain.
PancakeSwap – is a highly-rated crypto exchange. Investors can swap BEP-20 tokens from the Binance Smart Chain for $PAWTH.
SafeMoon Swap allows users to trade securely without using a centralized crypto exchange.
ShibaSwap – this is the native decentralized exchange of the Shiba Inu coin project. Shiba Inu is a popular meme coin and Dogecoin spin-off.
BigONE – this is a global crypto exchange that allows users to trade in many cryptocurrencies.
Biconomy – this is a Canadian crypto exchange with a US MSB license that helps to facilitate global crypto trading.
Credit Card, Apple Pay, Google Pay, and Flooz.trade is also straightforward ways to get your hands on some Pawthereum.
Anyone who wants to invest in $PAWTH can do so relatively quickly through a host of convenient and secure platforms.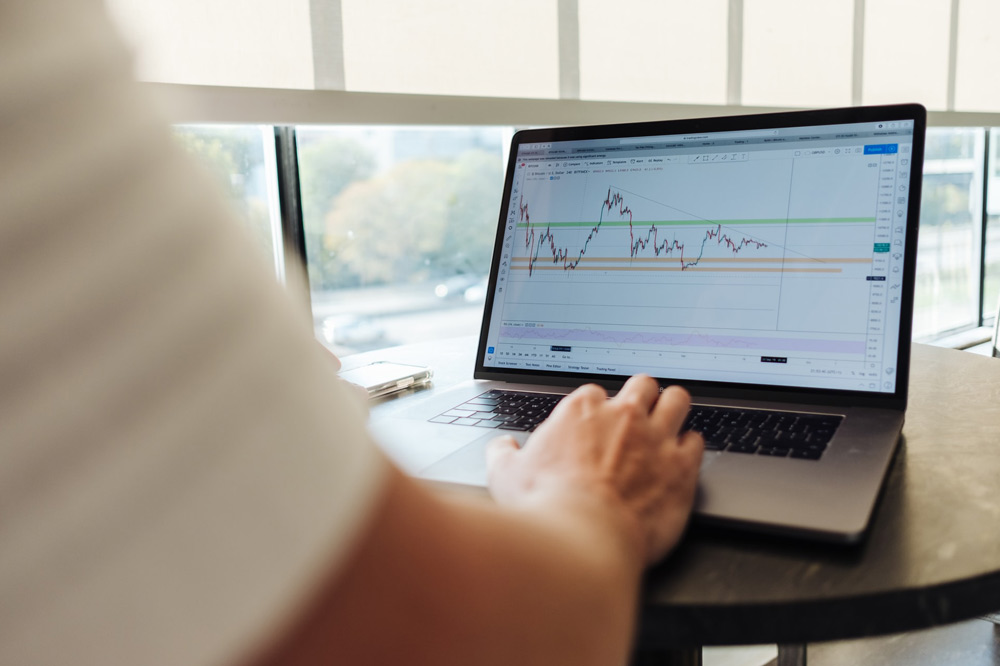 Tokenomics Of Pawthereum
Pawthereum's smart contract is decentralized and facilitates automated redistribution of their $PAWTH token. It is automatically split between the nominated charity's crypto wallet and all token holders. For each $PAWTH transaction on the network, there is a 2% transaction fee levy.
Pawthereum's priority is to be charitable. So, 1% of all transactions are routed to a secure multi-signature ERC-20 wallet. Here, Pawthereum's community can monitor them with complete transparency through the website or etherscan.io.
Subsequently, Pawthereum's community chooses a charity to donate accumulated funds to. After that, the wallet begins to load once additional transactions go through. Pawthereum wants to contribute to a small animal shelter or animal-related charity once a month. But, judging by its current trajectory, it may need to adjust its benchmark drastically.
All Pawthereum token holders receive a 1% fee on every $PAWTH transaction for their loyalty to the project. It is distributed amongst all holders as a free automatic airdrop directly into their crypto wallets. All in all, it's seamless and convenient.
The original and maximum supply of $PAWTH token supply is 1 billion. As the trading volume and number of transactions increase, so will the balance of every token holder. Not only does your $PAWTH balance grow, but you get to help vulnerable animals around the world at the same time. As a result, this makes it the perfect environment to HODL and watch with delight.
How Does Pawthereum Give Back?
Pawthereum focuses its efforts following three main pillars.
Community
The Pawthereum community lives by the ethos of "All for one and one for all." In light of this, the Pawthereum community always decides on the animal charities to which it will donate $PAWTH. It contributes significantly to the project's roadmap. Ultimately, it determines the trajectory of Pawthereum's future.
Transparency
Pawthereum uses multi-signature Ethereum wallets that give investors and the community peace of mind. Since this project focuses on community, they take community feedback very seriously. Pawthereum is committed to being a community-based decentralized project. It will always be open to skills, talents, and ideas that enhance the project's abilities and potential.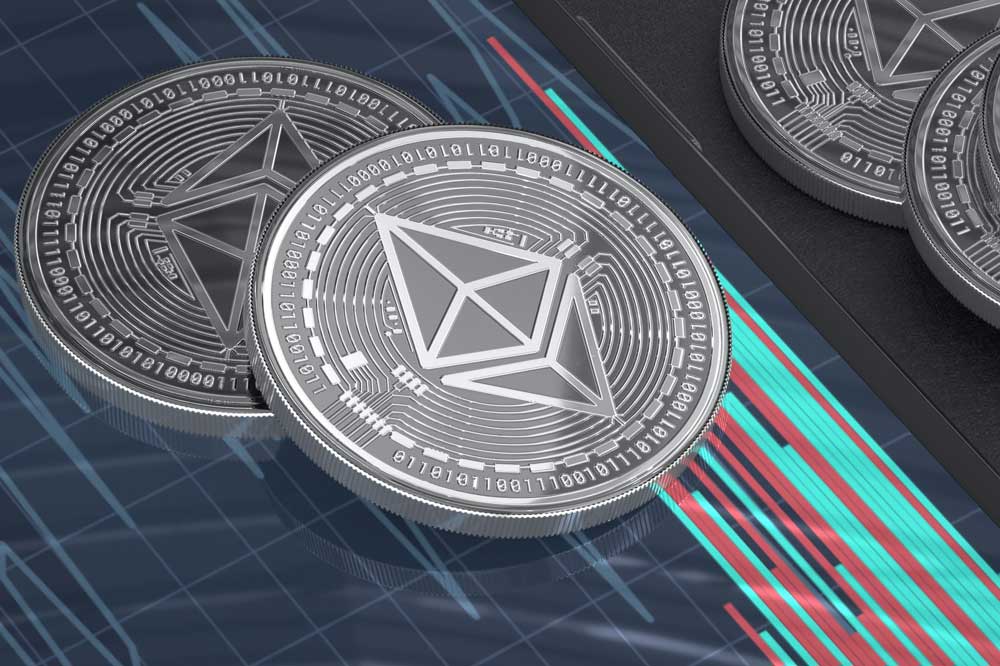 Scope
Pawthereum aims to expand its ecosystem and create new use cases for $PAWTH. Specifically, the platform hopes to harness the power of blockchain to benefit animal shelters and charities. Besides the transaction fee split between charities and token holders, there could also be an online game with automated charity mechanisms introduced with smart-contract technology. In addition, the project could make charity redistributions completely automated and trustless.
Final Thoughts
When it comes to Pawthereum, there are endless possibilities for a project that looked dead in the water at this time last year. Although the intention behind Grumpy Cat Coin was fantastic, the project's technicalities were scrutinised.
While many Grumpy Cat investors may have felt despondent, Pawthereum has picked up the mantle and continued with the lofty ambitions of the Grumpy Finance project. The crypto community watches with bated breath. If anything, Pawthereum has surpassed all expectations, and time will tell if their efforts reap crypto fruit in abundance.