Are you looking for a new game to play? Try your hand at Plinko, one of the best online casino games in BC.GAME. It is a beginner-friendly game thanks to its easy rules. Much like slot games, you can just place a bet and receive instant payouts.
However, what sets Plinko apart is its interactivity, allowing you to adjust the risk and reward range to your preferences. Learn how to win at Plinko now so you can win real cash prizes at BC.GAME.
What is Plinko?
Plinko is an exciting game that draws inspiration from the popular pricing game featured on the hit television show, The Price is Right. With its availability at online casinos, the game uses a random number generator (RNG). If you're not familiar with it, you play it by dropping a puck from the top of a board filled with layered pins.
How to play Plinko
As mentioned, once the puck is dropped from the top of the board, it bounces between pins until it reaches one of the pockets at the bottom. You win the prize indicated in that pocket, and then you can try again using your remaining chances. It's a fun game of chance that is easy to play and quick to resolve, allowing you to play it with convenience. The online casino game version, however, comes with a few key components that make it better:
You bet on every puck/ball.
You can increase the pins, which affects the number of pockets at the bottom
You can set the risk factor between low, medium, and high
These elements affect the payout you'll get per puck. Increasing the number of pockets raises the potential payout, while adjusting the risk affects the volatility. Thus, both settings affect the multiplier found in every pocket, applied to the puck that drops in it. This means your payout is the puck's ante size multiplied by the pocket's prize.
Where can I play Plinko?
Many software providers have created many Plinko titles. The best ones are available at BC.GAME, one of the best online casinos in the world. Here are a few examples that you should check out:
Plinko (BC Originals)
Plinko XY (BGaming)
Plinko (BGaming)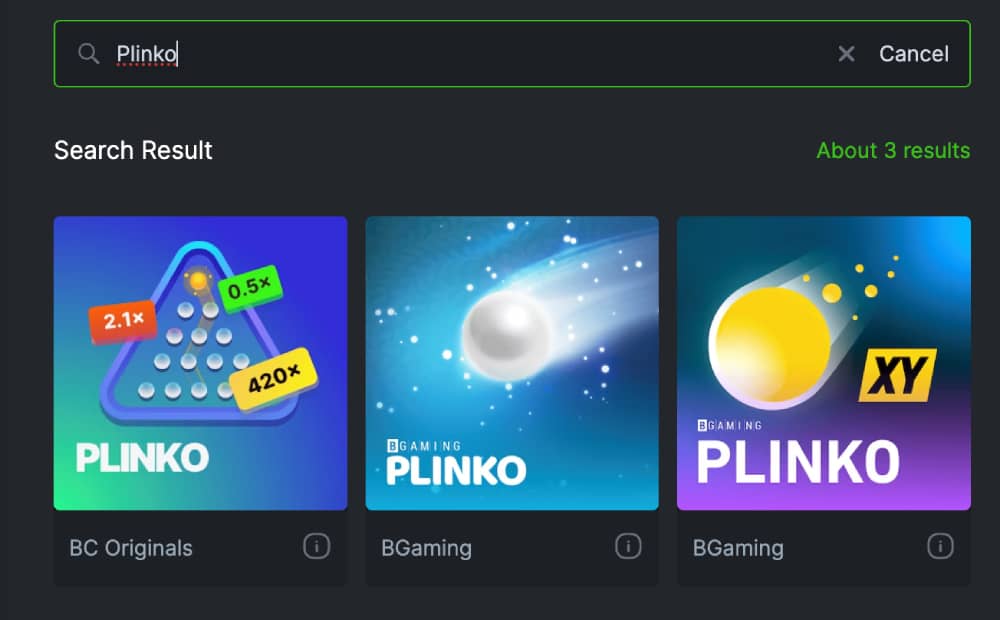 Winning tips to try to increase your chances at Plinko
Plinko is a simple game, but there are a few tips you can apply to your sessions to ensure the best experience possible. Take note that these are just winning advice based on other players' experience. You are free to play however you wish based on your own experience and preferred style of playing.
Set a limit for your Plinko bankroll
Limiting yourself is a fundamental discipline gamblers need to learn early. Decide how much time and/or money you plan to spend on a Plinko game, and stop playing once you reach your target amount. Plinko game online is always accessible whenever you want to play, so the only element stopping you from playing is you.
Use free bet bonuses for more chances of winning
BC.GAME offers free bets or cash bonuses all the time, which applies to Plinko. These incentives vary; some of them are readily available as soon as you sign up, while others require a deposit. Regardless of the requirement, these bonuses can boost your betting resources and enhance your bankroll.
Play a quick Plinko game every day
Plinko is accessible at online casinos like BC.GAME 24/7. Every day that passes without playing is a missed opportunity to win real cash prizes. Make sure to allot time to play Plinko for at least an hour, and you'll not only see your funds multiply but also progress in BC.GAME's VIP Club. This approach can help you win the game at a safe and fun pace.
Strategies to win at Plinko
Mastering the art of playing Plinko is only the first step in your online gambling journey. You can increase your odds of taking away profit if you not only play smart but follow a strict discipline that takes advantage of statistics. That means adopting a Plinko strategy guide for your gameplay.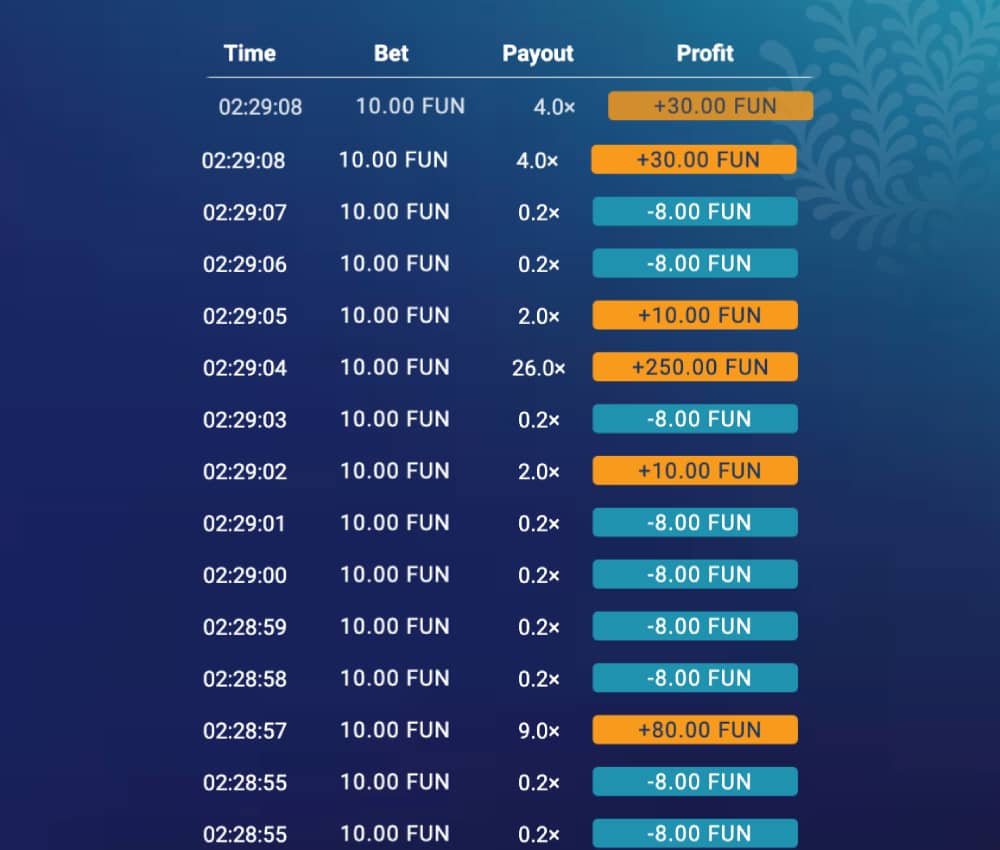 A strategy is a technique that is all about playing around risks. You can avoid them or embrace them depending on whichever route is more optimal for reaching your target value. Strategies are not foolproof, but they are better than betting blindly.
You need experience to make a proper strategy on your own. Start with these top three strategies for playing Plinko for now. Each one is beginner-friendly because they only involve basic bankroll management rather than using timing or rhythm:
Use Martingale in Plinko and play on manual
The Martingale betting pattern is one of the top bankroll management systems used for all kinds of online casino games. It is most popular for games with roughly even money bets, like banker/player wins in baccarat, outside bets in roulette, and blackjack.
Plinko has many potential payouts ranging from 0x to 1000x, which you can win per bet. With the Martingale method, you double the size of your ante every time your puck hits only 0x or 0.5x. Doing this ensures that the next win can cover all your losses thus far, no matter how long your losing streak is.
This is the best Plinko strategy for newbies to BC.GAME because your potential payout isn't limited to just 0 and 1:1. You can still earn 0.5:1 and have a chance to win a higher rate. That means you can escalate your bankroll rapidly so long as you stick to the betting system. You may even combine this discipline with the other two strategies below.
Play Plinko at high risk and max rows and stop after a big win
If you want to play in a consistent low roll, then you should try playing Plinko with the highest possible price. To unlock the 1,000x payout pocket, you should raise the pins to 16 layers and up the risk to high.
Even if you can't reach the highest-paying pocket, you can also win between 2x to 130x, which are all big prizes to win. Stop playing once you hit the 26x, 130x, or 1000x. Setting a budget limit for your session still applies to this strategy. That means you stop playing whether you hit the high payout or once you reach your self-imposed betting limits.
If you're using the Martingale betting system, then you are likely to take home a lot in a win. Even a 2x payout can be rewarding, but you can set your expectations higher. Double your ante after every turn, where you only win 4x or less. The only time you should reset back to the base wager is if you hit a 9x or higher payout.
Play on auto with 10 max bets at medium risk and 16 pins
All strategies mentioned above are simple, but they are hands-on. If you prefer a more casual experience, then try this one. Set the number of pins to max but keep the risk to medium level. Then, set the auto bet feature to 10 and let it play on its own. Take note of your bankroll before and after the set of 10 bets. Repeat the process until your bankroll reaches a target value.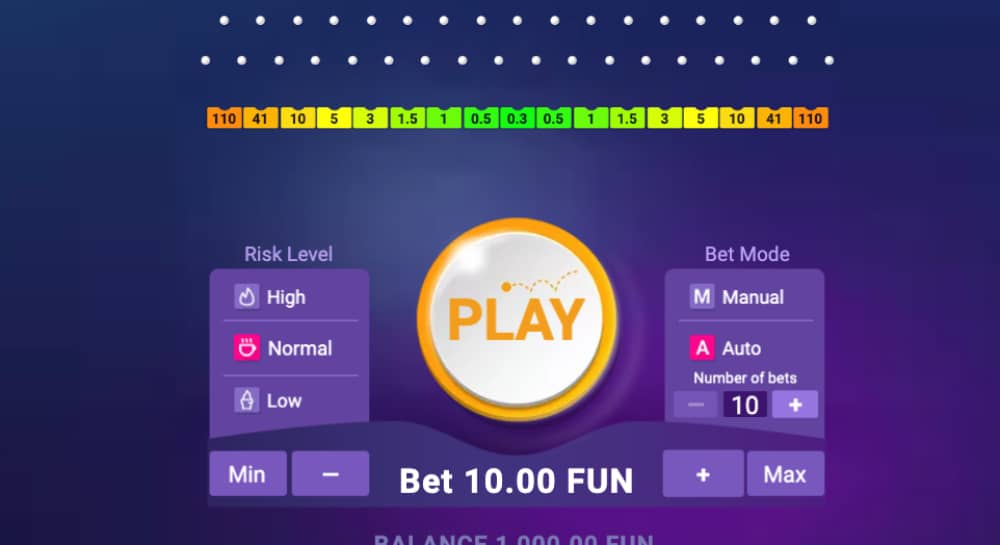 If you're using the Martingale method, divide all outcomes into two groups. Losing bankroll after a 10-turn autoplay means you lost that bet, but getting more money means you win. Double your ante after every set you lose and reset it after one win. The pace of this strategy will be a lot slower than your typical Plinko gameplay, but it's the one with the lowest risk.
Play and win Plinko at BC.GAME
Plinko is available at BC.GAME, one of the best crypto betting websites in the world! Just sign up to make an account so you can play it to win real cash prizes. You can deposit crypto to your wallet right after you register and you'll be eligible to claim any of the website's promotions.
BC.GAME's best bonus is the VIP Clubhouse, where you can unlock more benefits on top of the payout you win from Plinko. All of these exciting prospects await you at BC.GAME.
Try your luck and win substantial prizes with Plinko!
Plinko is an easy game, ready to be played from the get-go, even for newbies to online gambling. It's no different from slot games you know and love because it works using RNG. Thus, every bet you place follows the fair gaming rules in the casino industry. Play it now in BC.GAME so you can enjoy it in the best way possible.
FAQs
Here are the most frequently asked questions about Plinko:
Where to play a Plinko casino game?
You can play Plinko at online casinos like BC.GAME. It can be found in the slot game category and it usually features the 'Plinko' title. That makes it easy to find.
How does Plinko gambling work?
Plinko is played by placing a bet on a ball that drops from the top to the bottom. It bounces around pins until it reaches a pocket with a payout. You win back your bet on that ball multiplied by the payout indicated on the pocket which ranges from 0x to 1000x.
What is the win rate for Plinko?
The win rate for Plinko is 1 in 3.97. This result comes from any prize from 1:1 and above. That means you have 1 chance to win in every 4 bets you make but the payout can be more than just 2x for every given time.