Here, we unpack the dynamics of play-to-earn crypto games and give you the low down on some of the most popular ones for 2022.
Cryptocurrencies have taken the world by storm. Investors are attracted to a market as it offers so much promise. Those on the scene will testify to the variety of digital assets adopted with greater frequency by governments, financial institutions, and businesses alike.
Whether you are into trading, regular investments, online shopping, or playing at the best crypto casino, there are many ways to maximize your funds. A new trend in recent times is earning crypto through gaming and play-to-earn games, which we discuss here.
So far, this type of gaming is proving to be extremely popular with crypto users across the globe. You can earn crypto by engaging in a superb range of play-to-earn games.
What Are Play-To-Earn Crypto Games?
Play-to-earn crypto games are games people can play to earn cryptocurrency. Game developers carefully create them with in-game currencies that can be earned as rewards. These rewards are typically earned when a player completes challenges, quests and wins battles. In turn, the rewards can be exchanged for cryptocurrencies or tokens on a decentralized exchange.
With many play-to-earn crypto games, especially multiplayer games, players can collect digital items to advance to greater levels. Such digital items include in-game objects such as clothing, property, or weapons. Gamers can also customize their characters to suit their unique tastes.
You may be wondering what customized characters have to do with earning rewards on play-to-earn crypto games? Well, this is where GameFi comes into play. By taking advantage of the immutability of blockchain technology, game developers can create in-game items and rewards that are unique and can be transferred among players.
In addition, players who create NFTs can make their very own items for their in-game characters. They can also sell those NFTs to other players in exchange for crypto. This is in addition to the unique digital items earned as gameplay rewards that they can sell to other players, should they wish.
All funds earned by playing these games can be transferred to a crypto wallet or used to buy other in-game items. The mere fact that players can earn money while doing what they love is a massive attraction. So much so that GameFi – the combination of gaming and decentralized finance – has become the new industry buzzword.
With that being said, let's explore some of the most popular play-to-earn crypto games on offer in 2022.
Popular Games To Try In 2022
Axie Infinity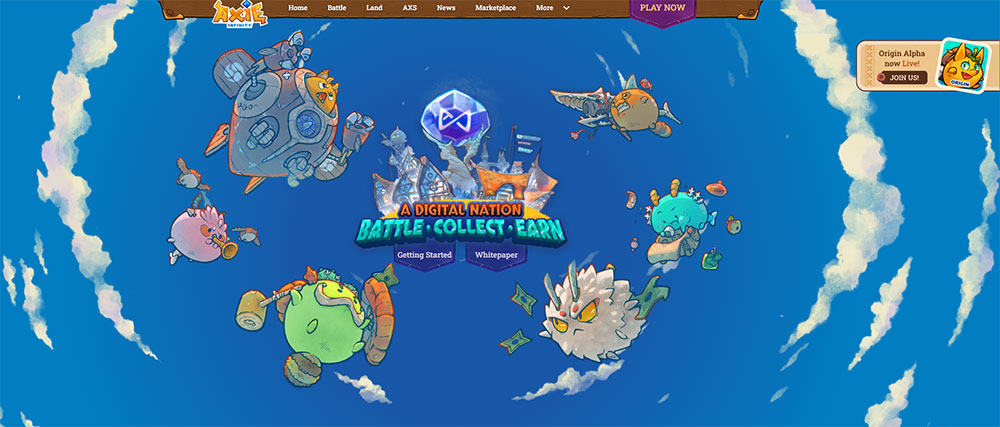 Axie Infinity is undoubtedly one of the hottest play-to-earn crypto games at the moment. It features its own in-game currency – Smooth Love Potion (SLP) that you can seamlessly convert to crypto. In addition, the game features another token called Axie Infinity Token (AXS).
In terms of the gameplay, Axie Infinity is a Pokemon-styled game where players can build a team of creatures commonly known as Axies. You use these creatures to go into battle with other players and fight enemies.
The game has a battle mode that entails fighting against opponents and an adventure mode where players complete challenges to earn unique rewards. The game allows players to create characters they can use to win battles and earn AXS. You can even sell the Axie characters individually for a lot of money on the dedicated marketplace for buyers and sellers.
Axie Infinity takes players into an ecosystem with its economy and gives them the platform to add their own unique touch to the game. While Axie Infinity has suffered a major cyber-attack in recent times, they have worked tirelessly to ramp up their security measures to protect all players' funds on the platform.
Plant vs. Undead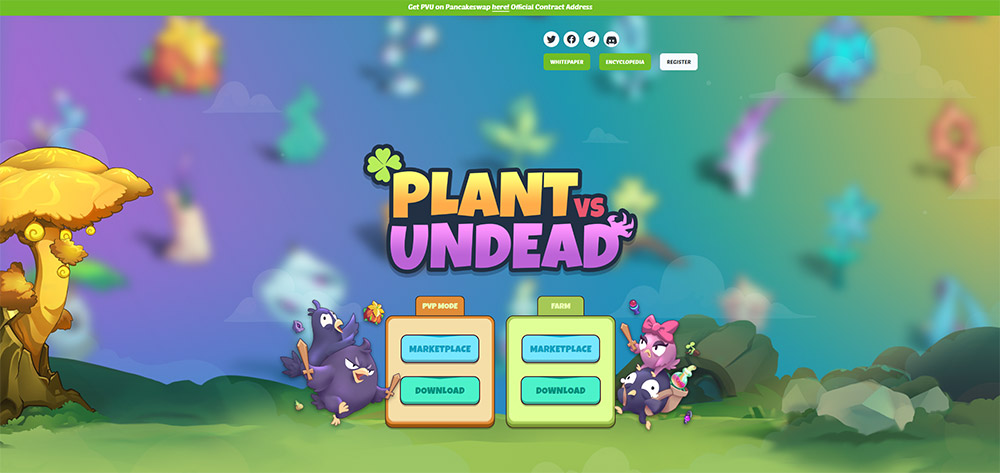 Plant vs. Undead is for those players who have a penchant for combat-type games. Plant vs. Undead focuses on farming, and players have to produce light energy to advance in the game. As such, light energy acts as the in-game currency that can be traded on many different decentralized exchanges.
The game offers plant NFTs that players can earn and sell for a profit. The value of those NFTs varies according to how rare it is.
When playing Plant vs. Undead, players will find themselves having to defend their farm and precious plants from unwanted visitors. They will also spend a large amount of their gameplay harvesting seeds, maintaining their farm, and completing various exciting challenges as they come along.
Battle of Guardians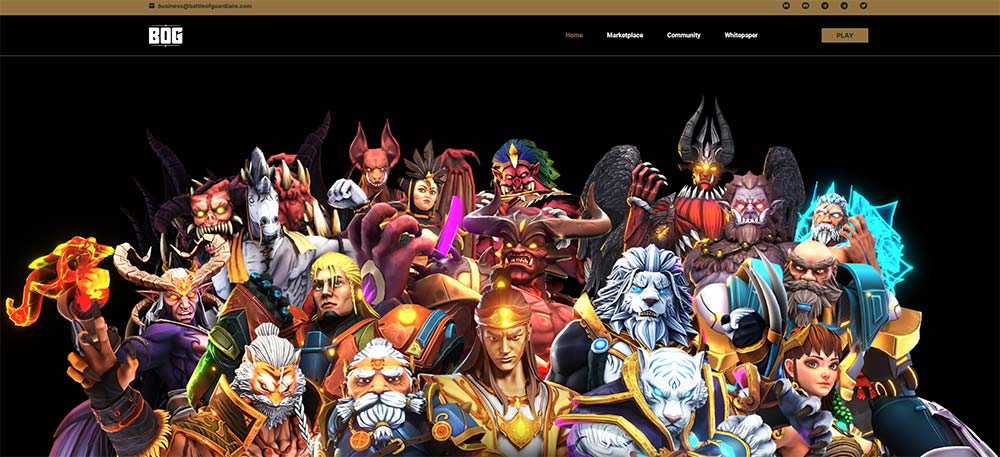 Battle of Guardians is a multiplayer NFT play-to-earn game with a science-fiction theme. The game consists of three types of characters – humans, demons, and guardians. As a player, you are in for a treat with an enthralling storyline. Everything is delivered through innovative technology and portals that will keep you engaged for hours on end.
Players must complete various challenges depending on the variation they choose to play on – either arena, story, or tournament mode. The primary way for players to earn money on the game is through NFTs. Players earn rewards as they progress through the game, although they must pay entry fees to play in tournaments.
Battle of Guardians also features its own marketplace where players can exchange or sell NFT characters with other players. In addition, the game has two types of in-game currency – Battle of Guardians Share (BGS) and Fighting Points (FP) – each with its functions that help earn rewards.
Zed Run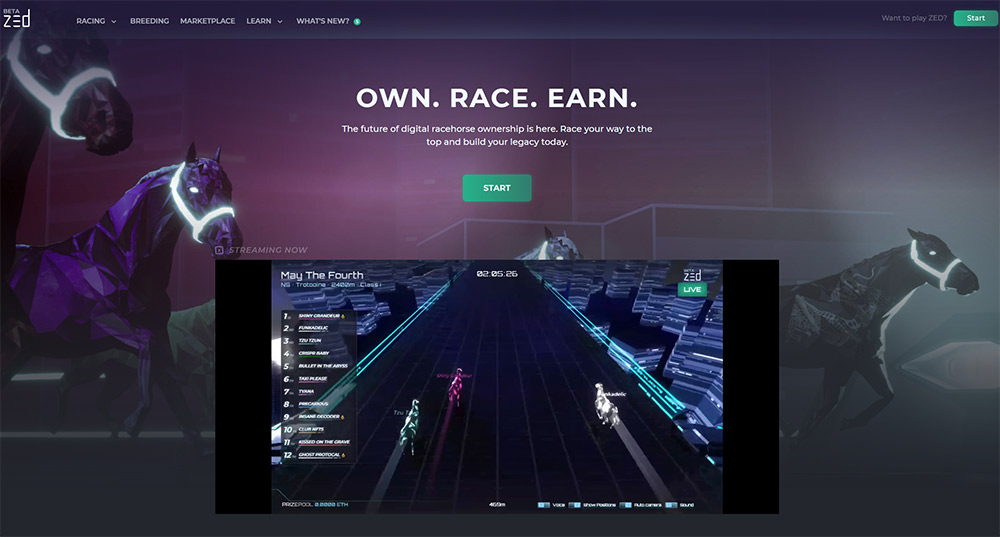 Players who love horse racing are immediately drawn to Zed Run. This play-to-earn crypto game allows players to curate different horses as NFTs and then buy, sell or trade these with other players. If that isn't enough, players can also breed new horses and have the option of upgrading them to make them even stronger.
Players race their horses against each other to earn rewards here. Each horse in the game has its unique strengths and weaknesses, so the fun lies in upgrading your horse to make your race days even easier. Players can also bet on other players' outcomes – a nifty way to earn money on the platform.
While there is no in-game currency, Zed Run is backed by the Ethereum blockchain. So, all winnings and sales that players accumulate and generate are paid in Ether.
Decentraland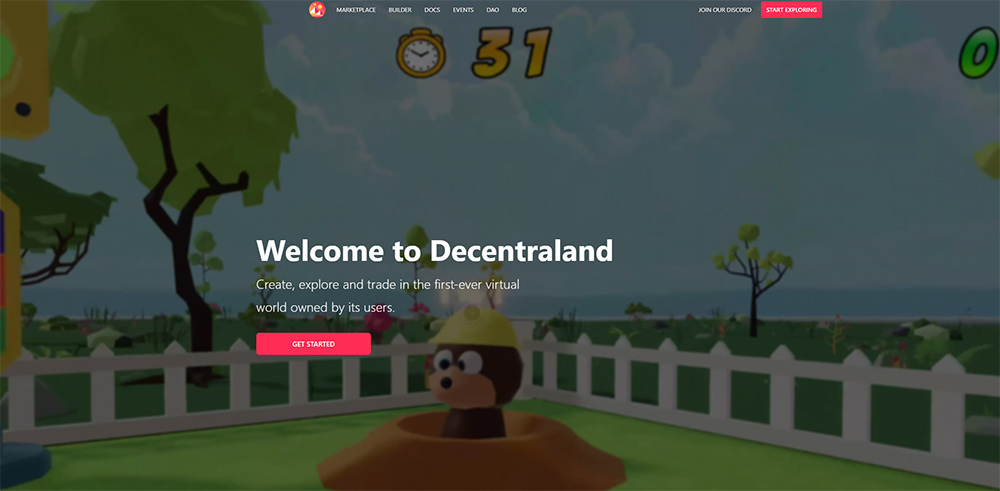 Decentraland is a 3D virtual-reality crypto game developed on the Ethereum blockchain. Players can explore different lands and create unique content and avatars. The game has an in-game token called MANA that players can use to buy or sell items and enjoy the many activities that Decentraland offers.
With so much talk and anticipation about the Metaverse, Decentraland's virtual-reality experience is the perfect teaser. Players can delve into this virtual world unhindered and soak in high-quality graphics while earning through their gameplay. Decentraland also has its marketplace for players to trade their NFTs with each other.
My DeFi Pet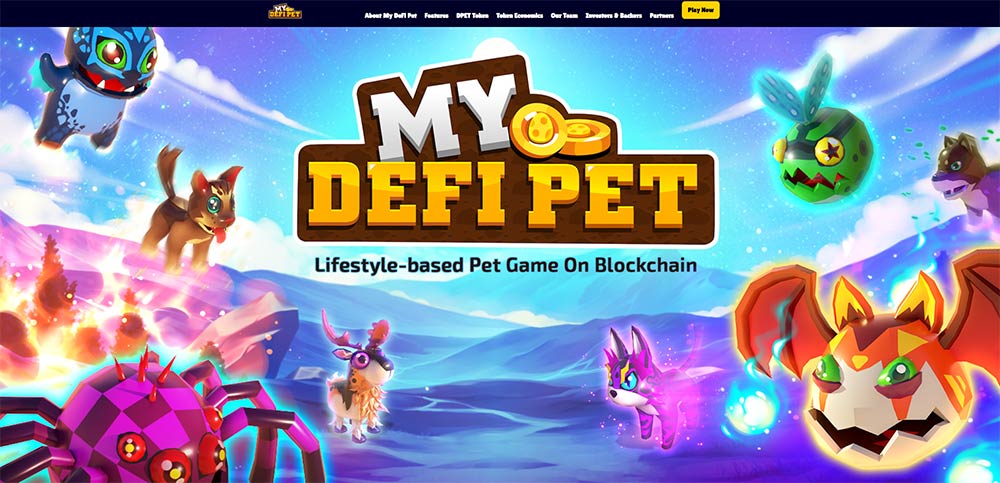 For the pet lovers amongst us, My Defi Pet is a superb game that allows players to raise virtual pets. These pets can be bought, sold, or traded on the in-game blockchain-based marketplace. Players can create unique NFTs of their virtual pets, giving them tailor-made features like fur patterns, body and head shape, pet color, and eyes, to name a few.
My Defi Pet operates on KardiaChain and Binance Smart Chain. The game's in-house currency is the DPET – that players use to buy clothes, food, and other virtual items for their pets. You can also use DPET to buy items on the platform's official website or to trade NFTs.
Gods Unchained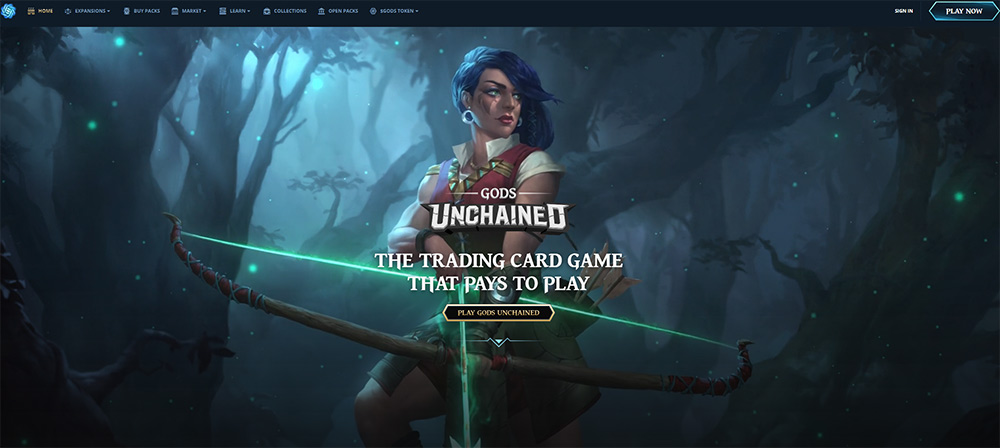 Gods Unchained is another great play to earn crypto game built on the Ethereum blockchain. Here, players are pitted against one another in a card game. Having the best cards in the deck will bring you loads of success.
Each of these cards is a unique NFT. The owners can sell them on God's Unchained NFT marketplace to earn money. One of the great drawcards to this game is that you automatically qualify for three free card packs when you sign up.
The more NFTs in your collection, you will have a stronger deck. This gives you better chances against your opponents. All cards are split into six categories, with each category representing a single God. Each deck consists of 30 cards from a specific God, each with its special abilities. Players must therefore choose their cards carefully.
The in-game currency is called GODS token. You can earn Tokens by playing and winning games or staking in Gods Unchained. The game is also linked with MetaMask, so users can fund their accounts and use their GODS tokens to create new cards and buy chests and packs.
Blankos Block Party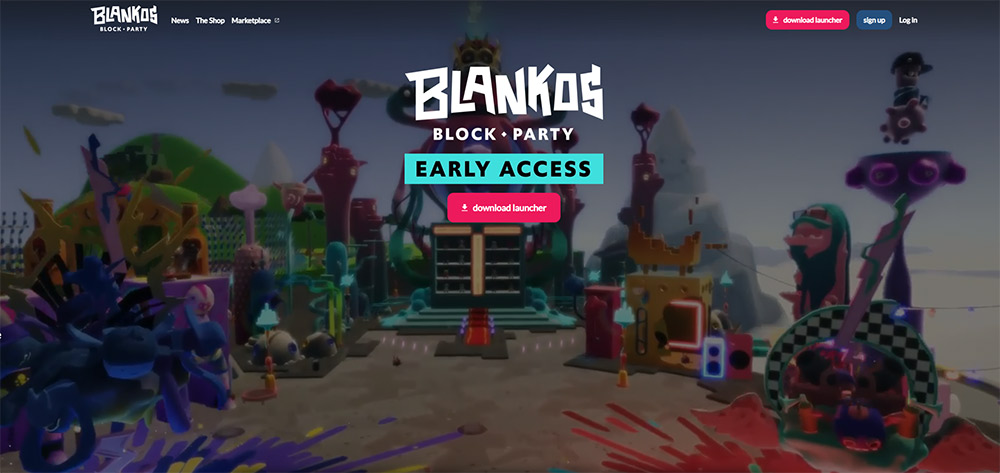 Blankos Block Party is a multiplayer crypto game. Users create unique assets – NFTs with special in-game capabilities referred to as Blankos. Players can play mini-games and complete challenges to earn the in-game currency – Moola (MLA). You can also buy another type of currency, Blanko Bucks, using a credit card.
Players can choose to buy, sell or trade their Blankos for different rewards and incentives. Blankos Block Party also enables players to trade their Moola for other cryptocurrencies using external exchanges, with a single MLA costing around half a cent. For those who enjoy games with a party theme, Blankos Block Party is certainly one to try out in 2022.
The Sandbox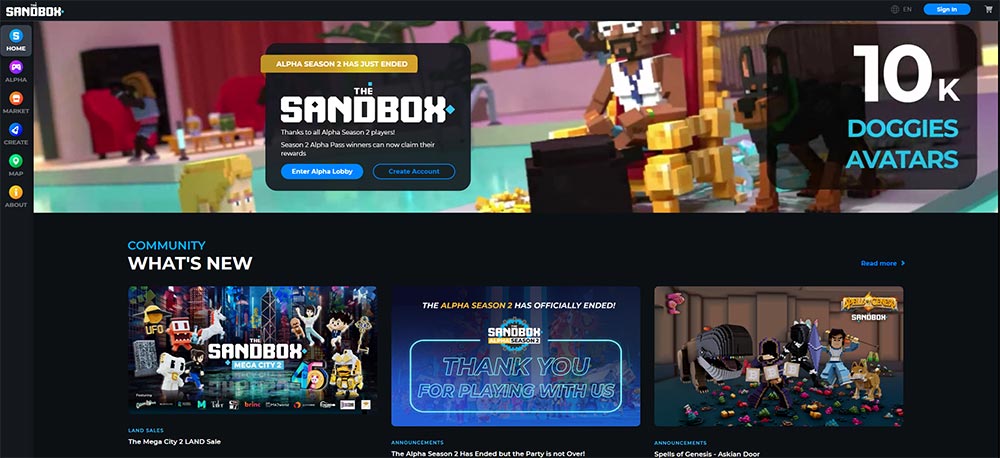 The Sandbox is another 3D virtual-reality crypto game that has infiltrated the metaverse blockchain. This game consists of around 160,000 lands that can become costly to buy considering the limited quantity. Players can use the in-game currency, SAND, to transact in the marketplace and trade digital lands.
The best way to optimize your gameplay and earn great money is to trade lands and objects smartly and complete in-game tasks. As with other comparable 3D virtual-reality games, you can expect a fascinating experience. It is immersive and engaging while allowing you to boost your bankroll in the process.
Illuvium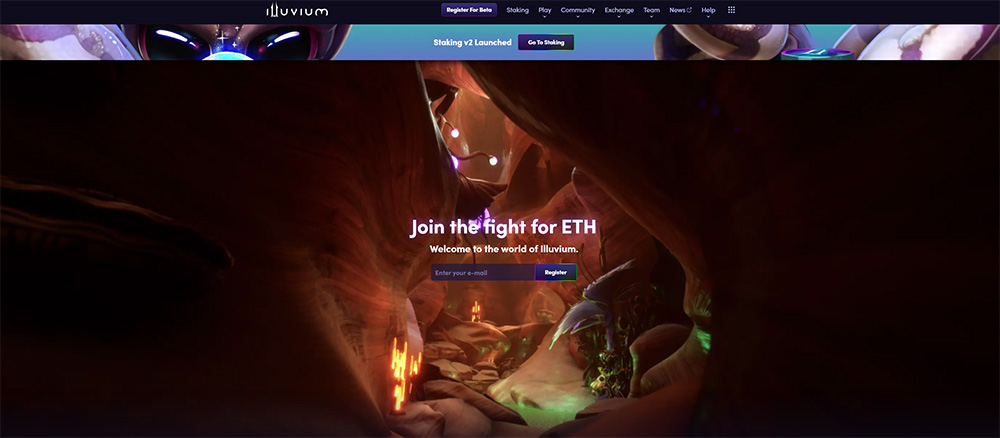 Illuvium is a 3D earn-to-play crypto game built on the Ethereum blockchain. It features auto-battle gameplay, and players are tasked with winning battles, completing challenges, and upgrading their ranks. In return, players receive the in-game currency – ILV Tokens.
NFT Illuvial is a creature with different skills that players must collect and improve in order to win the battles. In the Illuvium marketplace, both NFT Illuvials and in-game items can be traded with fiat currency like other NFT games.
Illuvium features peer-to-peer trading with no GAS fee. Unlike other Ethereum blockchain-based gaming platforms, this makes it a win-win for gamers on a budget and definitely another title to play in 2022.
Conclusion
NFTs have been in the spotlight for the past 12 months. Play-to-earn crypto games have capitalized on this as gamers have flocked to the hottest trend on the crypto market. What better way to maximize your crypto and NFTs than by playing your favorite games and earning money?
With NFTs comprising a large element of play to earn games, players now have greater control over their in-game assets. They can command large sums of crypto for their NFTs from fellow players. With the opportunity to earn in-game rewards and dedicated NFT marketplaces exclusively on those platforms, it's never been easier to buy, sell, or trade NFTs specific to those games.
It's no secret that the most popular play-to-earn crypto games on the market are those with the most attractive rewards and incentives. Also popular are the ones that give players a platform to create and collate a unique collection of NFTs, whether for in-game status, power, or simply to generate wealth.
Have fun exploring this selection of play-to-earn crypto games – good luck!