For Noob Eyes Only
Welcome To BC.Game
First thing, we would like to applaud the incredible decision making skills that you have shown by choosing BC.Game. Our hats are off to you.
In this guide, we will walk you through the very basic platform features that you should be aware of as a newbie as well as answer the most commonly asked questions.
We are glad you have decided to join us on this journey. Or, allowed us to join you on yours. Either way, it will be an exciting ride.
Sign Up And Login
If you have made it this far in life, it is probably safe to assume that you have mastered the new account sign up and email confirmation process used across the internet. BC.Game offers you seven different ways to sign in and/or sign up.
Google Account – Name and password.
FaceBook Account – Email and password.
Telegram Account – Phone number and verification key sent to the same Telegram account.
MetaMask – An Ethereum wallet browser extension – Required to be installed and open.
Scatter – An EOS wallet browser extension – Required to be installed and  open.
TronLink – A TRX wallet browser extension. – Required to be installed and open.
Email – Register your email with BC.Game – Click the verification link sent to your email address.
Grab Your Free Lucky Spin
After signing in, you should look to the upper right corner of the screen, beneath your username. You will have one free Lucky Spin available. You get one free spin every day. You will always be notified by the animated wheel icon whenever you have a free spin.
The cryptocurrency rewards waiting for your Lucky Spin can be very generous. The image below shows you the possible prizes.
Meet JB Coin
By now, if you are super lucky, you should have some sweet JB Coin in your balance. JB Coin is an house only token. It can not be deposited or withdrawn but it can be used on the games to test out strategies, scripts, or just to get a feel for the style of the games in the BC.Game lineup. Or you can just HODL them.
Who Are Those Crazy People?
The next stop on this tour of the most entertaining crypto casino in the world is the famous BC.Game chat. Your account must be at least 2 hours old before you can start socializing, though. This is necessary to prevent spam.
There are multiple chat rooms with multiple languages. Just be sure that you are in the correct chatroom for whichever language you are speaking. If you speak multiple languages then feel free to mingle with them all. Each chat room has moderators that can answer basic questions but if you have a technical or transactional issue, it is best to contact the live 24/7 support.
The chat will reward active players all day, every day, so be sure to pop in and start up a conversation with our one-of-a-kind community that includes the most amazing humans on the planet. But do not spam or ask other players for tips. Ever. There is a zero tolerance policy on these two offenses so if you break either of those two simple rules then you may find yourself unable to chat.
The chat features and available rewards are unlocked one by one as you increase your VIP level. The details of BC.Game's VIP program are beyond the scope of this article but you can find all the info you need on that topic here.
Chat Room Rewards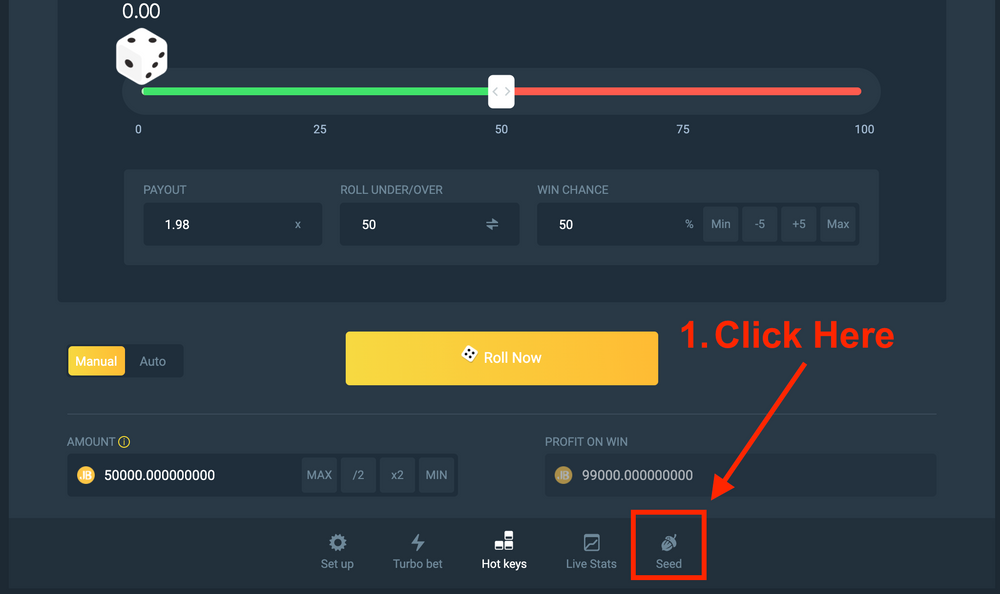 Rain
Rain can be sent by users of any level or by BC.Game staff. This is a phenomenon  that can't be explained but for some reason when players win big, they feel the sudden urge to share a portion of their big win with the community. The recipients are chosen randomly. The only requirements to be eligible to receive rains are…
Must be VIP04 or higher
Must have been active in chat recently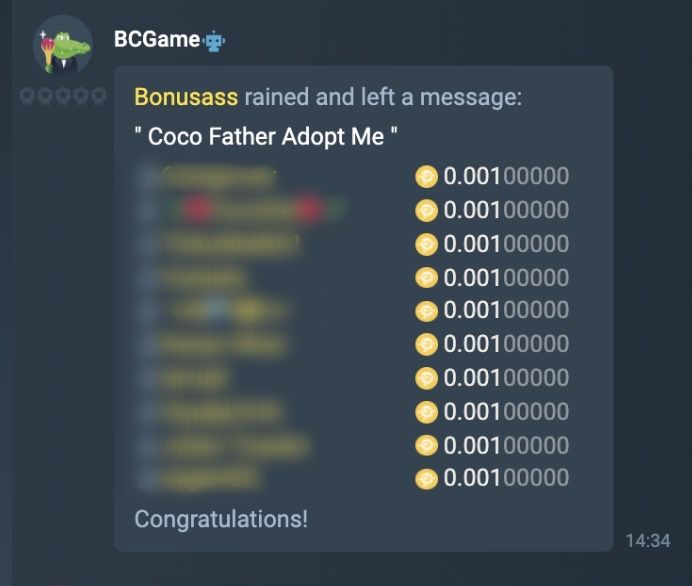 Coin Drops
Coin drops are similar to rain except that the recipients are not chosen randomly. Once a Coin Drop appears in chat, the first players that click on it are the ones that receive it. Up to 100 bags can be dropped at one time but only one may be collected per player, per drop. The image below is just a screenshot of one so don't start frantically clicking it.
Must be VIP04 or higher
Be fast enough to click it before anyone else.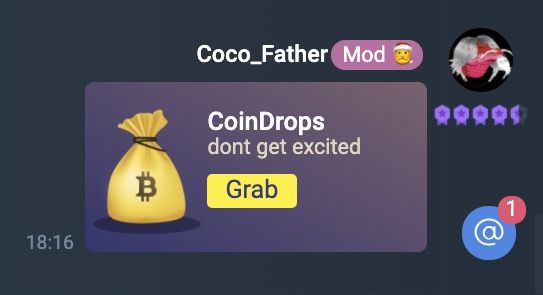 Chat Games
Chat games can happen at any time and can consist of just about anything that one's imagination can think of. There are usually no VIP level requirements for participating in chat games.
Tasks, Bonuses And Task Bonuses
Task Bonuses
There are several tasks that can be performed to earn some bonus crypto. Some can be done once per day, every day. Check out the chart below for more details. The bottom section can only be completed once per player. The three on top can be done daily.
Sweet Codes
Sweet Codes are special bonuses that you can paste into the Sweet Codes field under the bonus tab. They are preloaded with a mystery amount of cryptocurrency. They can be found all over the BC.Game Forum, various social media and sometimes even in chat. It is a historical fact that, never once, has a player asked for or demanded a Sweet Code and then received one. So please do not beg for them in chat. It will not work. I promise.
Roll Competition
The Roll Competition is a fee to play dice game that only occurs once per day. The player that rolls the highest wins a nice reward.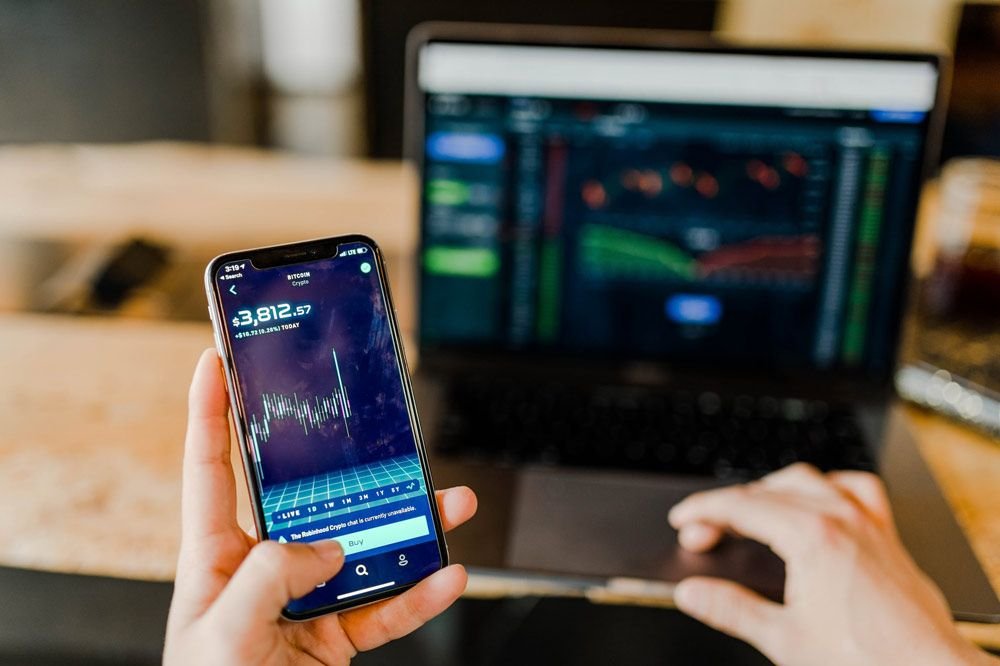 Join The Conversation
BC.Game is an advocate of free speech. Everyone has a voice. Some of the best ideas come from within our community. These ideas are built on top of a foundation of experience and open communication. Allowing our staff and community members to be themselves has created an irreplaceable environment for creativity and entertainment. Preserving these values will remain the top priority of the BC.Game administration, second only to security.
Below, is a list of ways that you can join the conversations and become an important part of our community as well as help shape the future of BC.Game.