Being called "degenerate" if you're in the field of crypto was once a bad thing, but maybe it's time to showcase yourself with this pride by joining the biggest wagering event of 2022 – "The Big Bang Event," featuring the Big Bang (BB) Coin.
What is the Big Bang Wagering Event?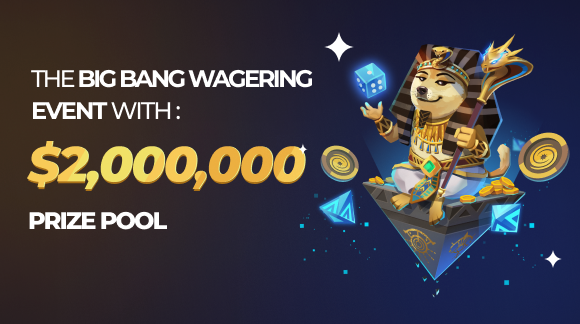 The Big Bang Event features the Big Bang Coin, also known as the BB coin. With a prize pool of as much as $2,000,000, combined with exciting rewards like an exclusive and early access to DegenVerse and several DegenPass NFTs, you're surely in for a fruitful ride!
For an overview, the event will start on June 14 at 00:00 and will last up to July 14 at 23:59, both following the UTC-0 timezone.
The main goal is to wager as many BB coins as you can to be one of the winners. There's a grand prize winner who can get at least 15% of the whole prize pool. Holders up to the 100th place also get a share from the jackpot, so you won't lose out on anything if you give your best.
How to Get BB Coins
How exactly can you get BB coins? The event is actually generous in this aspect.
The first method uses the classic coin mining strategy. 10 BB coins are only $1. This is a whole lot cheaper than other crypto coins out there! It's also a valuable way of investing your money since just imagine how your $100 will give you 1,000 BB coins, whereas the same amount won't be enough for even one coin in other events.
If you can't invest that much, then there are always other ways, such as praying to the DegenGod. Treat it as your genie, your very own BB well. This is basically a daily BB faucet, but it's much more fun calling it a DegenGod, don't you think?
Going back, the DegenGod will give you a chance to get 100 to 1,000 BB coins each time you pray to it (or access the feature). You can even increase your chances to up to 5 if you invite friends to the Big Bang Event. Because of this, even if you don't get lucky and only win 100 BB coins, you can get up to 500 in one go! See? Generous, right?
The third method on our list is to redeem hidden BB coins on the forum. Just look for the BB sweetcodes, and you're good to go! You will need to have sharp eyes for this one.
Final Thoughts
Of course, with 2 million dollars, exclusive DegenPass NFTs, and quick access to the DegenVerse, we're well aware of how big this event will be. Don't worry, though! We have enforced rules, so every degen out there can enjoy fair games and wins. Hence, if you plan to join, make sure not to cheat! The DegenGod won't bless you with any jackpot share if you're a cheater. We'll also make fun of you for as long as our DegenVerse lasts!
Want to get in on all the fun (and, of course, the rewards)? What are you waiting for? Access more of the event's details here, and sign up!