When we think about casinos, one quickly thinks of slot machines' rows with bright lights and enticing sounds. Online casinos are no different. When done right, the two go hand in hand and are brilliantly tied together to make your gaming experience as delightful and exciting as possible. Let's dive into ten things you didn't know about slots and uncover the sweet history behind these all-consuming games.
10. The First Slot Machine Handed Out Beers And Cigars
A fitting place to start in this top 10 list is at the very beginning. The first slot machine surfaced in 1893 when a car repair service wanted a way to entertain their customers while they waited. Gustav Friedrich Wilhelm Schultze initially invented a horseshoe the slot machine that incorporated an automatic payout mechanism. Two years later, a colleague at the same San Francisco's Electric Works released a new, improved version that paid out coins. Charles Fey created the Liberty Bell, the most popular slot machine at the time, named after one of the symbols in the reels. Slot enthusiasts can find the original machine in Liberty Belle saloon in Nevada.
9. The First Video Slot Machine Was Launched In 1970
Casino floors were first introduced to video slot machines in the 1970s. Revolutionary at the time, video slots are now the norm among typical online slot games.
8. The World Was Introduced To The First Online Slot Machine In The 90s
The first online slot machine was launched in 1994 with the first online casino launch. They truly do go hand in hand. Microgaming is credited with this accolade, and the rest, as they say, is history.
7. The Biggest Slot Jackpot Win Of All Time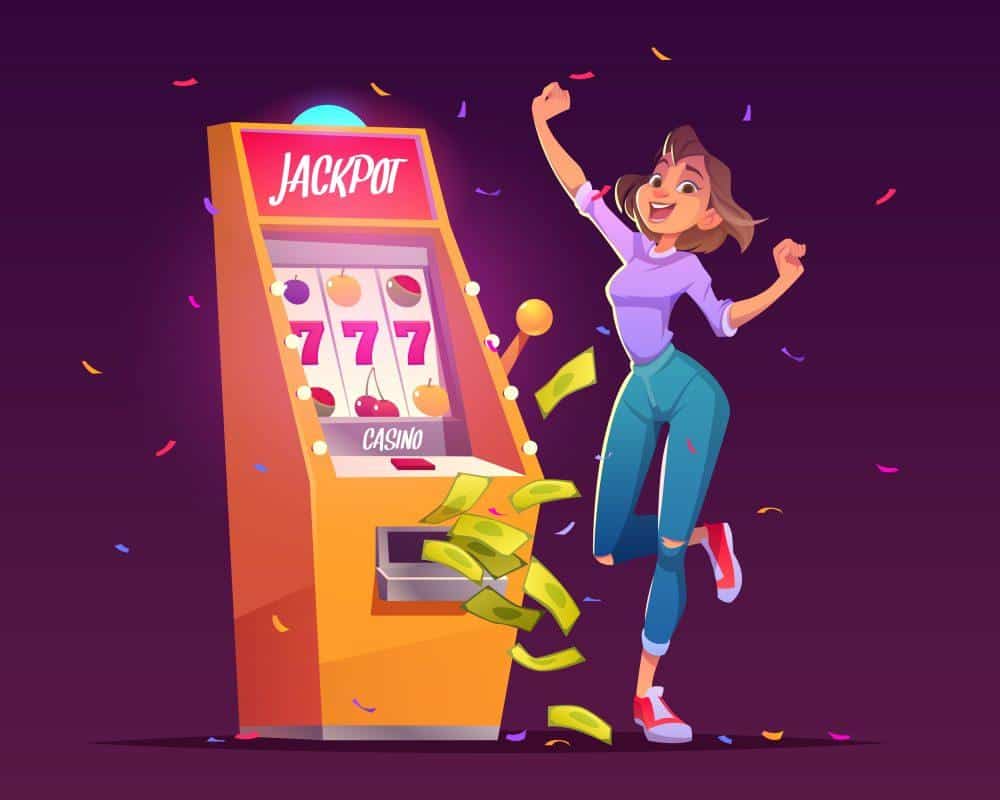 To this day, the biggest slot machine jackpot ever was won in 2003 by a software engineer in Los Angeles. Choosing to stay anonymous, the 25-year-old turned his $100 bet into a handsome $39 million win! The win took place on a Megabucks machine in Las Vegas. Talk about being in the right place and at the right time!
6. The Biggest Online Slot Machine Win
Hopping over the pond to the United Kingdom, where the biggest online slot win has ever been recorded. A certain Jon Heywood won £13.2 million on a Mega Moolah slot machine while keeping one eye on a World War 2 documentary. The 26-year-old British soldier from Crewe, Cheshire, can also credit himself as a Guinness World Records winner.
5. Slots Are Called Differently Around the World
While slots are known as slots or slot machines in America, most of Europe, and Canada, this isn't necessarily true for the rest of the world. Heading down under, in Australia, slots are often called "poker machines" or "pokies" for short. In the United Kingdom, slots are called fruit machines or "fruity" for short. These are traditionally for slot machines in pubs that contain fruit symbols. In Scotland, these fruit machines are known as "puggy". Japan calls their slot machines "pachinkos". However, their slot machines differ slightly from what we might be used to. In Japan, the game is a hybrid of a slot machine and pinball, commencing with shooting a ball into the field of play. When the ball lands in the correct hole, the reels on the slot machine start ticking, and prizes are won for lining up the right combination of symbols.
4. The Most Slot Machines In One Place Far Exceeds 5,000
In a casino in Oklahoma, one WinStar World Casino and Resort holds the record for having the most slot machines in one location. The 616,960 square feet of gambling dreams (spanning roughly ten football pitches) are home to a whopping 7,471 slot machines. A dream destination for avid slot players, you might need to add this to the bucket list!
3. The Country With The Most Slot Machines Is: Japan!
With an incredible 4.5 million machines, the Japanese casinos have one slot machine for every twenty-eight people. The runner-up is The United States with 889,070, followed by Italy with an impressive 412,252. Germany and Spain make a list of 265,000 and 249,820 slot machines, respectively.
2. Slot Machines Started Introducing Bonus Rounds In 1996
The first company to do so was WMS Industries, when they led players away from the reels to a second screen bonus round on the Reel' Em slot. Other companies soon caught on, creating much excitement, and the world of slot machines was changed forever. The bonus rounds typically play off the slot's theme, where extended storylines can magically turn into prizes. Most bonus rounds typically fall into one of these categories:
Battles: characters fight to see who takes the winning pool.
First-person shooter: move the cursor and shoot objects to bag your win.
Boardgame: win bonus payouts by moving your character around the board.
Spin the wheel: see where it lands to establish your bonus.
Select Items: search for objects and win prizes based on what you find.
1. Slots With Progressive Jackpots Can Be Bigger Than Lotteries
Both online and off, slots often have a progressive jackpot integrated into the game. A progressive jackpot simply means that the winning pool increases each time someone plays but doesn't win. Each time the pot will increase by a small predetermined amount, hopefully building up to a sizable fortune by the time one lucky player strikes the right combination of symbols. It so happens that the casinos' progressive slot games can often build up to offer higher payouts than the lottery games! Due to the games' increased complexity, these slots will typically contain more pay lines, mini-games, and bonus rounds.
Conclusion: Things You Didn't Know About Slots
That concludes our list of slot trivia. We hope you learned something new or at the very least, feel inspired to give your favourite game a spin. On BC.Game, the blockchain-based platform offers two unique and wonderfully entertaining slots.