Leading crypto casino platform BC GAME recently listed tokenized NFTs such as WrappedCrypto Kitties(WCK) & CryptoPunks' Tracking DEAD that represent fractional ownership of trending NFTs Cryptokitties and CryptoPunks, respectively.
This begs the question, what's behind the surge in interest in NFTs?
Think about this: Over $500 million worth of digital "art" or NFTs have now changed hands amongst enthusiasts.
NFTs, some may argue, are nothing more than JPEGs, well, right! Everyone is entitled to their opinion, for sure. And this is crypto. It is a democracy, right?
For tech believers, NFTs are more than JPEGs. They are the tip of a revolutionary iceberg anchored on the rock-solid trustlessness of what powers crypto–blockchain.
NFTs are flowers that are just beginning to blossom. Just like DeFi had no fans in the age of Maker, Compound, and Bancor, NFT developers had their epiphany in early 2021.
Why are tokenized NFTs like WrappedCrypto Kitties (WCK) & CryptoPunks' Tracking DEAD
gaining popularity?
NFTs led to More Crypto Innovation
With the advent of NFTs, there has been experimentation where their scarcity, digital existence, and provenance combine to offer an unparalleled value proposition.
Creatives are especially the primary beneficiaries reading from the number of high-value pieces that have been sold for millions worth of ETH in the recent past.
And it isn't about the value of individual pieces. The rate at which millions, if not billions of dollars, finds itself in NFTs—including its derivatives– is astounding.
Outside of Ethereum, there is the Binance Smart Chain (BSC), IOST, Ethernity Chain, and more, offering dependable platforms for digital artists to do what they love best.
Since the age of CryptoKitties in early 2018—which technically brought NFTs to the fore, even paving the way for more funding, Ethereum's NFT ecosystem has both been hot and cold.
Ethereum is known for the quality of art and other collectibles available for auction.
Marking this explosion away from individual successes like Beeple and his $69 million collectible is the hysteria around CryptoPunks.
To understand the success of this NFT is to appreciate the benefit of being the first. In total, there are 10,000 CryptoPunks—characters with pixelated faces—all of which were distributed. According to Larva Labs, the cheapest punk available for sale goes for $135.5k. In the last year alone, there have been 11,998 sales generating over $1.05 billion.
NFT Tokenization is a Game-Changer
Now, everyone would want a piece of this digital gem. The problem is the cost. Not everyone's rich. Everyone's ambitious, no doubt! To bypass this, ingenious developers came up with a not-so-new concept of tokenization.
The launch of WrappedCrypto Kitties(WCK) & CryptoPunks' Tracking DEAD —ERC-20 tokens representing a portion of Cryptokitties and CryptoPunks, respectively, opened up the sluice gates, marking success.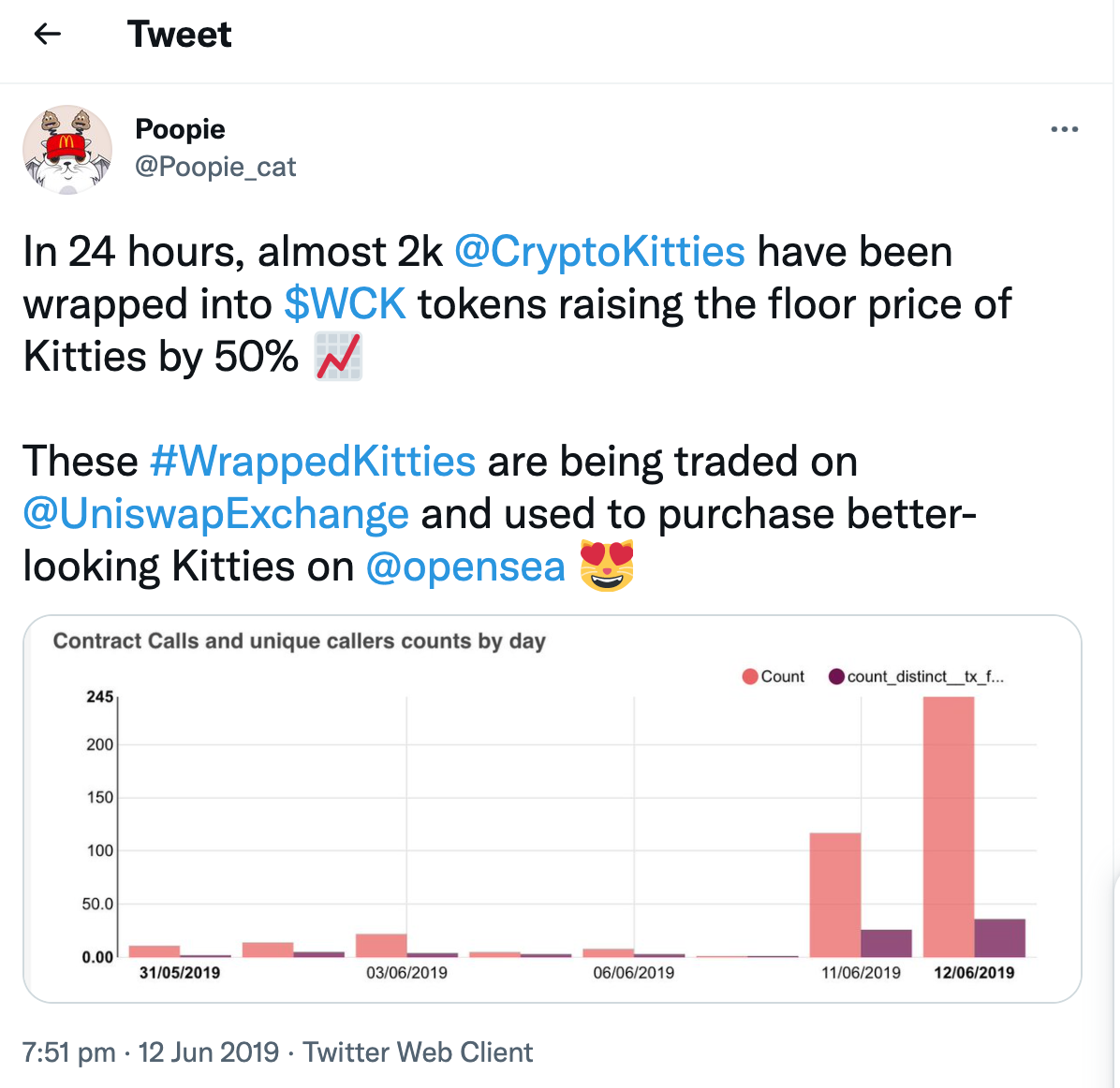 WCK wraps over 2,000 CryptoKitties, effectively turning them into high-value, cheap ERC-20 tokens tradable in exchanges.
On the other hand, the "Party of the Living Dead" vault represents an accumulation of one digital CryptoPunks piece. Out of this, there are 1,201,725 DEAD coins tied to digital art—NFTs.
NFTs Permeates into Other Sub-sectors like Blockchain Gaming
The ingenious innovation of lowering the cost of entry into NFT ownership through tokenization opens up even more possibilities.
Most importantly, it is a nifty tactic to improve the liquidity of the already exceptionally liquid NFTs and popularize them across various industries, especially in online gambling.
BC GAME, one of the most popular crypto gambling platforms running a Bitcoin Lightning Network node, now supports WrappedCrypto Kitties (WCK) & CryptoPunks' Tracking DEAD tokens.
This way, punters will use these liquid ERC-20 tokens pegged to valuable NFTs to play and win exciting games, including slots and more.