Ethereum casinos are becoming ever more popular amongst gamblers who flock to these platforms for their online entertainment. When looking for the best crypto casino, those that offer an amazing variety of Ethereum games are definitely high up the list of places to play. 
Ethereum casinos are powered by blockchain technology that runs on decentralized platforms and uses smart contracts to verify transactions. Read on as we explore some of the best ETH games around and give you details of where to find them.
Best Ethereum Games To Play
1. Fat Santa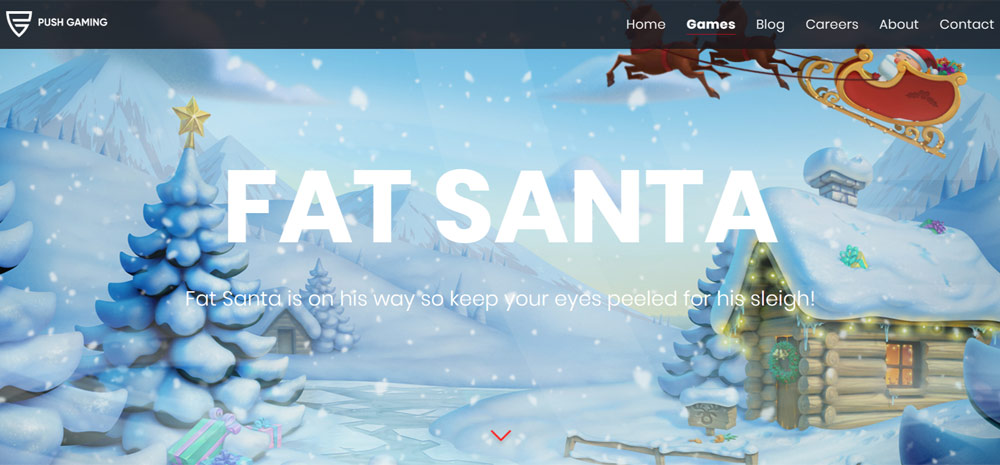 Fat Santa is an exciting slots game by Push Gaming that features Santa Claus as the main character. The theme of the game centers around the North Pole during Christmas, and its excellent graphics highlight details like Christmas decorations, snow-covered trees, and Santa's log cabin.
Fat Santa is a 5-reel and 3-row slots game that offers an incredible 50 paylines. It offers a Return to Player percentage of over 96%.
Gameplay
Players have the option of betting up to $25 or the Ether equivalent per spin with a maximum win potential of more than 6,000 times your original wager. Its free spins feature takes gamblers into Santa's house with the fireplace as the background for the reels. The game has a fantastic user interface with Spin and Auto Spin options available. Balance and Win information can easily be viewed, and it's simple for you to adjust your bets using the arrows.
The Christmas Tree ornaments typically appear more frequently and pay less on winning combinations. The high-paying symbols are the Snowman, the Reindeer, and the Elf. Players can expect more favorable payouts with these symbols. The ultimate symbol combination will include Santa Claus himself, as he represents a Wild. Fat Santa also includes another Wild in the form of a Christmas Pie.
Fat Santa's bonus feature is Santa's sleigh that randomly makes an appearance and drops Wild Christmas pies strategically on the gameboard. The bonus feature is triggered when Santa and the Christmas pie appear together on the reels.
If this sounds like one of the great Ethereum games to play, head on over to Stake Casino and RocketPot to enjoy a session.
2. Cave of Plunder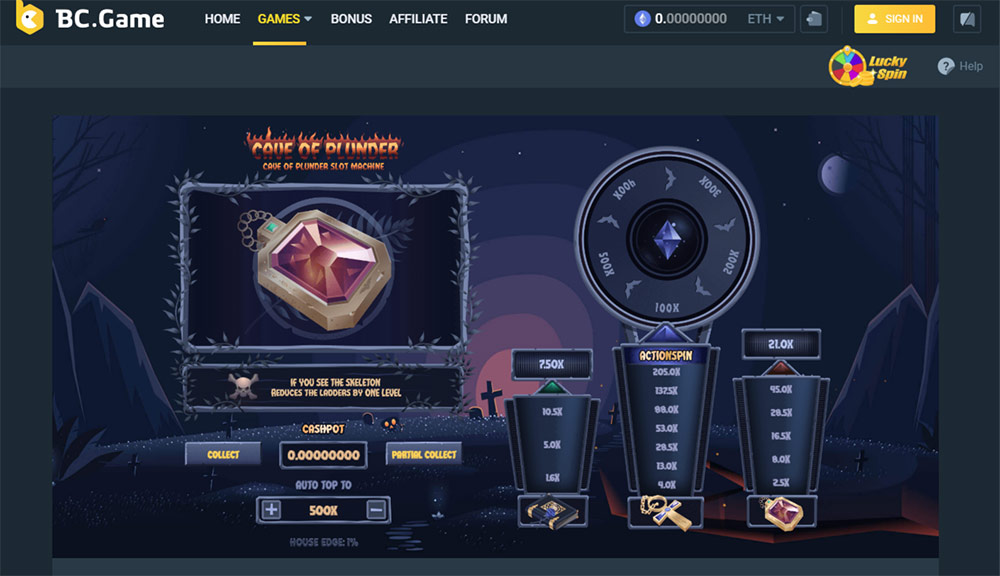 Cave of Plunder by BC.Game is a unique 1-line slots game with five possible symbols. Players are shown three columns of multiplier jackpots that range from small to medium to grand. It features incredibly realistic graphics and has an amazing user interface that has Spin and Auto Spin features. It gives players the ability to use Hot Keys and allows players to view live stats on their gameplay.
Gameplay
Cave of Plunder is relatively easy to play and does not contain as many symbols when compared to the more traditional slots games.
Each jackpot type is represented by a symbol that may appear on the reel when it is spun. If three of the same symbol appears on the reel, it represents one column towards its respective jackpot. If players achieve any type of jackpot, they have the option of collecting their winnings partially or fully.
The game offers its players an astounding 99% Return to Player percentage and massive multipliers that bring fantastic opportunities to win. Players have the potential to win the ultimate Jackpot of 500 times their bet amount but must navigate through the Skull and Crossbones symbols that could potentially wreck their journey to the ultimate prize.
Besides the three main jackpots, players will automatically receive the Book and Amulet jackpots when they reach the top of their respective columns. Cave of Plunder is only available at BC.Game who develop their own games in-house.
Players can visit BC.Game to enjoy a truly unique experience of Cave of Plunder along with several other one-of-a-kind Ethereum games.
3. White Rabbit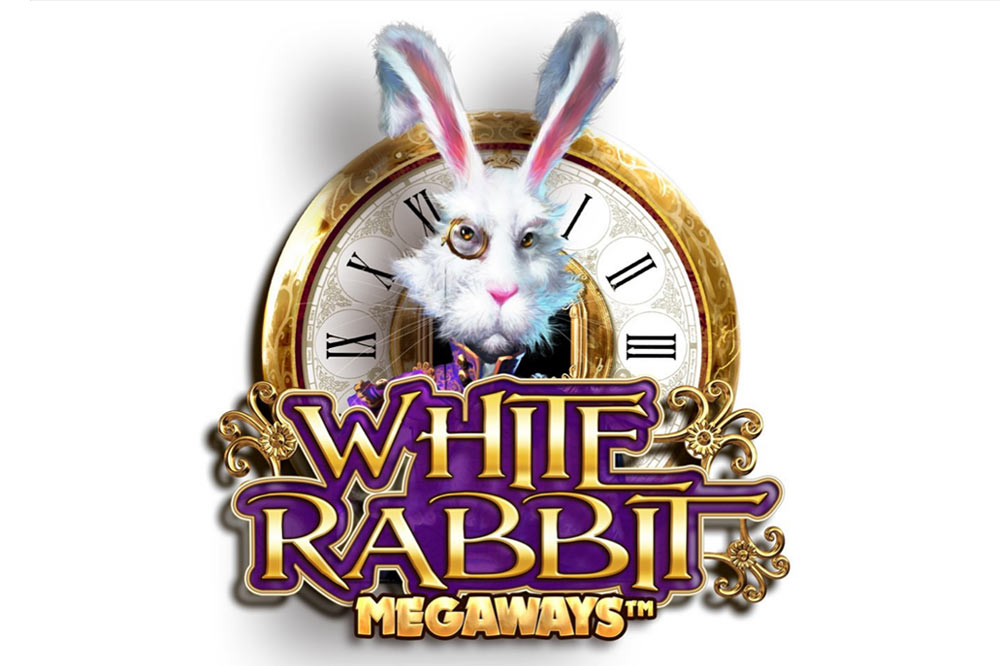 White Rabbit is an entertaining 3D slots game that can be played at Bitcasino.io and SportsBet.io designed with the theme of Alice in Wonderland. This game has five reels and plenty of exciting symbols to bring home some winning combinations. It contains amazing graphics and incorporates many of the characters from Alice in Wonderland, giving players an enchanting and magical experience.
Gameplay
The game's configuration enables players to win in over 16,000 ways, and once the bonus feature is activated, the winning possibilities go up by over 200,000. White Rabbit offers players a 97% Return to Player percentage and has a medium to high variance. It has an easy-to-use interface where players can easily view their balances and winnings.
When free spins are activated, players watch as White Rabbit falls down a rabbit hole with massive piano keys in the background. Gamblers have the option of betting up to $20 or the Ether equivalent, and they have the potential to win up to 10,000 times their original bet amount.
The Card symbols are the low-paying ones that appear often with low rewards for every combination. Players look forward to the Red Queen, and Three Gems as these typically give greater payouts. The rabbit is the scatter symbol, while Alice and the Caterpillar are the Wild symbols that appear separately.
One feature that attracts players to White Rabbit is the fact that gamblers can actually buy the bonus round and don't have to wait for specific combinations to unlock it. As far as Ethereum games go, its gameplay is engaging and does well to bring the magic of Alice in Wonderland to life.  
4. Choco Reels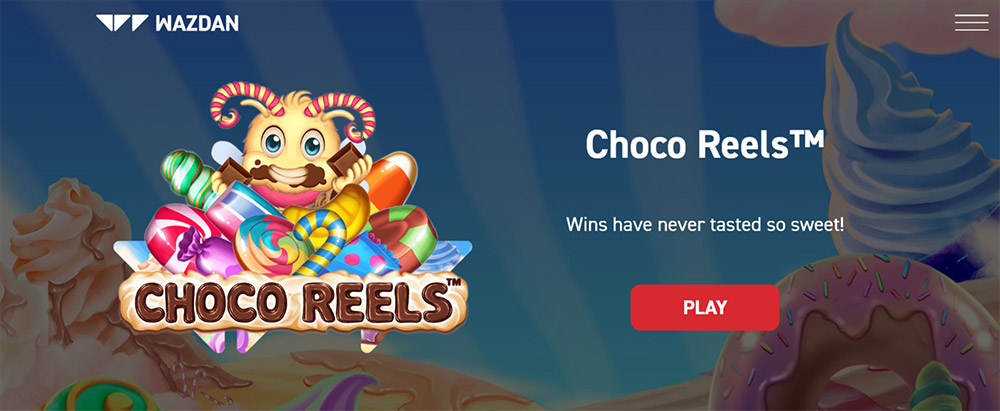 Choco Reels by Wazdan is an extremely popular slots game with a 2-4-6-6-4-2 grid with a potential of over 2,400 paylines. Gamblers love both the detailed visual element as well as the captivating gameplay of Choco Reels. 
As the name reveals, the reels are depicted in chocolate, and the game's theme is filled with candy canes and sugar wool. When playing the game, the entire grid represents a chocolate bar that is framed with candy canes.
It has an excellent user interface with easily identifiable buttons and a free spins meter in the form of a syrup bottle. Players have the option of using the auto-spin function and can also adjust the speed of the game from Choco Reel's dashboard.
This game also features a Bonus Buy function that enables players to buy the bonus feature as opposed to waiting to unlock it through a combination of specific symbols.
Gameplay
Upon first playing the game, square chocolate blocks are placed strategically on the reels, and these gradually disappear to reveal more symbols as the game progresses.
Once all these chocolate blocks have disappeared, the bonus feature is triggered with access to the full 6×6 grid and potentially over 45,000 possible paylines. Choco Reels offers over 96% Return to Player percentage with an adjustable variance.
Players have the option of betting up to $100 or the Ether equivalent with a maximum win resulting in over 9,500 your original bet amount.
The low-paying symbols include the candy cane and the green, purple, blue, and pink candy symbols. Players look forward to the mixed-colored symbols that generally offer more generous rewards. Choco Reels scatter symbol is a doughnut and unimaginatively uses the word "WILD" as the wild symbol.
Free spins are unlocked when you get three scatter symbols on the reels in a single spin. One of the biggest drawcards to this game is the option for players to adjust the variance.
Players can use their Ethereum at Chips.GG and BetFury to enjoy a session of Choco Reels.
5. Marching Legions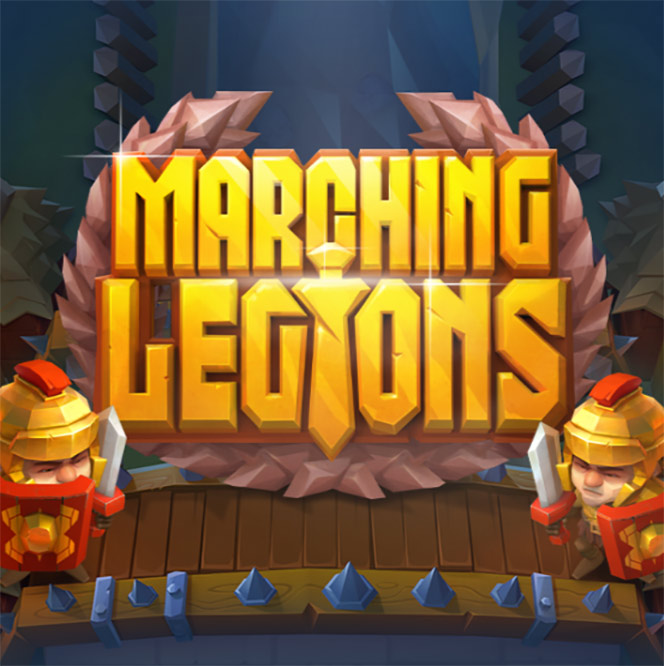 Marching Legions by Relax Gaming is one of the enthralling 5-reel and 3-row slots Ethereum games based on the Roman legion. The game features infantry forces and soldiers with a friendly touch of animation. It is designed with 3D graphics that enables players to immerse themselves completely. Players mostly view the Pantheon stone court on the main screen, while the bonus feature takes players to a wooden fort.
Its fantastic user interface includes a Spin and Auto-Spin button, and players can adjust the bet limits. Balance and win amounts can be easily viewed, and the interface has a mute button if the animated sounds disturb your strategy. Marching Legion offers an incredible 98% Return to Player percentage and a hit frequency greater than 25%. Together with its high variance levels, this game is undoubtedly popular amongst crypto gamblers.
Players can bet up to $100 or its Ether equivalent and can maximize their bet by potentially 10,000 times the original bet value. Players can buy the Free Spins feature but must note that the Return to Player percentage will be reduced by doing so.
Gameplay
The Pantheon, Cesar, and Aquila are the low-paying symbols that appear frequently. Players look forward to combinations that include Cesar's wreath, the sword, or the battle flag as their winnings are more generous.
The Legionnaire is the most prized symbol that brings along the most attractive rewards.
Marching Legions does not have any wild or scatter symbols but has an amazing bonus feature that makes up for this. During the bonus feature, players have the opportunity to activate Bonus respins when specific combinations are achieved.
The bonus feature also includes a horn that appears for more rewarding payouts. Essentially, the bonus feature can last much longer than in other games and has the potential to fill your pockets.
Marching Legion has incredible graphics and a great Return to Player percentage, but its biggest drawcard is its bonus feature with superb entertainment value.
Gamblers can use their Ethereum to play Marching Legions at DuelBits and Chips.GG casinos.
Final Thoughts
We hope you enjoyed our guide to the best Ethereum games to play! For more gambling tips, game guides, and casino reviews, check out our blog. If you are ready to go gambling, head on over to our games page for hours of fun and entertainment.