There is so much happening in the NFT space if you join social media communities on Twitter, Reddit, and Facebook. Right now, one of the most congested platforms where you can see tons of events, opinions, celebrities joining the NFT space, and NFT meetings is Twitter. Since this social media platform has upgraded, users can now easily host "Twitter spaces" where others can come in at any time. This has been a significant development, and for the NFT community, it's been a great place to connect.
Speaking of the NFT community on Twitter, several celebrities and big companies "aped in" different NFT collections. In fact, many of these personalities are doing NFT shopping from big to small collections.
Let's look at celebrities who recently bought their NFTs this year.
#1: Paris Hilton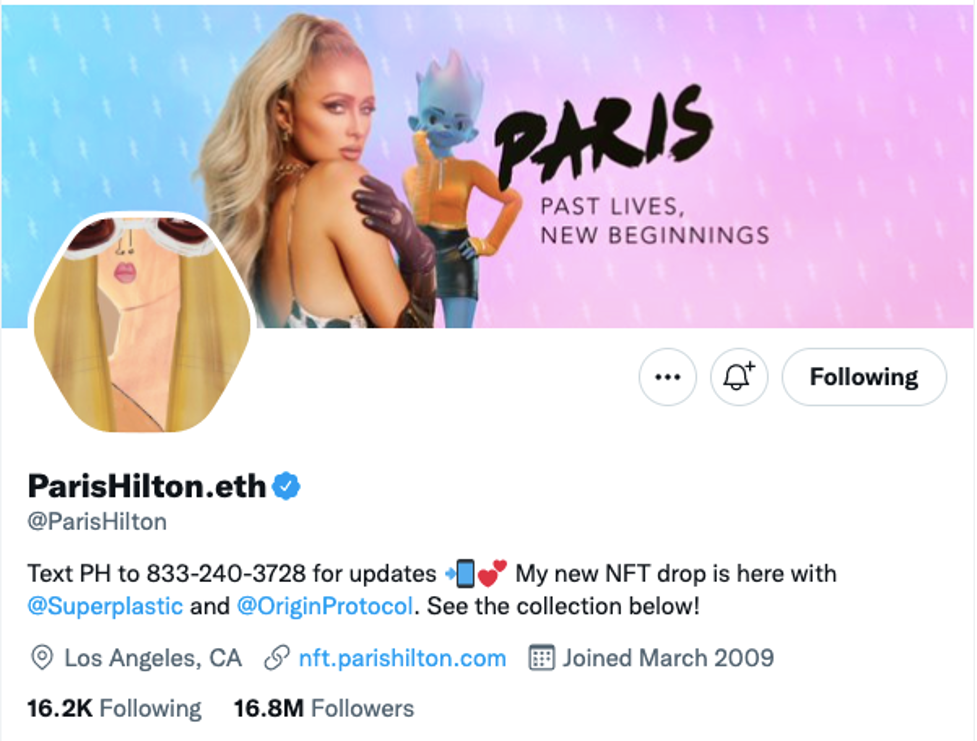 Paris Hilton is a socialite, model, singer, and entrepreneur in the US. But she isn't just an influencer in real life. If you check her Twitter account, you will see that she's been into NFTs lately. Some of the collections she owns are from Bored Ape Yacht Club, 1989Sisters, etc. Her latest tweets were about her upcoming NFT collections, which you can purchase in her own established NFT marketplace.
#2: Jimmy Fallon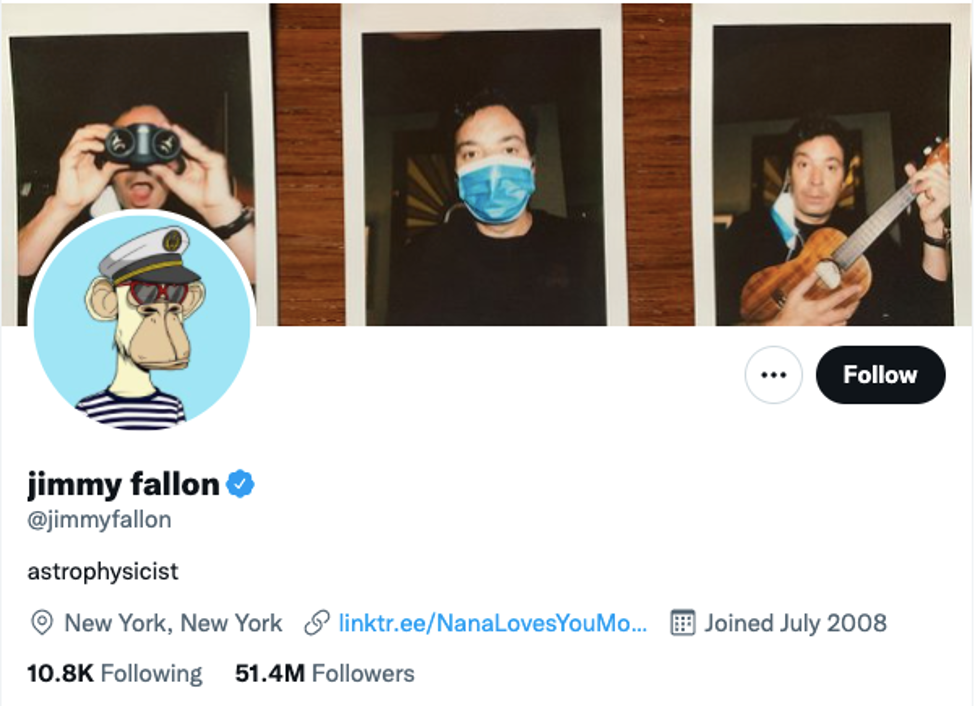 Let's not talk about any other person than Jimmy Fallon, who was influenced by Paris Hilton when she got interviewed in the talk show. The Tonight Show, starring Jimmy Fallon, is a popular late-night talk show hosted by Jimmy Fallon himself. He invites many famous artists, and a lot of people are watching his show. Just imagine the audience he has if he gets them influenced to buy NFTs as well. During an episode of the show that aired last January, Fallon showed his NFTs (which is a BAYC) together with Hilton.
#3: Justin Bieber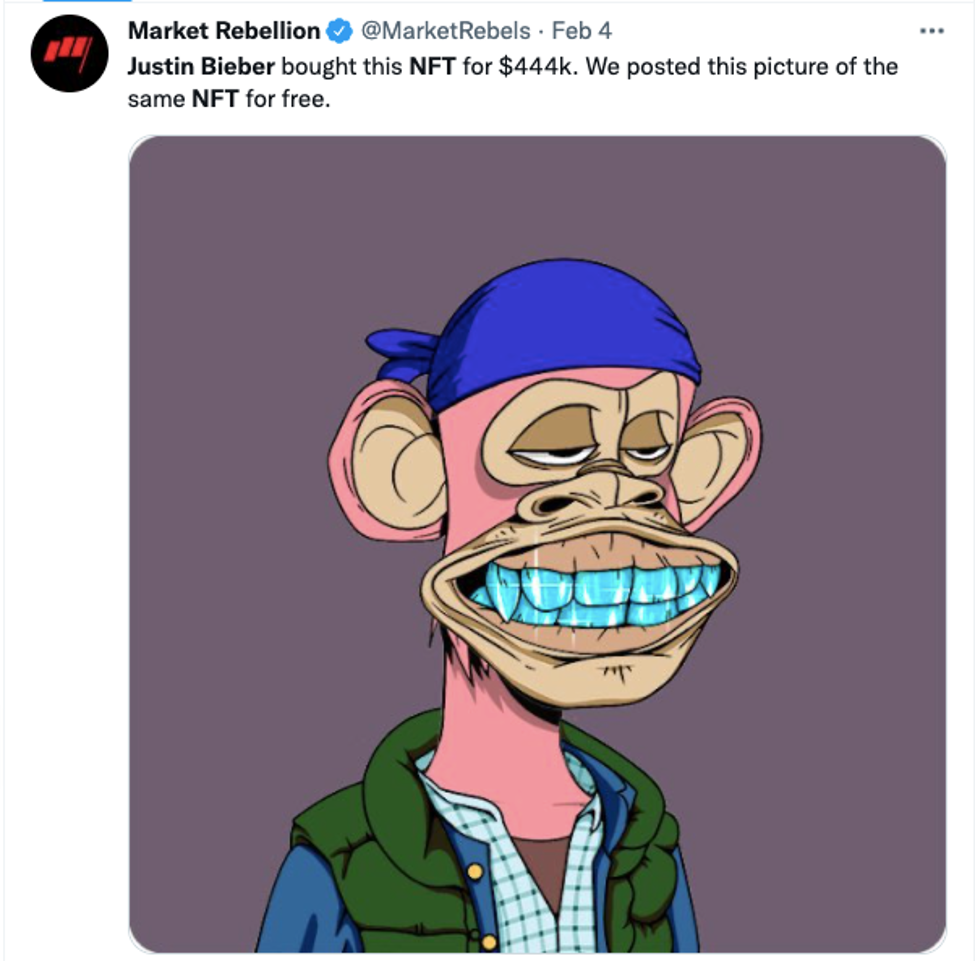 Bieber supporter or not, you'll know who Justin Bieber is. This famous singer who recently married Hailey Baldwin, another renowned model, just bought his ape from the BAYC collection, costing around $444k. On his Instagram profile, he also shared some NFTs that he purchased. His NFT collection is composed of pieces from big to small collections. His movement stirred the NFT marketplace, and many holders believe that it pumped some big collections for a short while.
#4: Stephen Curry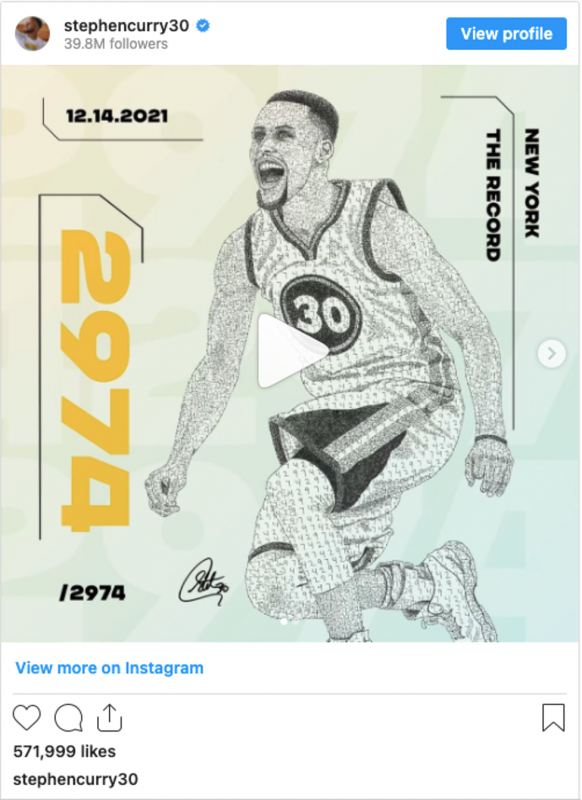 Stephen Curry, the famous basketball player, has started venturing into NFTs. The latest update from his Instagram account was him selling The 2974 Collection–an NFT collection with 2,974 pieces that cost $333 each. The collection showcases replicas of his shoe line, and it eventually sold out.
#5: Adidas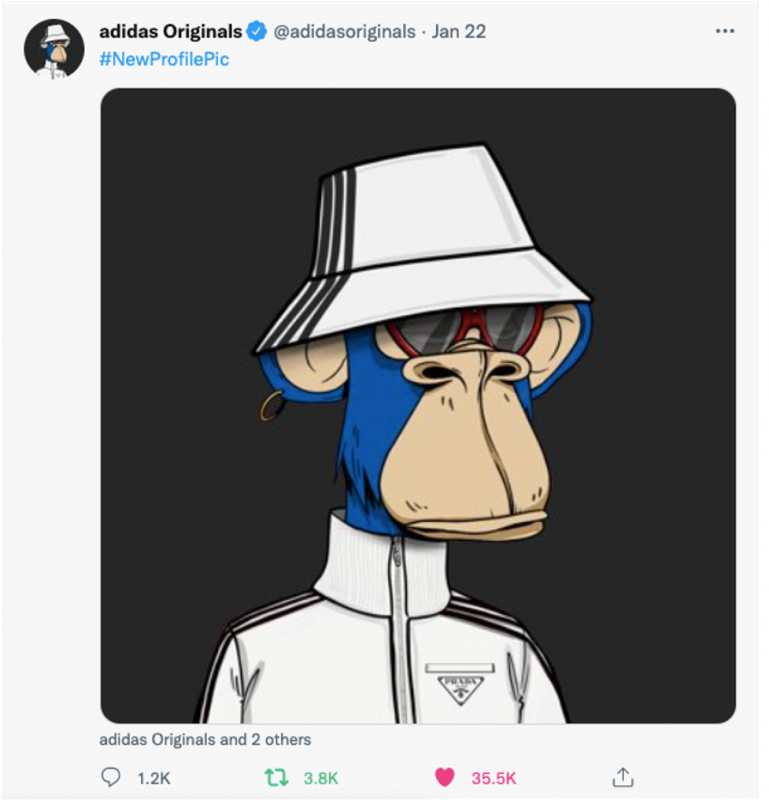 Aside from celebrities, big brands are also starting to buy their NFTs. Adidas, a popular shoe and apparel brand, has recently purchased its BAYC NFT. This wasn't the first time Adidas Originals stepped into the realm of digital assets. In fact, it has an OpenSea account already where it offers the Into The Metaverse Collection. The collection has 30k items with 22k owners as of this writing. Soon, the brand is looking to partner with other big collections like BAYC and CryptoPunks to expand its NFT and metaverse offerings.
#6: 9gag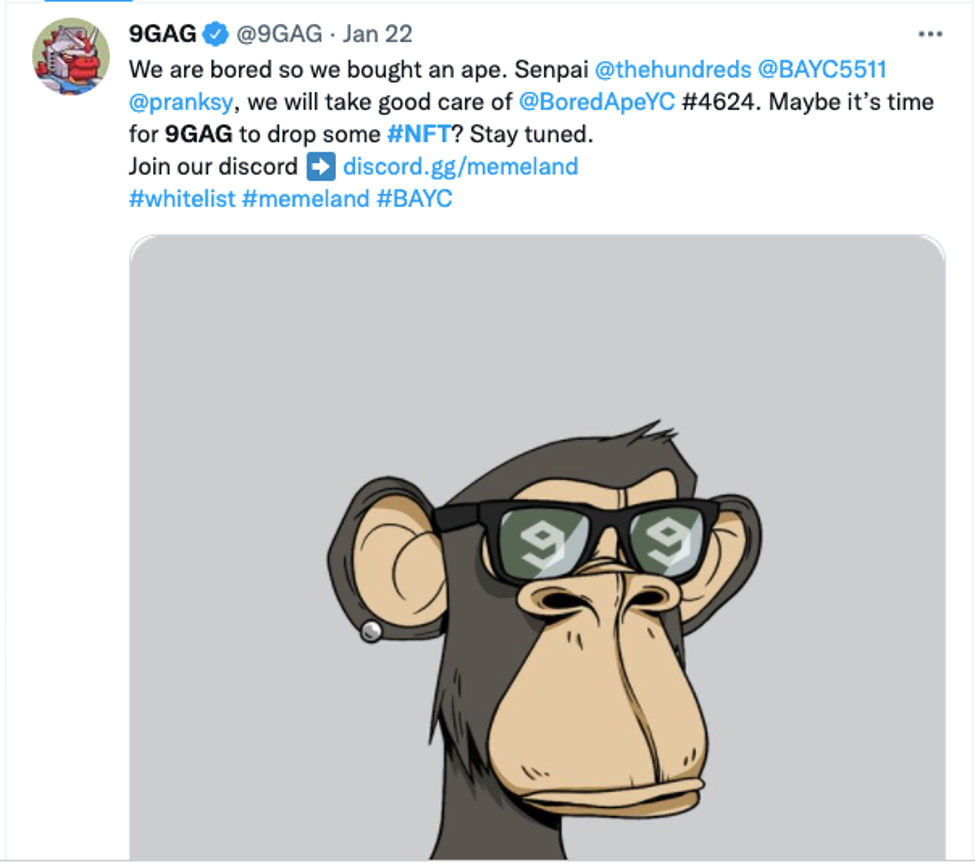 Yes, it's not only brands and celebrities. The internet's king of memes has entered the NFT space as well. Last January, 9gag tweeted that it bought BAYC #4624. It also teased its followers about releasing its own NFTs soon.
After some time of using BAYC as a profile picture, 9gag changed its profile picture to KaijuKingz–a collection with more than 66k followers on Twitter. It seems like 9gag would never stop supporting NFT collections in the future.
#7: Twitter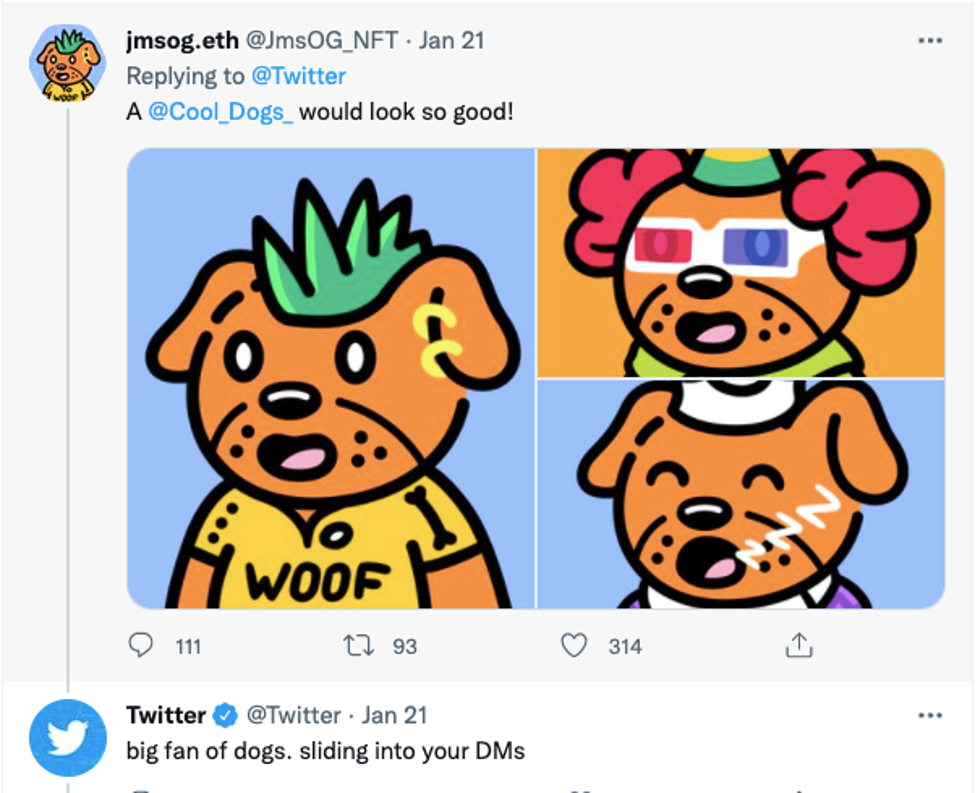 Twitter has more than 60M followers on its platform. Last January, it made something huge that led to the pumping of different NFT collections. If you follow this Twitter thread, you will see how Twitter responded to artists showcasing their collections. Some of Twitter's NFT portfolio collections include Crypto Chicks, Fairy Fiend, Lucky Sloth, Cosmic Cowgirls, and Cool Dog.
Aside from these celebrities, some notable people are influencing many buyers and collectors in the NFT marketplace. Some of them are Gary Vee, the "marketing mastermind" behind VeeFriends (another excellent NFT collection); Randi Zuckerberg, the CEO of Meta and advisor of the newly launched NFT project Meta Angels; and Maliha Abidi, an international author and founder of Women Rise NFT collection.
Depending on your goal in the NFT space, each person mentioned has a different influence in the community because they support NFTs in various ways as well. So, if you are planning to follow any or all of them, it's important to deep dive into how and why they get involved in buying NFTs in the first place.
Reasons why NFTs are getting more popular
There are still a lot of celebrities and brands on the list. Famous personalities and executives whose jobs include business development and marketing are also part of the growing NFT community. So, you might be wondering why there is a popular demand in the NFT space. Let's break down some of the compelling reasons.
The community is vast.
The community drives the NFT space. How and why? Since digital art collections are built on decentralized technology, no one controls the whole place except the people in it. It means to say that people are freer in the NFT space. They can buy whatever art they want without waiting for a person to approve their purchase. So long as you have ETH or SOL in your crypto wallet, you can start your NFT shopping spree.
There are utilities.
In the NFT marketplace, the most utilities collections sell faster than others. Most NFT buyers are on the bandwagon, looking for collections that would bring them long-term value. So, utilities increase prices, but they are not very common in projects since building utilities for holders takes time and resources. Projects fail after the mint phase because holders don't have much to look forward to. Utilities are long-term. NFT buyers patronize projects that deliver based on the plan. And when the demand for such projects increases, the value increases over time.
Some artworks are dope.
Some people in the NFT community are there for the art, regardless of the price of digital assets. No one can blame these art enthusiasts for looking for art that gives them value as art collectors. In the NFT space, you will find great artists. Some have small collections of their own, and others collaborate and build a team to release more than 5k items. In most cases, small collections have 1/1 items, which simply means that each art is unique and doesn't have shared traits with the other items in the collection. This makes 1/1 NFT more valuable than others. Although there are fewer utilities to speak of, still, there are art collectors in the NFT space who are willing to spend money because of art.
NFT is the future.
Many believe that it's only a matter of time before the cryptocurrency mass adoption. Blockchain technology is evolving every day. There are a lot of projects that are being launched and supported. Name them–decentralized exchanges, decentralized autonomous organizations, NFTs, decentralized finance. There is a huge opportunity to build in this digital space. This is why a lot of those who invest in NFTs think that the future is already here. We just need to believe and make use of the available resources.
NFT is in its early stage.
In the recent interview of Gary Vaynerchuck with CNBC, he said that it's the early days for the NFT space. When the internet stocks got popular in the '99, a lot of people overbought until they collapsed, and Amazon was trading for around $70 per share. Fast forward to 22, Amazon's stock price is trading at $3,180. There is a huge potential for the NFT market to grow in the coming years, especially now that technology plays a significant role in everyone else's lives. Be it a corporation, individuals, small businesses, or creators; the NFT space will eventually ripen.
Final Thoughts
We've constantly reminded everyone that people have different perspectives in the NFT space. There are supporters and critiques. It's normal for some to say that 90% of the projects will fail. There will always be positive and negative sides. But, the best thing to do is DYOR–do your own research. In this way, you can study projects independently and give objective and subjective feedback about them. If you know what you are getting into, going wrong is reduced. So, before you buy NFTs, whether it's because of art or profit, you should at least visit the project's social media account, website, and discord. Observe the community and, as much as possible, avoid impulsively and FOMO buying.