Everyone knows that football is one of the biggest sports in the world, holding the attention of hundreds of thousands of spectators. Even if you are not a big football fan, the chances are you know the big names in the game.
That said, Binance, an industry-leading crypto exchange, has managed to score the goal of the century and signed a deal with football's most prominent name Cristiano Ronaldo.
Binance X Cristiano Ronaldo
Binance, a crypto exchange, and Cristiano Ronaldo are a match made in heaven, highlighting heightened offerings within their industries. These two powerhouses have partnered to promote non-fungible tokens (NFTs'). NFTs are cryptographic asset that brings significant balances through earnings and gains.
This crypto exchange is more than just a crypto app. It's the world's largest digital asset exchange, hosting a majority of daily trades. This driving force in the industry just further increased its dominance of the market by announcing the most significant partnership of the year.
The NFT industry is expected to experience a massive influx of interest, providing more people with a path to digital asset ownership. The deal is a multi-year partnership that offers purchases of an iconic piece of sports history by joining CR7's Web3 community.
Celebrities with NFTs'
On the note of NFTs and famous faces, Cristiano Ronaldo is not the first to get involved. He joins the likes of Amitabh Bachchan, Snoop Dogg, Steve Aoki and Method Man, who have minted their own NFT.
Other celebrities are jumping on the NFT bandwagon. Buying up top-rated NFTs' include big names like Post Malone, who recently purchased not one but two Bored Ape Yacht Club NFTs' valued at more than $700,000. Post Malone featured the purchases in his latest music video with The Weekend to add more value to the digital asset.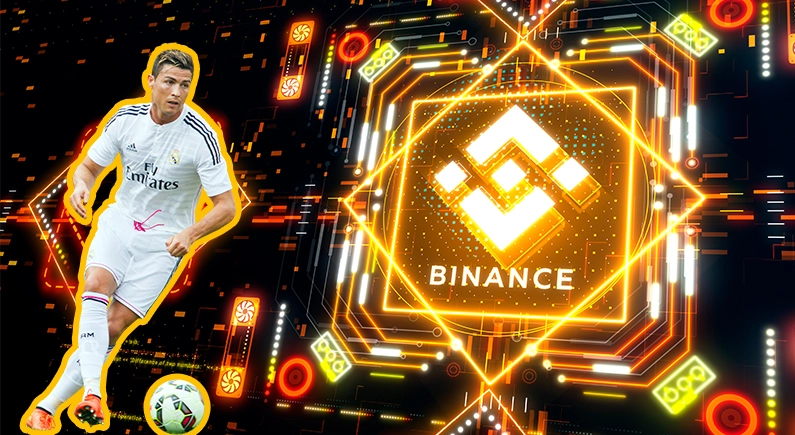 Cristiano Ronaldo Signs NFT Deal With Binance.
NFTs' Add Exclusivity To The Industry
Similar to crypto, NFTs' are a great way to make a profit, but NFTs', unlike crypto, are unique. If you own one, it is yours exclusively.
NFTs' can provide significant financial support for both the buyers and the sellers. NFTs' are incredibly trendy within the tech community, offering individualism and exclusivity. Most people who get their hands on an NFT get fundamental usage rights, such as the ability to use the image online and as social platform profile pictures.
Gamble For Crypto And NFTs'
Crypto casinos are no longer new in the gambling sense, but these gambling sites have managed to stay popular. One of the most popular crypto casinos in BC.GAME, which recently ventured into the NFT scene with the release of the Degen Pass within the Degenverse.
The Degen Pass gives players access to the Degenverse ecosystem. The Degenverse ecosystem is a portfolio of casinos, a mystery airdrop and early access to the DeFi betting app.
Here is how to get a Degen Pass:
Wager on Doggy Miner, BC. GAME's NFT escape for the best chances. You can also wager on any game on the site, but Doggy Miner produces the best results.
Taking part and placing in TOP 10 of the BIG BANG wagering event. It takes place from the 14th of June to the 13th of July.
The last way to access a Degen Pass is through the Degenverse Official whitelist Giveaways.
You can find more about the Degen Pass right here.
Top NFTs' Sold
Thousands of NFTs' have been sold over the last couple of months. A few have brought in astounding returns for the sellers, making millions. Here is a list of some top NFTs' sold in the last couple of months.
Save Thousands of Lives by Noora Health worth $4.5 million
Beeple, Crossroad sold for $6.6 million in February 2021
Ringers #109 from the Art Blocks collection
Right-click and Save As Guy sold for 1,600 ETH worth $7.09 Million in December 2022
Larva Labs, CryptoPunk #7523 sold for $11.75M
NFT's hold colossal value, and if you can pocket a sought-after artwork, chances are you will have a gold mine! Try your shot at the Degen Pass to set yourself up with a rewarding online adventure.
NFTs' Keep Going Up
NFTs' are a considerable part of the progression of online assets. With both value and exclusivity attached to the offer, many online enthusiasts have jumped on board and moved to invest in high-interest options, such as a crypto casino leaderBC.GAME. This casino has joined the trend with its Degenverse network, releasing the Degen Pass.