BC.Game is committed at bringing provably fair games for their players and in line with their commitment they have recently launched Hi-Lo! It is undoubtedly one of the widely popular cards and casino games in the world. It might not be wrong to say that it is an exemplary introduction to the exciting world of cards. Many betting aficionado from all around the world enjoy this game due the downright simplicity and sheer coherence of Hi-Lo!
In this post, we will take a quick glance at what makes Hi-Lo so interesting and a guide on how to play this game live at BC.Game.
Basics:
Fundamentally Hi-Lo at BC.Game is an online single player game all about predicting whether the next card number will be 'higher or same'(Hi)  OR 'lower or same'(Lo) to the base card – your main playing card in every round. There is also a 'Skip' option available.
Although it is fairly an easy game but the main reason it's loved by many is that it keeps the excitement high by keeping the player guessing at every step, predicting and strategically placing bets and gathering large payouts!
For example: if you have an 8 card up, then the payout for low will be relatively low since you can win with a lot of cards (2, 3, 4, and so on). Whereas the payout for a 'high' card will be quite good as you can win with a few cards only.(9,10,J, and so on)
This is where you can use a good Hi-Lo strategy and make bigger payouts!
How to play: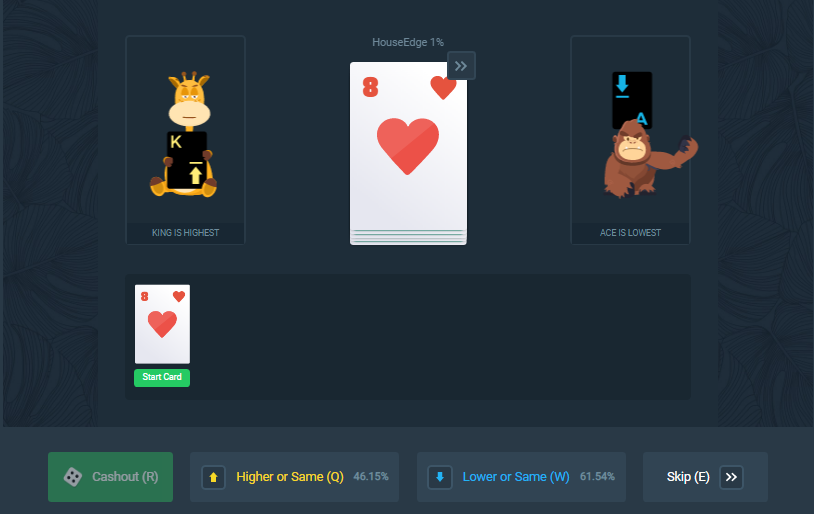 Click on 'Bet' to start the game and get your first card.
Now you have to guess whether the next card is 'higher or same' or 'lower or same' than the displayed card. Here you can also choose the 'Skip' option.
If your guess is right, you will receive the corresponding payout.
At this point you can choose to claim this win, cashout and stop this round or continue this round by guessing the next card.
More cards you guess, higher the chances of a bigger payout!
The cards are in this order: Ace is the lowest card & King is the highest card.
Highest to Lowest:
K-Q-J-10-9-8-7-6-5-4-3-2-A
Please note:
The 'same' option in 'Higher or same'/ 'Lower or same' bets is because the game is played with an unlimited number of card decks. As a result of this there can be a similar card drawn in a lineup of series.
In case the same card is drawn again(except Ace or King), then choosing either 'Higher' or 'Lower' will both be a winning bet!
However it is worth mentioning that the payouts can widely differ as it depends on whether the next card you choose is within the selection.
Refer the image below: Instead of having the usual 'Higher or same' and 'Lower or same'; the two options are now just High and Same( as the card is Kings). For Aces and Kings, you always see two options :Higher/Lower and the other choice will be 'Same' As Ace and King are the first and last cards i.e highest and lowest in themselves hence if these cards are drawn, you would have to select the Higher/lower OR Same option.
There's also the skip option. You can choose the Skip option before or during betting. You can skip multiple times. Please note: If you skip a card after placing the bet (seeing the card already displayed), the next card after skip is based on the card you skipped and not on the cards before that!
Unlike a normal Hi-Lo game with only 52 unique chances of winning; in Hi-Lo at BC.Game you get a high probability of getting multiple Kings or Aces in succession as we use multiple card decks online!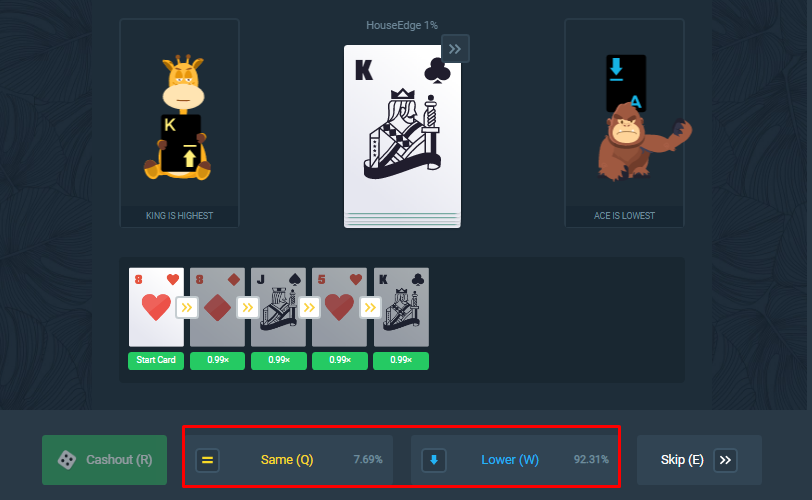 That is all about Hi-Lo! Whether you are an expert or a newbie at casino games, this game is sure to keep you thrilled with its easy learning and exciting payouts!