When the term cryptocurrency comes up, the first thing that comes to most people's minds is Bitcoin, and rightfully so. Although BTC gets a considerable chunk of the media coverage, there are still plenty of other options, like altcoins, to invest in. 
Since 2009, thousands of altcoins have appeared, creating healthy competition in the market, along with broadening the spectrum of investors based on financial ability, knowledge, and longevity. The magnitude of options complicates the crypto landscape, making it hard to know which are the best altcoins. 
Each digital coin on the market, whether it be Bitcoin or an altcoin, holds varied signature features and technical differences. All Altcoins have made their mark for different reasons, and some simply for the popularity created through media memes. 
Although investing in cryptocurrency can be highly volatile, with the broadening variety of altcoins to choose from, it has managed to attract many big players. 
Identifying The Altcoins On The Market
The market for digital currency has skyrocketed, bringing about alternative options like ICO's and NFTs, but at the foundation of all this technological growth are cryptocurrencies, including Bitcoin and multiple other altcoins. 
The popularity of the financial alternative has recently soared, with a huge opportunity to make money free online. As the demand increases, so does the variety to choose from. There are many ways to stay in the loop with the latest altcoins on the market, but the most accurate would be from following reputable news sources that focus on digital currencies. 
The altcoins market can be split into three main categories these are Native cryptocurrencies, Tokens, and Stablecoins.
Native cryptocurrencies
Native cryptocurrencies are digital currencies that run on a specific blockchain network. These coins can be used interchangeably with currency and cryptocurrency. Native cryptocurrency options include Bitcoin, Litecoin, Dogecoin, and many others. 
Tokens
A token is the in-house version of cryptocurrency. It is measured in a unit of value that is based on an already existing blockchain. Tokens are used for a particular purpose within an environment like a crypto casino. A great example of this is the BC GAME token, the BC Dollar (BCD).
Stablecoins
Stablecoins are one of the latest creations in the altcoins atmosphere, offering the advantage of lower volatility. This is made a reality by pegging the value of an existing currency. The most popular stablecoin currently is Tether, holding the largest market cap. Therefore, stablecoins offer an excellent alternative for crypto gambling. 
Other cryptocurrency Options
Since first starting more than a decade ago, cryptocurrency has branched off into many different sectors. Besides the four main categories of altcoins, cryptocurrency options include many other alternatives, such as DeFi, NFT, and utility tokens.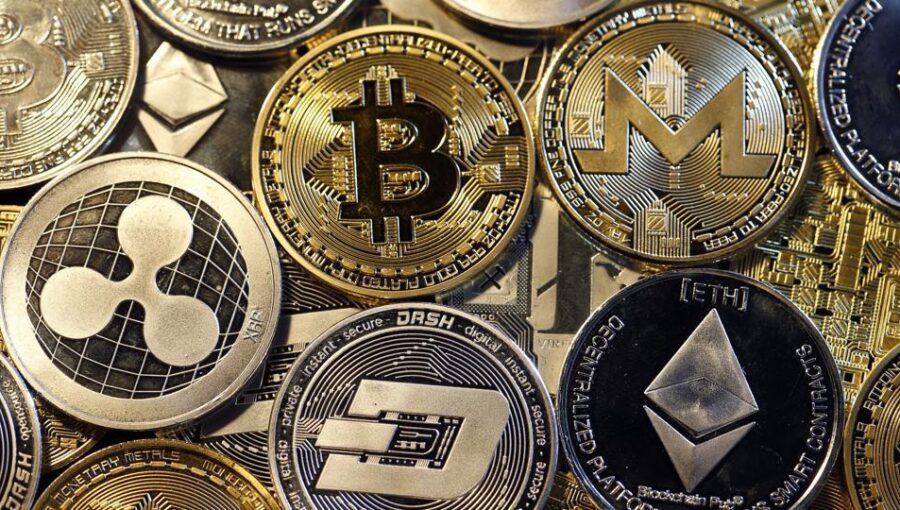 Cryptocurrency News
A contributing factor to the success of cryptocurrency recently is the acknowledgment from well-recognized establishments. In recent news, Coinbase Global, Inc aired an ad during the Super Bowl offering a promotion of a free $15 for all new users. Within several minutes of airing, the customer response rate caused the app to crash. 
Further to that, a well-recognized digital investment advisor, Betterment, immersed themselves in the crypto ecosystem by incorporating a robo-advisory firm Makara. Last but not least, the crypto market giant, Binance, has made an investment of $200 million in the print and digital publisher Forbes. 
With this much attention brought to the offer of cryptocurrencies, it's no surprise that altcoins are picking up in popularity. Find out about what the best altcoins are by reading the list further down. 
The Best Altcoins For 2022
With Bitcoin leading the race, it's hard to imagine earning money through any other crypto coin, but what many people don't realize is that altcoins hold massive potential. Just like the original cryptocurrency, altcoins provide investors the chance to rack up some impressive ROI.
Pay attention to up-and-coming coin offers, and you could be the next crypto fundi to make a bang for your buck! 
7 of the best altcoins to buy:
Ethereum (ETH)

Ripple (XRP)

Solana (SOL)

Polkadot (DOT)

Dogecoin (DOGE)

Litecoin (LTC)

FTX Token (FTT)
Although Bitcoin continues to be an industry leader in terms of market cap, user base, and industry popularity, many other altcoins have come about, creating enormous opportunities for many investors. 
Cryptocurrency options like Ethereum are the perfect example of new implementations of crypto technology like decentralized financial (DeFi) systems. Some altcoins even go as far as offering more improved options of Bitcoin features, such as shorter verification times and cheaper fees. 
Conclusion
The cryptocurrency market is still in the beginning stages, with constant growth and opportunity provided. By exploring the industry and understanding, all the elements could be the difference between a loss and again. Take your time and do the research before trying out one of the best altcoins for 2022 at a crypto casino like BC GAME!