BC.GAME has stood out as an innovative online casino that never fails to captivate its players. Among its remarkable offerings lies a distinctive section BC Originals. BC Originals is a section dedicated to proven equity games designed in-house.  From thrilling instant games like Crash, Coin Flip, and Ultimate Dice to timeless classics such as Baccarat and Roulette, BC Originals invites players into an immersive world of top-quality casino experiences. This article looks at 5 of the top-rated games in this section.
Classic Dice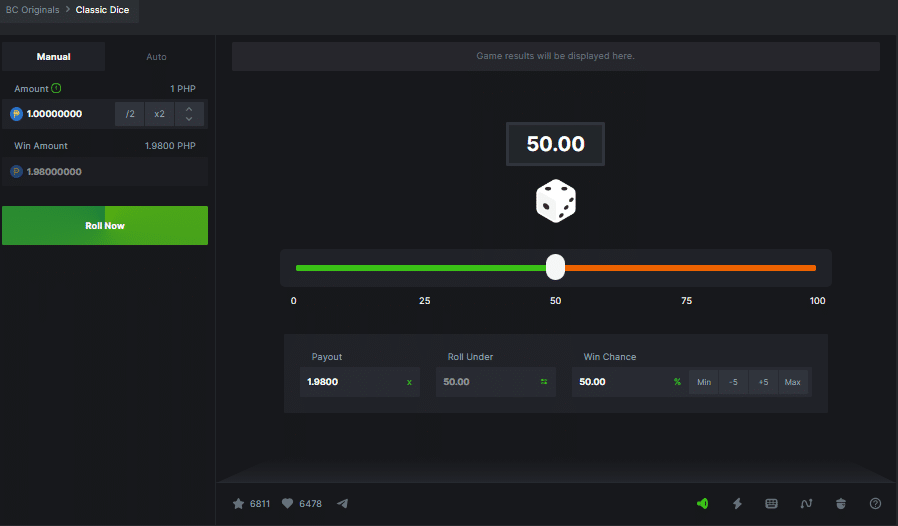 Classic Dice is a highly regarded crypto casino game known for its exceptional features and fairness. As a game of probability, Classic Dice requires players to rely on luck and make predictions.
It offers a straightforward and enjoyable gaming experience, particularly when compared to other dice games. The game involves a virtual throw of 100-sided dice, and players have the option to customize settings according to their gaming preferences.
Before rolling the dice, players can set the rollover or roll under the amount. The chosen amount serves as the target for determining the game's outcome. Players aim to obtain a higher value than the set amount in rollover mode, while in rollunder mode, the outcome value should be lower. Players must achieve an outcome within the green area to win. 
Classic Dice offers an auto-betting option for experienced players looking to effectively manage their bankroll. This feature automatically places bets based on predefined rules, adjusting amounts depending on the selected mode. Classic Dice has a remarkable Return to Player (RTP) rate of 99%, meaning that, on average, players can expect to receive back 99% of their wagers.
Crash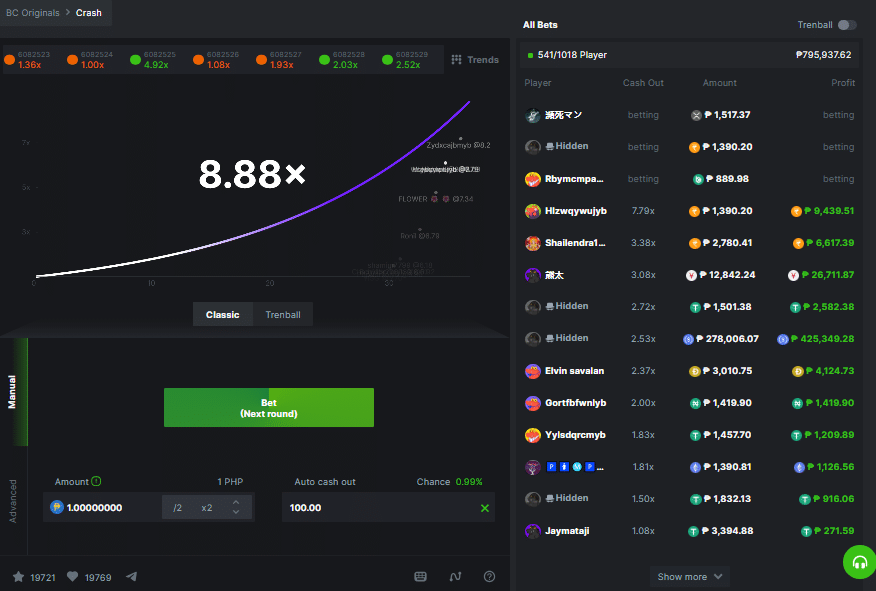 Crash offers a fast-paced, adrenaline-inducing experience that tests players' nerves and timing skills. The objective is to cash out before a virtual rocketship crashes, allowing players to multiply their winnings. This thrilling gameplay appeals to thrill-seekers and those seeking an exciting gambling experience.
With a high RTP(Return to player) rate of 99%, players have a favorable chance of receiving back a significant portion of their wagers. Additionally, Crash offers a wide range of stakes, ranging from as low as $0.01 to an impressive $100,000, accommodating players with different bankrolls and risk preferences. The maximum win potential of 1,000,000 further adds to the game's allure, presenting players with the possibility of substantial earnings. 
Limbo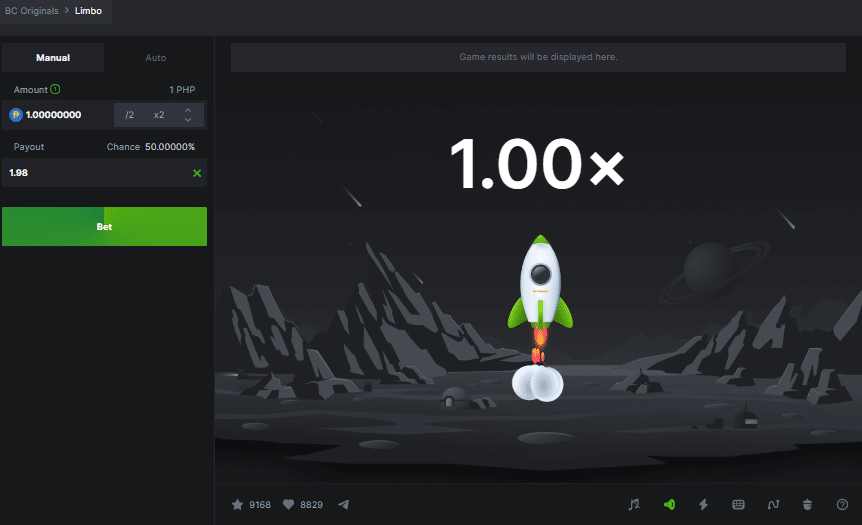 Limbo at BC.GAME is an exciting and engaging game that combines elements of chance and strategy. To have a chance at winning in Limbo, you need to follow a strategic approach. Start by selecting your desired bet amount and choose the multiplier you want to target. Predict whether the next number will be higher or lower, and adjust your risk level by setting your own "bust" point. As the game progresses and the multiplier increases, you can cash out and secure your winnings or continue playing for higher multipliers. 
The game has an impressive return to player rate of 99%. This high percentage indicates that players have favorable odds and can expect a significant portion of their wagers to be returned over time. With such a generous return rate, players can confidently engage in the game without excessive concerns about risk management.
Limbo offers additional features that enhance the gaming experience. The Turbo bet feature allows players to increase the game's speed, making the gameplay process quicker and more exciting. The Auto-mode feature enables players to sit back and let the game unfold automatically, offering convenience and flexibility in gameplay.
Wheel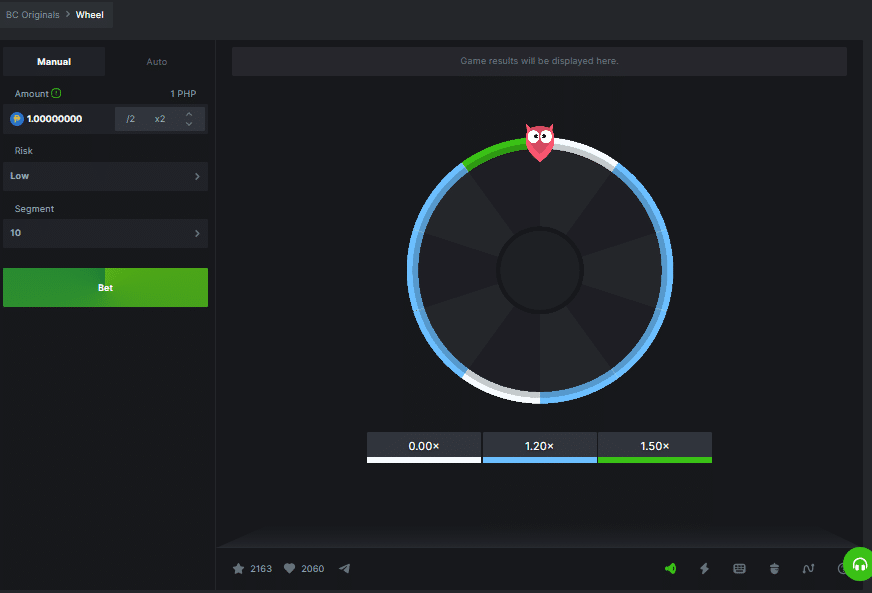 Wheel offers the excitement of spinning wheels and the anticipation of big wins, making it a captivating choice for players. In Wheel, players place bets on different sections of a colorful wheel and watch as it spins, hoping their chosen section will land on a high-paying multiplier. With its simple yet engaging gameplay, Wheel provides endless entertainment and the opportunity to win impressive rewards. It has an impressive return-to-player rate of 99%. 
The maximum win in Wheel is 49.5%. While big wins may not occur frequently, the game provides regular, smaller victories that can accumulate over time. This balance between regular wins and the potential for significant payouts adds to the appeal of Wheel.
While Wheel does not offer hidden features or extra bonuses, its simplicity and straightforward gameplay keep players engaged and entertained. The game's high-paying symbols, such as the Star and Joker, can yield substantial payouts, with odds of 45-to-1 for landing on them on the spinning wheel.
Plinko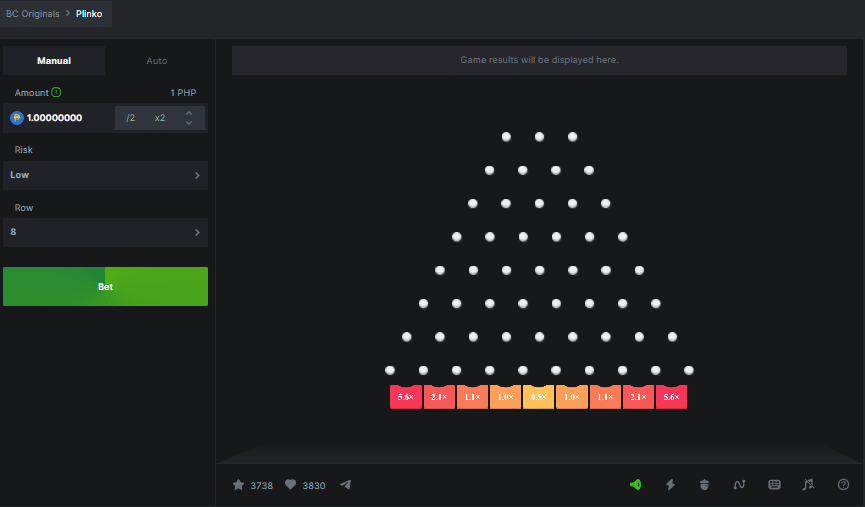 Plinko is a simple game that involves dropping balls onto a vertical board filled with rows of pegs that form a pyramid. It provides an enjoyable experience with its lively music that accompanies the gameplay. The auto bet feature allows players to sit back and watch the action unfold if they don't want to actively participate in the game. 
The potential for high payouts adds excitement and anticipation to the gameplay. It boasts an impressive return-to-player rate of 99% and offers a maximum win of 1000x. This means that players have the opportunity to achieve substantial payouts and potentially win big while playing the game.
One of the appealing aspects of Plinko at BC.GAME is the level of control and customization it offers to players. This level of control allows players to tailor their gaming experience to their preferences and strategies, enhancing their chances of winning. Players can choose between 8 to 16 rows for the pyramid, which alters the gameplay mechanics and potential payouts.
Final Thoughts
The "BC Originals" section at BC.GAME demonstrates the platform's commitment to providing unique and captivating gaming experiences. From "Classic Dice" to the nerve-wracking "Crash," and the exhilarating "Wheel," these games showcase BC.GAME ability to cater to a diverse range of gaming preferences. BC.GAME has established itself as a trusted and reputable online casino platform that provides a reliable and trustworthy gaming environment for players worldwide. Play today and stand a chance to win big.