Looking to make some extra cash? Tap into the incredible world of cryptocurrencies and do it from your couch! Forget about watching markets, investing long hours or ample effort. These five best ways to earn cryptocurrency online will have you sorted out quickly. Ready to change your life (and your finances)? Let's get started! What Are Cryptocurrencies? Before we dive in, let's cover the basics.
Cryptocurrencies refer to any digital currencies that can be traded online. If you're unsure about one, check out CoinMarketCap to get the low down on everything from the company's overview to price history to valuable links. Cryptocurrencies first emerged in 2009 when the anonymous entity Satoshi Nakamoto mined the genesis block of Bitcoin. Since then, cryptocurrencies have been popping up left, right and centre, with over 8,000 in circulation today. This a crazy number considering that Bitcoin holds 65% of the entire market's share. As cryptocurrencies have become more mainstream, with the incredible gains made last year and the increased corporate investments, more people are looking to make money from them. Who doesn't want a profitable side hustle requiring little attention?
5 Best Ways To Earn Cryptocurrency Online
All you are going to need is a crypto wallet. Once you've established which cryptocurrency you're after (or go after them all), you'll need to open or download a wallet for that specific one. Remember, cryptocurrencies cannot be sent across networks, i.e. you cannot send Bitcoin to an Ethereum address or Litecoin to a Bitcoin Cash address. Some wallets accept multiple currencies, so if that's what you want, be sure to find one of those.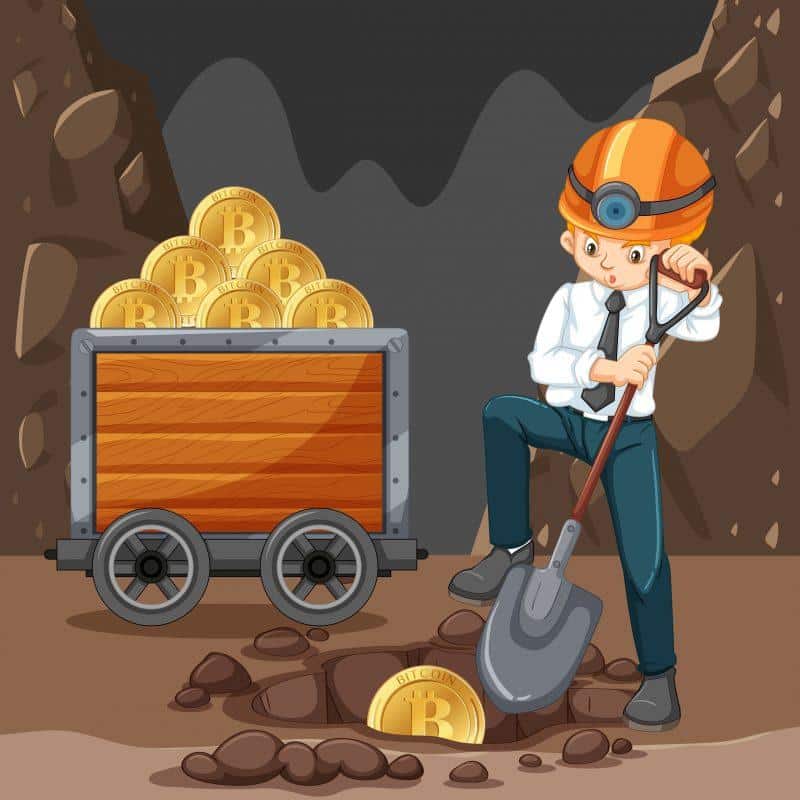 #1 Mining
Mining is perhaps the most profitable but requires the most effort. Mining cryptocurrencies is the act of solving complex cryptographic problems through computer equipment to win the race to mine the next block. Each network operates slightly differently, but the mining concept is relatively simple. The miner receives a predetermined amount of the respective crypto for every block mined. Bitcoin mining has become a huge operation, so we recommend you stay clear.
However, there are plenty of other networks that everyday computers can engage in, and miners can still make a decent amount of money. Remember, the miner receives the block reward from the network and the transaction fees of all the transactions verified and added to that block. Some mining rigs require ASICs and GPUs, which would require the miner to have access to inexpensive or free electricity and the capital to buy these. For other coins, CPUs can conduct the mining process, requiring a certain amount of computer cores and may make your computer slower.
#2 Staking
There are two options: tap into a cryptocurrency that supports staking or enter into the trending world of DeFi and yield farming. Staking requires the user to put their coins into a liquidity pool and earn "interest" for the number of coins and the time it stays there. Like a lottery, staking works; the more coins you hold, the more you can make. You'll want to find a PoS (proof of stake) coin and check out its per annum staking yields. The higher, the better. There are plenty of options for staking, and one could do it through an exchange, a wallet, or leveraging a platform like Uniswap. Popular coins to stake include Neo, Lisk, Qtum, OMG, and Stratis.
#3 Gambling
Crypto casinos are popping up all over the place, and if you've got a knack for poker or a lucky streak that never lets you down – this might be for you. It is one of the best ways to earn cryptocurrency currently! It wasn't until the mid-2010s that online casinos started accepting cryptocurrencies, but since then, it's weird to find one that doesn't. The best kind, though, are the ones built on blockchain technology that only accept crypto.
Crypto gambling will require you to deposit funds into the wallet they create for you and then soak up all the fun with the wide range of games. For instance, BC.Game has an excellent range of top crypto games to try your hand at. The platform offers a wide range of bonuses and an incredibly lucrative chat room (watch out for the rain and coin drops here!).
BC.Game will also welcome you with a free spin wheel where you can earn varying amounts of crypto before even making a deposit every single day.
#4 Airdrops
Airdrops are the cryptocurrency market's biggest marketing tool. This is when a project will hand out free tokens in exchange for some subtle marketing ploys. Sometimes they don't require the user to do a thing, simply provide a wallet address where they can receive them. Usually, to receive airdrop tokens, a user must download a protocol, register, and follow or retweet a company post on social media. Not complex. The tokens then can be kept to hopefully increase in value or can be traded once the project is up and running.
#5 Microtasks
Perhaps the simplest option of them all: is micro-tasking. Microtasks are simple, easy, and an incredibly low-risk ways of obtaining cryptocurrency, albeit in small amounts. Micro-tasking could be anything from writing a video review, writing a testimonial, watching a video, clicking links, taking surveys or even distributing a promotional video.
Start Earning Today! With this list of relatively simple options on the five best ways to earn cryptocurrency online, you should be well on your way to building up the crypto portfolio of your dreams. Some websites to check are BitVerts.io, BTC Clicks, and Earn.com. Tap into these options and start earning your way to the top today.