Cryptocurrencies are becoming more popular as modes of payment in recent times. There are now crypto loan services, trading platforms, and crypto gambling at the best crypto casino.
Furthermore, crypto exchanges are now offering up bitcoin debit cards to their users. People can utilise these cards to make in-store, online, and ATM transactions with their cryptocurrencies.
Here is a look at what these debit cards are. Plus, we examine four of the best bitcoin debit cards currently available to users in various parts of the world.
What Is A Bitcoin Debit Card?
Few retailers and merchants accept direct cryptocurrency payments, so various crypto exchanges and platforms have created debit cards. These allow crypto holders to spend their coins at merchants that accept either Visa or Mastercard card transactions.
A bitcoin debit card works similarly for the most part. Users can deposit their crypto into an account, and the card converts the user's stored crypto into the fiat currency they need to make a purchase. For example, a user might want to purchase a new mobile phone in-store. When they make the purchase, the card will convert a portion of their bitcoin into US dollars. The process is seamless, but crypto exchanges and platforms differ in their conversion methods.
What Can You Do With A Bitcoin Debit Card?
As previously mentioned, major credit card services like Visa and Mastercard partner with crypto platforms and exchanges to issue crypto holders with bitcoin debit cards. Hence, the cards share similarities with the main credit card services.
For instance, a cardholder could make purchases in-store or online or withdraw cash from an ATM that supports the credit card service.
Finally, bitcoin debit cards offer cardholders similar security features as major credit cards, including two-factor authentication.
Something to be aware of is that these cards require users to deposit their crypto into an online account. This means that a user's assets might be at risk of cyberattacks because the funds are not in cold offline storage.
The Main Aspects Of The Best Bitcoin Debit Cards
Spending and Withdrawal Limits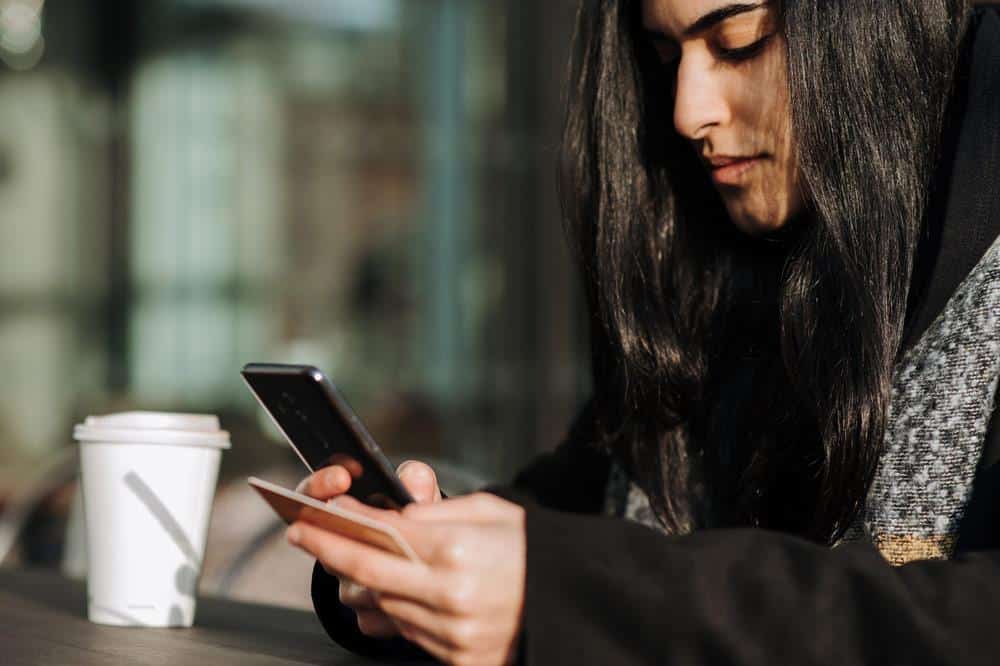 Most debit cards have specific withdrawal and spending limits. They can range from $1,000 to over $150,000. Users have to pay a fee if they exceed their limits, and some platforms charge their users for not using their accounts.
Cash Back and Other Incentives
Some crypto exchanges offer their users cash back on their card purchases if they hold a certain amount of crypto in their accounts. This is a great way to entice users to make purchases with their cards and earn more cash or crypto. Also, other platforms give rebates on subscription services.
Fees
Crypto platforms charge users to use their trading features, and using a debit card is no different. They could charge withdrawal, transaction, deposit, and foreign exchange fees. Some platforms do not charge users any fees for making purchases or depositing crypto. Naturally, the best bitcoin debit cards offer very low fees.
Regions
These cards are region-specific too. Currently, most cards are only available to US and European residents. So, because not all crypto platforms are available in every region, it means that access to cards is somewhat limited.
Security
Lastly, the crypto platforms need to ensure that users have options to secure their holdings, mainly because their crypto assets are not usually held in cold storage.
Also, the platform might offer card insurance in case of theft or fraud. And, of course, they need to at least provide the same level of security as major credit card firms.
The Best Bitcoin Debit Cards
We will review four bitcoin debit cards according to their ease of use, limits and fees, security, cashback and other incentives.
1. Binance Card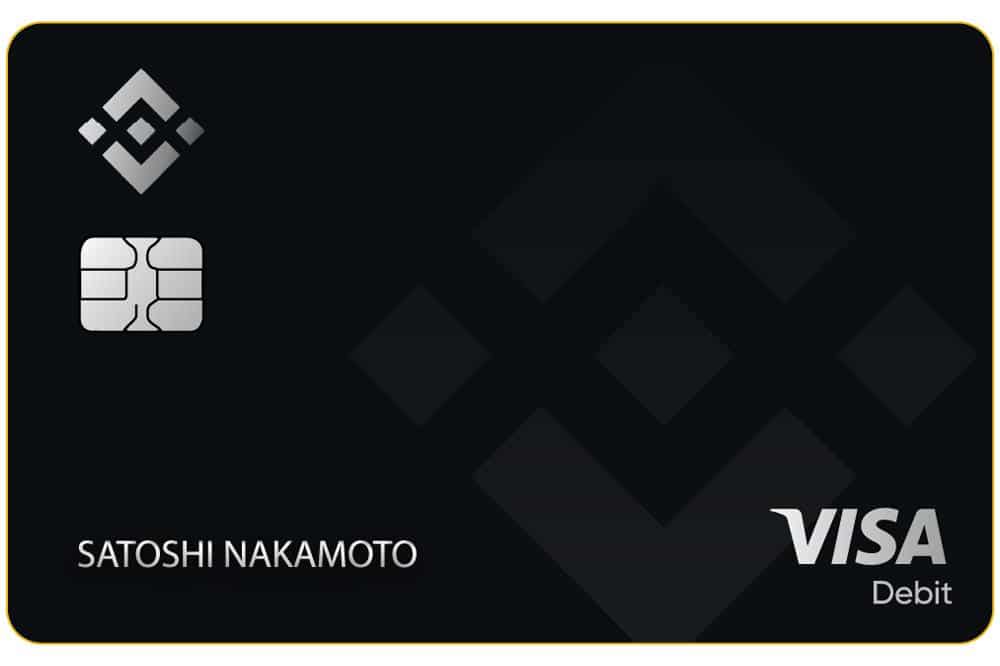 The first card on our list is from Binance. This platform is the world's biggest crypto exchange and offers users various features necessary for bitcoin trading and transactions.
This card is available in select European regions, and UK residents can currently preorder a card but not receive one.
The card supports bitcoin (BTC), Binance coin (BNB), Ethereum (ETH), SXP, and Binance USD (BUSD). Users can use any of these cryptocurrencies to top up their accounts, but they can also use a fiat currency.
The Binance card has a partnership with Visa, so cardholders can use the card in over 200 regions worldwide and at over 60 million merchants.
Ease Of Use
Users can apply for a Binance Card on the Binance website. A user needs to reside in the supported region to apply.
They need to sign in to their Binance account or create one to apply for a card. They also need to be on KYC level 2 on the platform. KYC, or Know-Your-Customer, is a finance protocol for verifying identities. It ensures that financial platforms are made safer.
To reach KYC level 2, users must provide Binance with a government-issued ID card and proof of address. This could be a utility bill or bank statement.
Accordingly, for some people who use crypto for its values rooted in decentralisation and anonymity, this might be giving away too much. So, it does affect how much the card is used, but it does increase its security simultaneously.
Lastly, once a user orders a card, they can head to their Card Wallet on the Binance platform and conveniently deposit their crypto or fiat to make card purchases.
Limits and Fees
Binance Card has no monthly maintenance fees, but users do need to pay a one-off $15 issuance fee when they first receive their card.
There is a daily spending limit of €8,700 for the physical card and €870 for the virtual card. The ATM withdrawal limit is €290, and transaction fees are up to 0.9% for every transaction.
Cash Back and Other Incentives
The Binance card offers users 8% cashback rewards on their purchases. Users need to have a minimum of 6,000 BNB in their Binance wallet. At the time of writing, that is a massive total of $250,000 in fiat currency.
However, at card level 2, users can receive 2% cashback with 10 BNB ($420). These cashback incentives are only for holding BNB, so users with a store of bitcoin will not receive cashback.
Security
The Binance platform requires users to provide KYC information before trading or owning a debit card. This makes the platform more secure. Additionally, users can employ Multi-Factor Authentication to secure their accounts further.
Finally, users can use the card with popular virtual payment services like Google Pay and Samsung Pay.
Verdict
The Binance card is easy to manage and is as secure as other major credit card services. It allows transactions using various cryptocurrencies, but cashback only applies to BNB.
They do not charge monthly maintenance or activation fees and transaction fees are low. Currently, the card is only available in Europe, which means it is an affordable bitcoin debit card for European residents.
2. Bitpay Card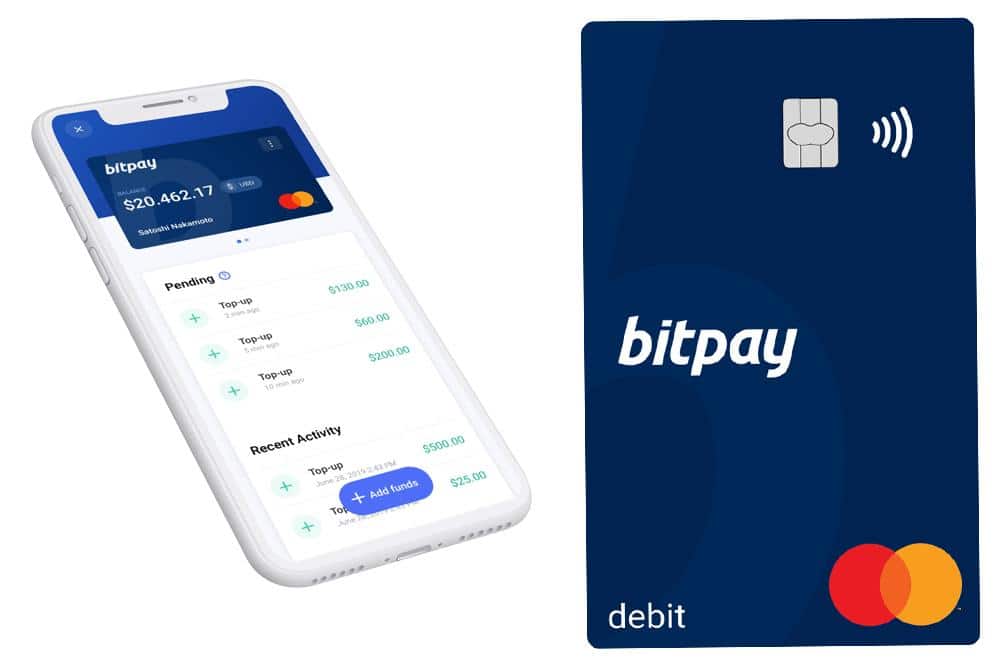 Another one of the best bitcoin debit cards is Bitpay. This card is only available to US residents and has an issuing fee of $9,99. Users need to provide KYC information like an ID card and proof of address.
Ease of Use
First-time cardholders need to activate the card on the Bitpay website. The process requires the user to provide card details and email addresses. After verification, they can add crypto to their account by entering the "add funds" tab and the amount they want to deposit.
The site then sends an invoice, and the user has 15 minutes to pay the amount. If a cardholder deposits bitcoin, they will receive the fiat equivalent in US dollars. The price is stagnant, meaning it does not change according to the market price.
It is a simple process that only requires users to wait for their transactions to verify. This might take a while.
Limits and Fees
Bitpay card has a daily deposit limit of $10,000, and cardholders can keep up to $25,000 in their card wallets. The withdrawal limit is $6,000 daily, and the spending limit is $10,000.
Foreign exchange is 3% of the transaction price. ATM fees are $2. Cardholders also need to pay a $5 inactive fee, and transfer fees are $5 too.
The Bitpay card has no monthly fees.
Security
The Bitpay card has a partnership with Visa and Mastercard and offers their users the same level of security as these card services.
Verdict
This is a great bitcoin debit card for US residents with no cashback incentives but affordable fees.
3. Coinbase Card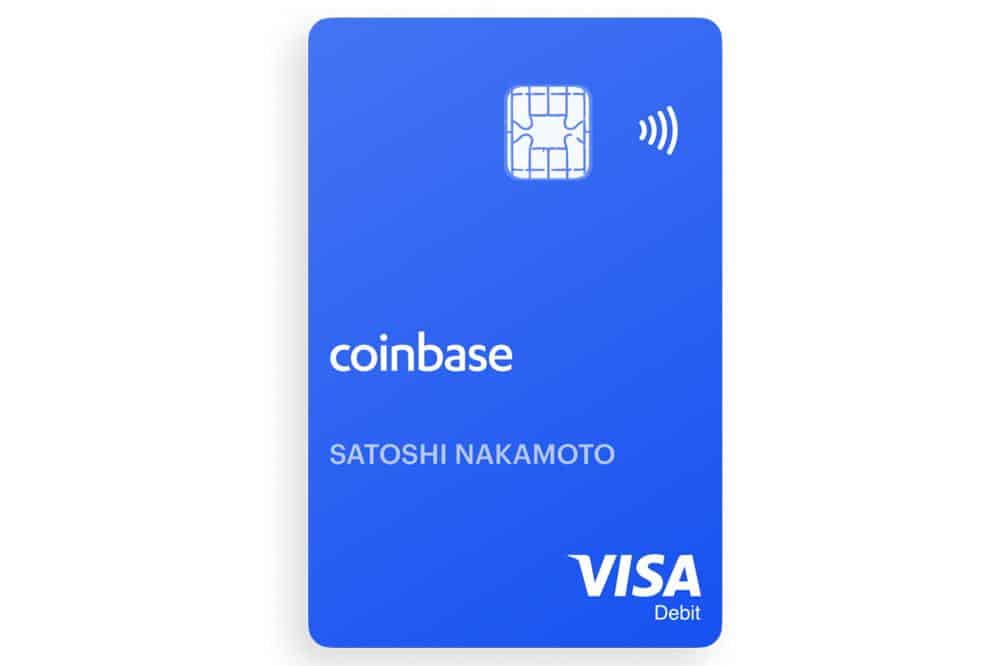 The Coinbase card, in partnership with Visa, is available to residents across Europe and US residents. Cardholders can store eight cryptocurrencies in their wallets to make card purchases, including BTC, ETH, BCH (Bitcoin Cash), and other popular cryptos. Coinbase users can link these cards to their accounts on the platform.
Ease of Use
Potential cardholders must conform to KYC protocol before applying for a Coinbase card. There is also a £4.95 issuance fee. Cardholders can conveniently activate their cards on their Coinbase profile.
Limits and Fees
ATM withdrawals under £200 per month are free. If users exceed this limit, it is 1% of the total withdrawal amount. Local transactions are free, but cardholders pay 0.2% and 3% for transactions in the EU and internationally, respectively.
Coinbase card spending limits are £10,000 per day and £20,000 per month. The yearly purchase limit is £100,000.
Security
The Coinbase card offers the same security level as a Visa debit card. Users can access their wallets through a mobile app, and it does not require two-factor authentication, so it is much less secure than other platforms.
Verdict
The Coinbase card offers Coinbase users an easy way to spend their crypto holdings. It also has affordable fees and an easy-to-use interface, but it does not give new users cashback incentives to make purchases. It is the best bitcoin debit card for regular Coinbase users.
4. Crypto.com Card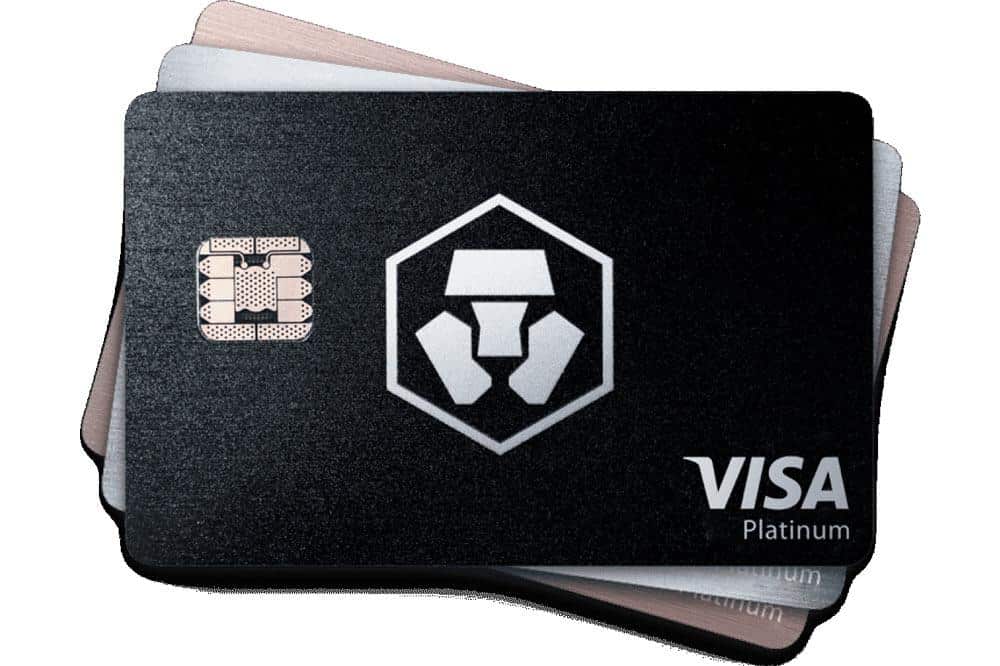 The Crypto.com Visa card is available across Europe, the US, Canada, and Singapore. It supports over 90 cryptocurrencies.
Ease of Use
Crypto.com has a range of debit cards. To qualify for these cards, users must stake a minimum amount of CRO (Crypto.com coin). The highest stake is $750,000, while the lowest is $750. It is free to create a crypto.com account, and the platform is easy to navigate.
Limits and Fees
The card's withdrawal limits range from $200 to $1,000, depending on the cardholder's tier. The monthly limit for bank transfers ranges from $2,000 to no limit. The card allows a maximum balance of $25,000. ATM withdrawal limits are $500 daily, while the deposit limit is $10,000 daily.
Cash Back and Other Incentives
Crypto.com card offers cardholders cash back depending on their card tier. The highest tier, which requires a stake of $750,000, receives 8% cashback. The lowest tier offers 1% cashback with no stake.
It also gives rebates on subscription services: Spotify 100% and Netflix 100%. But, users do have to have at least $750 as a stake.
Security
This card offers the same level of security as Visa cardholders. The crypto.com card is tied to the platform, so users can secure their accounts using two-factor authentication.
Verdict
Crypto.com card offers users cashback incentives for every card tier, so there is a motivation for new users to apply for the card. It offers free transactions and only a 2% fee if users exceed the free limit. This makes it a very valuable bitcoin debit card to hold. It is also available in multiple regions.
Final Thoughts
Some better bitcoin debit cards are easy-to-use, secure, offer low fees, and have generous withdrawal and spending limits.
To summarise the cards we have just discussed – Binance is excellent but only available in Europe. Bitpay is only available in the US, and Coinbase is slightly less secure.
However, crypto.com's Visa card offers these features and has wider availability, so this card is currently one of the best to choose from.