When online betting, you not only get the chance to claim casino bonuses but also become a part of an online casino's loyalty program or even an online casino VIP. These perks award loyal players who continue to engage with the site's services and betting offers.
Most casino loyalty programs have various benefits that cater to every punter's betting preference. To become a part of a casino loyalty program or a casino VIP member, you need to reach certain milestones or meet the terms and conditions that come with the promotion.
Although becoming a part of the loyalty program entails betting more, the perks and benefits that come with it are worth it. In fact, becoming a member of a casino VIP program grants you access to unique perks that can help you maximise your winning chances.
What is an online casino loyalty program?
Online casino loyalty programs are rewards that allow players to earn and collect points that can help boost their betting session. When you become a member of a casino's loyalty program, you can claim exclusive casino bonuses and promos.
After players collect the required points, they can exchange them for various bonuses or rewards. The specific conditions depend on the site where the user is registered.
How do casino loyalty programs work?
Only players loyal to the casino will be invited to join the online casino loyalty program. Players either need to make various deposits or consistently engage with the site's betting options to be a part of a casino loyalty program such as an online VIP casino.
Since every online casino tries to attract customers uniquely, the rules in one casino may not apply in another. You must read the provided terms and conditions with every loyalty and online casino VIP program.
Online casino VIP program
One of the best online casino loyalty programs that most casino sites offer is the VIP program. The VIP program mostly consists of high-roller players who continuously deposit a large sum of money.
Most VIP programs have a rank system with unique benefits. Some casino rewards VIP perks include limited promotions, exclusive bonuses, and events in which players can claim and participate to maximise their online gaming experience.
Aside from invitations, there are other ways a player can become a member of the VIP program. These include:
By qualifying → Some online casinos require players to reach specific wagering requirements to qualify as VIP members.
By registering → Some casino sites ask their users to register for their VIP programs online casino. They often require you to fill out forms to verify whether you qualify.
BC.Game online casino programs
BC.Game is one of the top casino sites with the best casino loyalty program. With BC.Game's online casino programs, you will find an exclusive promotion campaign, unique bonuses, and incentive offers. There are criteria you need to meet and regulations you need to follow to claim exclusive perks and bonuses that come with being part of BC.Game's loyalty and VIP programs.
BC.Game loyalty vs VIP
The main difference between a high roller VIP club and a loyalty club is that the loyalty program is accessible to everyone. Depending on your points, you get to enjoy different perks. Meanwhile, the mechanics of a VIP program and its exclusive perks and bonuses are only available to the members that got an invitation and have achieved the status of a VIP member.
The difference between the loyalty vs VIP programs of BC.Game also affects their offered loyalty and VIP rewards, such as special events, cashbacks, required deposits and other features. The Loyalty vs VIP differences between these programs are more thoroughly explored below:
How to be a part of BC.Game's casino loyalty program
To become a member of BC.Game's casino rewards loyalty program, you must meet certain requirements provided by the site. You can do this by continuously playing games in the casino, such as live casino titles, megaway slots, or other offers. And place as many bets as possible and earn points along the way.
Once you become a member of the site's loyalty program, you can experience a higher bonus payout, claim bigger rewards, and free coins. To enjoy all the exclusive perks that come with becoming a part of BC.Game's loyalty program, you must always read the terms and conditions first.
As you engage more with BC.Game's services, the more the site will reward you for your loyalty. BC.Game's casino loyalty program is the level-up bonus called the Master Medals that most players can participate in.
BC.Game's Master Medals include 21 categories that will reward you with a medal as you keep doing the required tasks. As you climb up and earn more medals, your ranking and the prizes you can claim are also improving. The number of medals and their equivalent prizes include:
5 medals → 20 BCD
10 medals → 800 BCD
15 medals → 2,400 BCD
20 medals → 10,000 BCD
BC.Game'S on-site currency is BCD, which stands for BC Dollar. Each BCD you earn is equal to $1 and can only be used on the site's services and BC.Game's betting features.
Some of the BC.Game Medals you can win to claim bigger rewards are:
Talkative → Win this precious medal by chatting in any room for 200 days.
The Loaded King → This medal is won if you have the highest wallet balance ever in the history of the BC.Game.
Highest Contributor → You can win this medal if you have the highest wager ever in the history of the BC.Game.
The Top Gun → This medal is won by achieving the highest VIP level.
The Rain Master → You get this medal by receiving rain 99 times.
COCO Lover → Win this love medal when you catch COCO-spider 200 times.
Invincible Lucky Dog → Get this Invincible medal when you win 99,000x or higher payout in any game.
Contest Master → You can get this medal when you stay in the top 3 in the daily contest for three consecutive days.
Note that the rewards and events change from time to time, depending on what is communicated to the BC.Game community. To get exclusive communication about these exciting benefits, join the community by signing up here: https://bc.game/.
How to be a part of BC.Game's Casino VIP program
To become a member of BC.Game's best VIP programs, you need to undergo the qualification process of the site and receive an invitation to join the VIP club. To qualify for the site's best casino VIP program, you must make a certain deposit and reach milestones. In BC.Game's VIP program, you will find various tiers.
BC.Game's VIP Level systems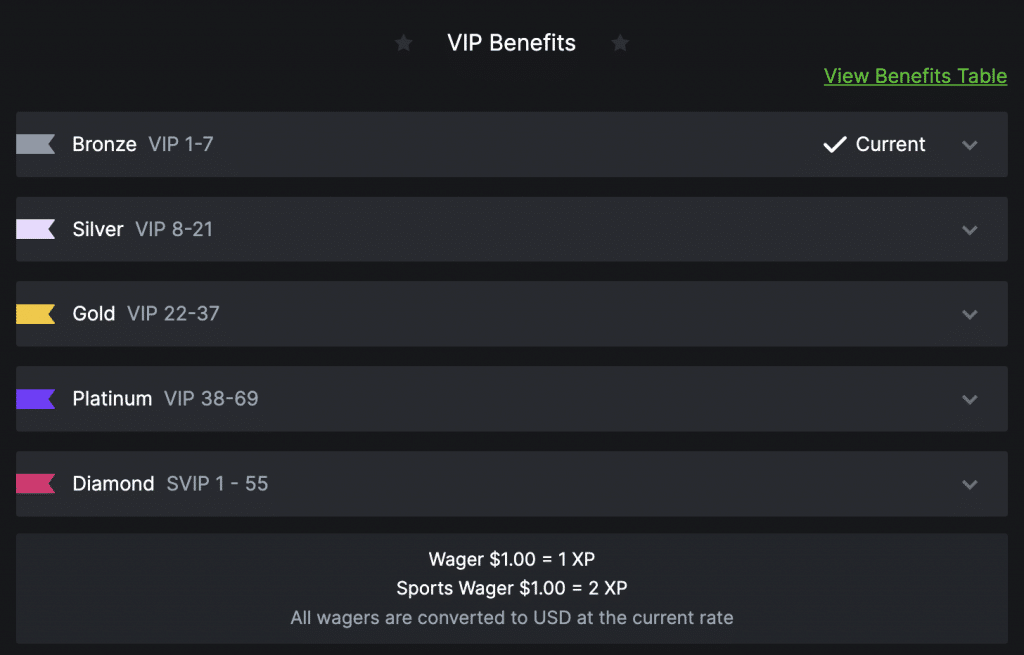 If you become a member of BC.Game's VIP club, you will find various levels you can attain as you achieve your goals. The site's VIP-level systems include:
Bronze Card
Silver Card
Gold Card
Platinum Card
Diamond Card
BC.Game's Exclusive VIP and SVIP benefits
More than just a special treatment, the BC.Game VIP Club members have first dibs on exclusive perks like cash bonuses and one-of-a-kind prizes. The more you play, the higher your VIP status is and the exclusive privileges you can get.
Once you become a VIP member of the site, you are entitled to various benefits you can use to maximise your online gaming experience. Some of these VIP benefits include:
Level-up bonus
Secret treasure
Raining
Coin drops
Private chat
Tips
Rakeback
Recharge
Weekly bonus
Monthly bonus
Sports weekly bonus
VIP host
No-fee withdrawal
Exclusive SVIP perks and raffles
Luxury giveaways and experiences
Check out to know which benefits are accessible to you: https://bc.game/#/vip. Note that once you reach the highest level of VIP, you will get access to all the best perks and benefits on the platform.
Win exclusive rewards at BC.Game
If you want to win exclusive rewards and have the best online gaming experience, BC.Game is the right place for you. The site rewards its most loyal players who continuously engage with the site services with exciting and unique bonuses.
FAQs
Learn more about BC.Game's loyalty and VIP program with these frequently asked questions:
How to become a casino VIP?
You can become BC.Game's VIP member only through an invite from the site. Just continue playing. The more you wager, the higher your VIP rank could be.
Why upgrade to SVIP at BC.Game?
When you become an SVIP, an exclusive host is always available to attend to the needs of the SVIPs under their care. Besides the standard Rakeback and recharge, SVIPs also get the best Luckyspins, weekly, and monthly bonuses.
What are VIP bonuses?
VIP members can claim exclusive bonuses such as free coins and cash bonuses.
What is a VIP rewards code?
VIP rewards codes are given to help you win more and claim more prizes.