In 2021, the NFT market saw a breakthrough. Those projects that were just beginning a year ago are now worth more than $1M each. You wouldn't have missed some essential information about BAYC and CryptoPunks. These two NFT collections are worth tons of gold as of this writing. 
Fast forward to 2022, many artists and creators are now in the market. Big or small, new NFT collections are making their way through the crypto wallets of NFT collectors. While some have tons of money to spare for digital arts for collection, some flip NFTs to earn more money. The NFT market has been a place of passion and gold. If you are not in an NFT community yet, you might be missing out on something big, 
According to a report, only 16% of the NFT space is women. A significant portion of the market claims that they are men. And although there is a huge gap in the percentage, the NFT women community doesn't seem to bother. In fact, a lot of women-led collections right now are popping out. If you are willing to support the rising #WomentinNFTs, here are some collections worth watching out for. 
Top Women-Led NFT Collections in 2022
Ethereum-based Collections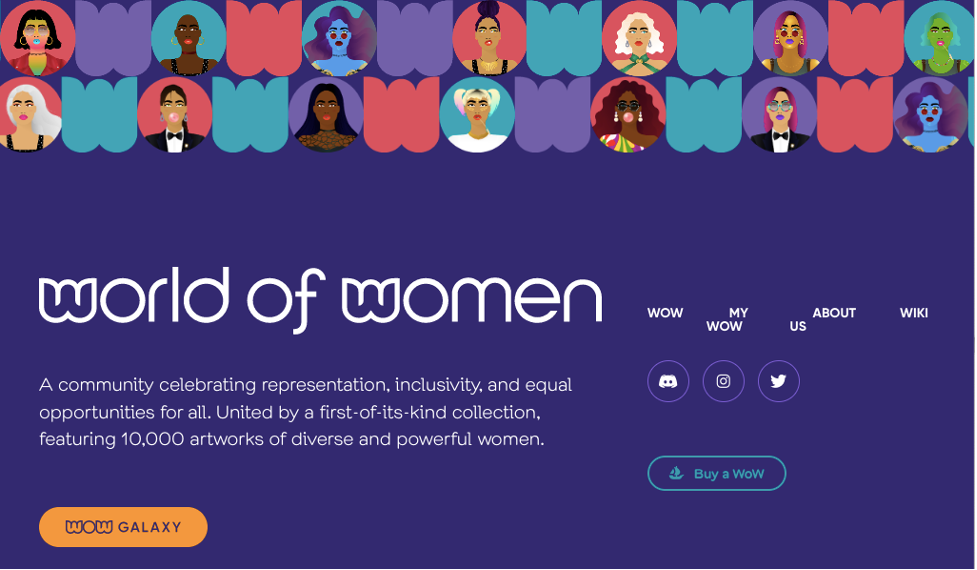 World Of Women NFTS, WOW for short, has been in the top list of NFT collections on OpenSea as of this writing. The NFT collection has been receiving a lot of support since the new year, not just from the women community but also from the rest of the NFT population. 
Based on WOW's website, the project's main purpose is to balance representation in the NFT space while also contributing and supporting causes. "Representation, inclusivity, and representation for all." That's the brand of WOW the team is trying to uphold. This collection has more than 100k followers on Twitter.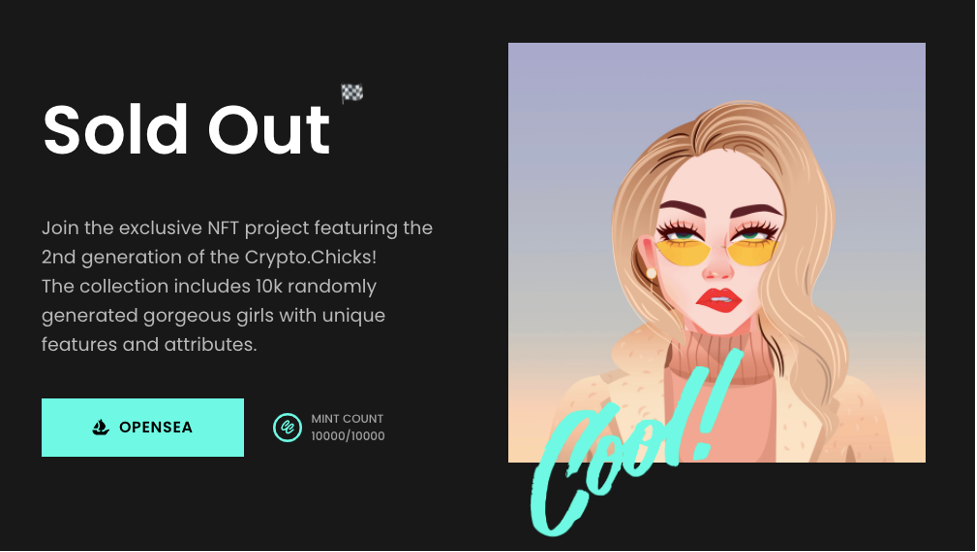 Crypto Chicks is another project that was launched last 2021, September to be exact. It came after WOW, and it's been one of the most popular women-led NFT collections that have been taking over the Twitter NFTverse as of this writing. 
The collection's floor price is now at more than 1.65 ETH ($2,762.03). Many holders and supporters say that they were bullish about the project since it has a good roadmap. Including in its plans are donating to charities, releasing personalized merch, and partnering with major company brands. You can learn more about the project on Crypto Chick's official website. Currently, this NFT collection has 37.1k followers on Twitter. 
Boss Beauties is another NFT collection with a rising floor price as of January 2022. When you go to its website, you will see a virtual museum where you can see the framed digital arts. Those exact arts are listed on NFT marketplaces like OpenSea. As you scroll down the page, you will find the list of movements this project is trying to accomplish, such as supporting its mission to provide scholarships, buying NFT collections from other artists, empowering mothers and grandmothers, and making history as women.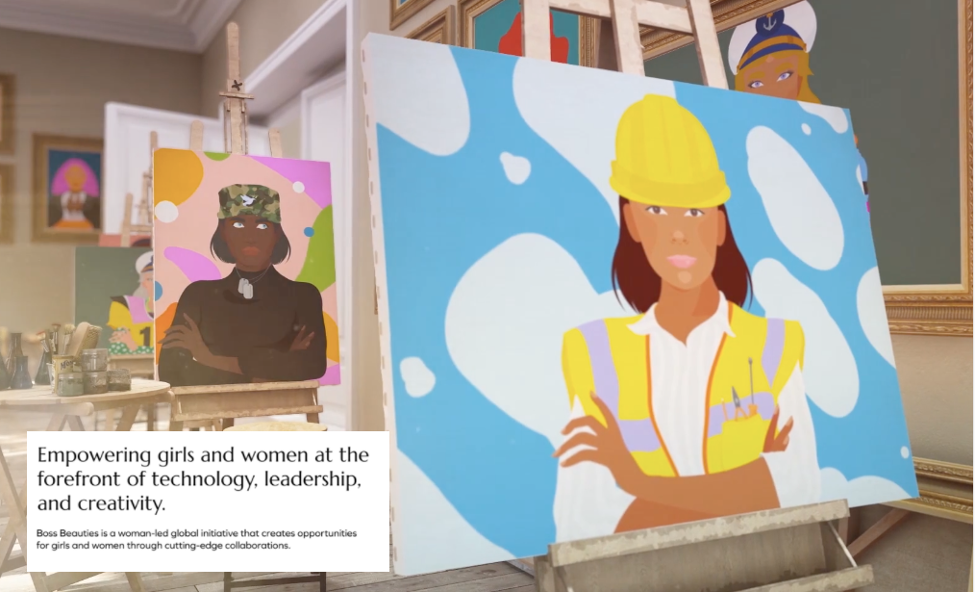 Currently, this NFT project has 44.4k followers on Twitter with a 2.77 ETH floor price on OpenSea.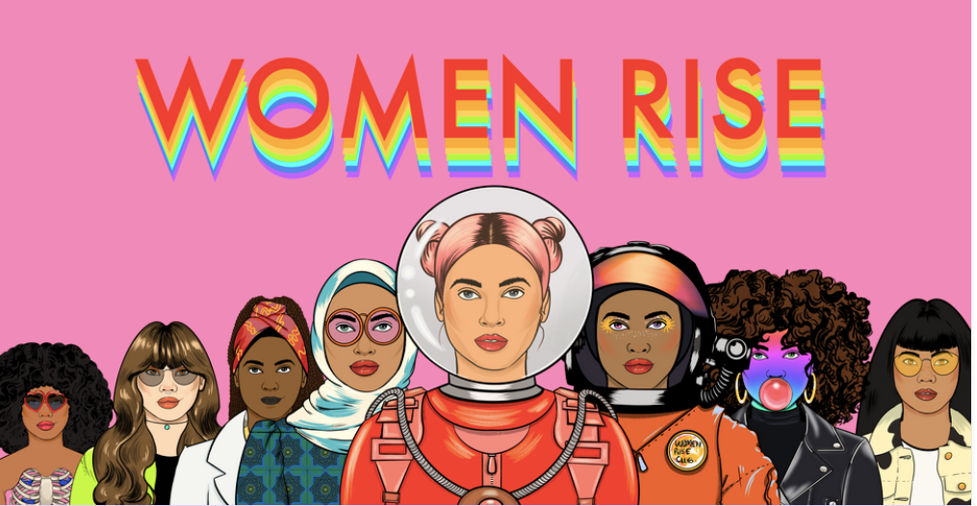 Founded by the famous author and virtual artist Maliha Abidi, Women Rise is a collection of 10,000 uniquely generated avatars and aims to represent women in the NFT space. This collection has been featured on popular news sites such as The Guardian, Thomson Reuters, Rolling Stone, and South China Morning Post. 
What's recognizable with this collection is that it donates to the Malala Fund. This organization helps promote education by supporting activists who are questioning policies in countries where girls are prevented from going to school. Soon, it will distribute physical versions of the NFTs to its holders and establish a Women Rise Club. This project has 32.9k followers on Twitter as of this writing.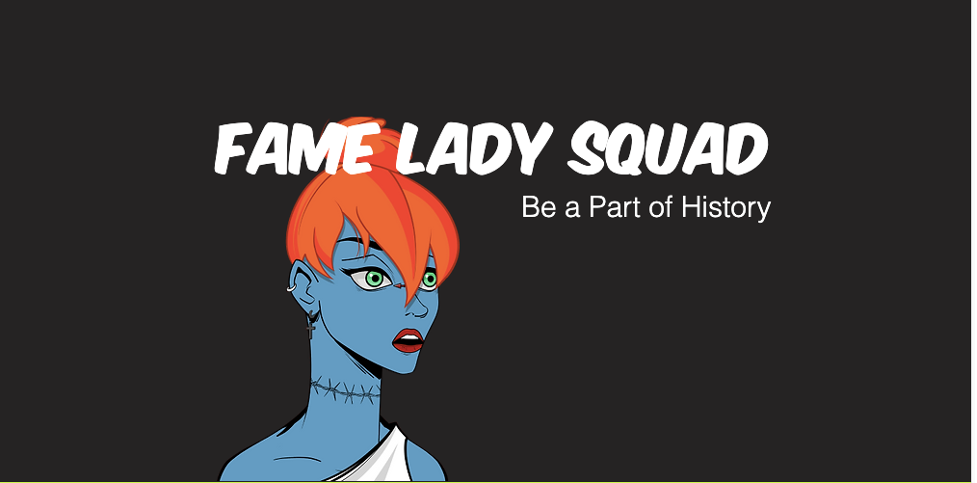 Fame Ladies has an interesting backstory. The collection was launched in August 2021. However, the community aired their disappointment when they found that contrary to what the team claimed, the leaders were all women; the project's founders were all men. Later on, the collection was relaunched. This time, the leadership was transferred to an all-female team. 
With more than 25.9k followers on Twitter, Fame Ladies is fighting for its way to being one of the top women-led NFT collections in the space. It recently introduced its podcast named "From The Blockchain," which is easily accessible to anyone.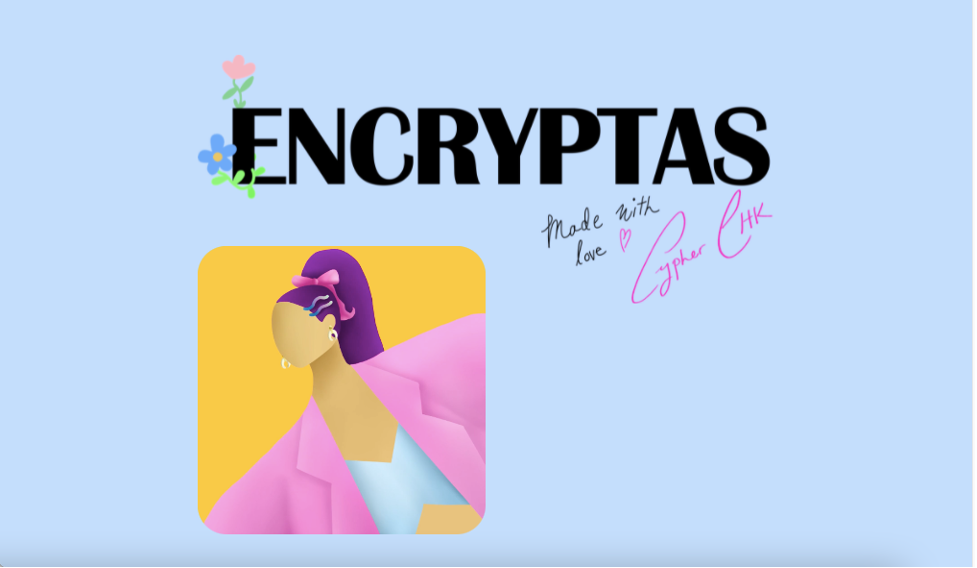 Encryptas is a collection of Cypher Chk and a know women-led NFT. This one, too, has gained popularity this year for being a welcoming community. According to its official website, owning one NFT from Ecryptas shows your belief in blockchain technology. It also represents your allyship in this digital revolution, as well as your openness to discuss the possibilities in the crypto space. 
Part of the collection's Roadmap is donating to charities and providing airdrops to its holders. If you are one of its holders, you will likely receive more NFTs from them in the future. Currently, Encryptas has more than 20k followers on Twitter.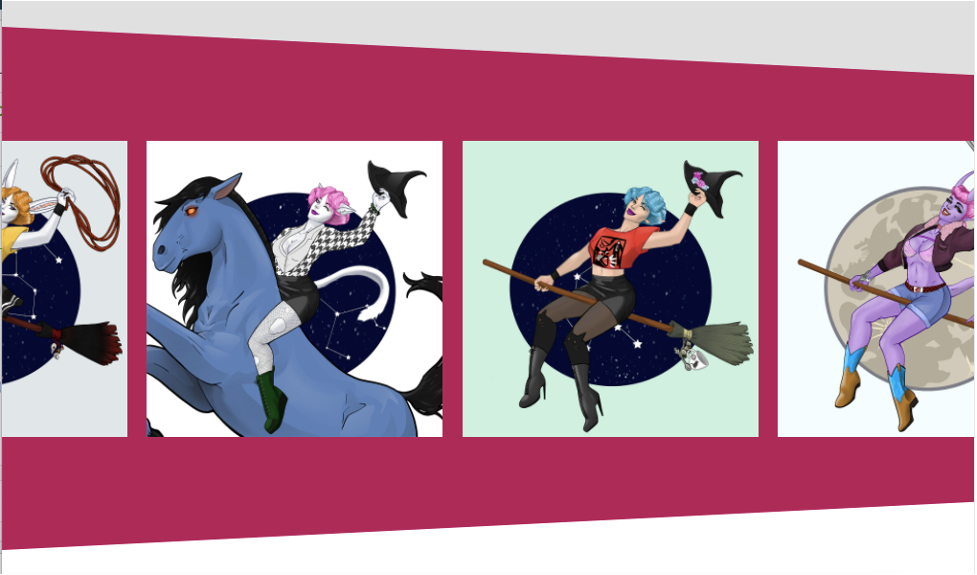 As clever as the name sounds, Girls Riding Things is doing exceptionally well in terms of its promised mission–to help and donate to the Fistula Fund. This foundation helps transform a woman's life suffering from obstetric fistula by helping them undergo surgeries. The collection recently donated 11 ETH ($30,423) to the fund despite its floor price playing just around 0.002 on OpenSea.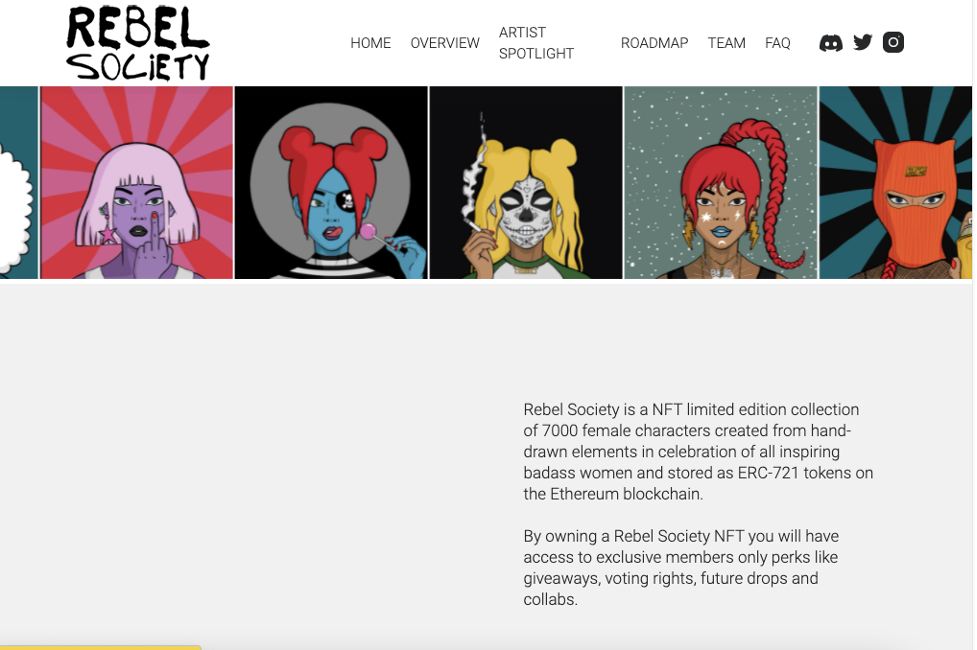 Our last on the list of Ethereum-based NFT collections is Rebel Society. This project has amassed support and investments from the women community in the space because of many things, such as great art and mission. The collection comprises 7,000 unique rebel avatars that holders can use to vote, receive future drops, and benefit from different collaborations.  
As of February 2022, Rebel Society has more than 14.1k followers on Twitter with 0.369 ETH floor price on OpenSea. 
Solana-based Collections 
Solana-based NFTs are also popular. Aside from the fact that Solana has lower gas fees compared to Ethereum, Solana-based NFTs are listed cheaper. Here are some women-led collections you will find interesting on Solana.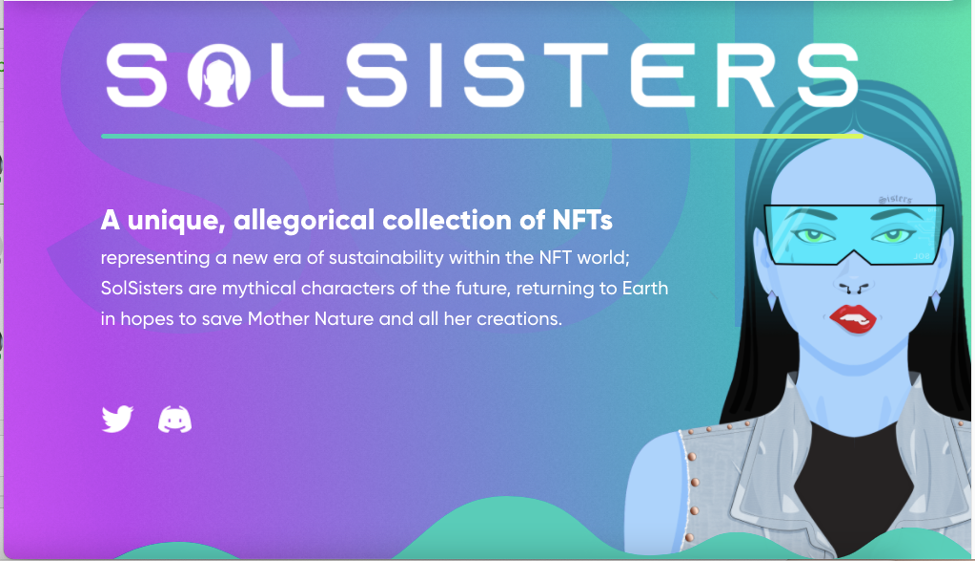 SolSisters is available on Magic Eden, SolArt, Alpha Art, and FXT. The project's website is pretty attractive as it features interactive movements and a colorful user interface. One remarkable feature of SolSisters is that it has a mission to start sustainability within the NFT ecosystem. If you love nature and care about your environment, SolSisters might be a good option to consider to start impacting the NFT world. 
The Twitter handle of this collection has more than 11k followers, while its floor price on Magic Eden is at 0.4 SOL.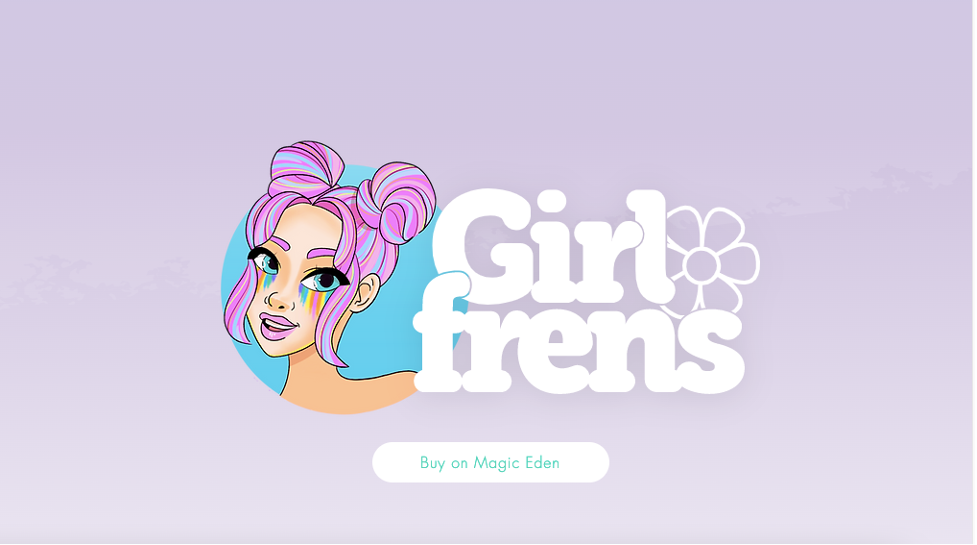 Girlfrens is another great collection from Solana and one great women-led NFT collection. The project's main purpose is to help cancer patients by donating to organizations. The project also supports other women-led collections, and they give monthly raffles to its holders. They also hold OG poster contests every time. With 4.7k followers on Twitter, you can easily follow the activities of this collection.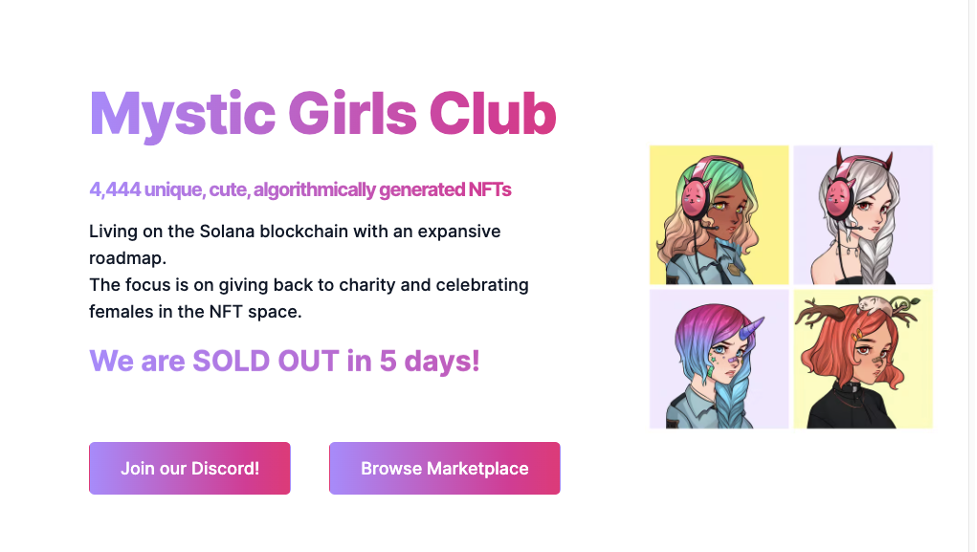 Last is the Mystic Girls Club collection, which sits at 0.33 SOL floor price on Magic Eden as of February 2022. The project is going to the airdrop Mystic Boys club for every holder of Mystic Girls. This is another good opportunity to leverage your investment if you are a holder. Like other NFT collections on the list above, Mystic Girls Club donates to charities as part of its Roadmap. Its community on Twitter is composed of more than 5k supporters. 
Where should you invest? 
We understand that there is more than one interesting women-led NFT collection with all-female leaders. This is why doing your research is so important. You wouldn't want to spend a lot on one project when you can diversify your money in the NFT space. Deep diving into each project is essential, especially if your list is long. Investing in the leading projects doesn't mean that startup collections won't make their way up. Again, the success in the NFT space depends on several factors and one in the community. If the project you are looking into has a strong community of holders and supporters, you'll be fine. 
Final Thoughts 
As a last note, DYOR. Each project on this list is unique, and they have different missions to make an impact on the NFT space. Don't stop learning. The NFT marketplace is vast, and it's never too late to "ape" in as we see a strong and bright future for NFTs. But before you buy, visit the project's official website, check their Twitter handle, join on Discord, and read their Roadmap. On top of that, look into the people leading the project to ensure that you won't be left hanging as the project progresses.