Once you're in the crypto space, you will discover a lot more, including staking crypto and NFTs. Beginners think that the blockchain is just about cryptocurrencies like Bitcoin and Ether. Well, that has always been the starting point. Both Bitcoin and Ethereum earned their spots as the top two most prominent cryptocurrencies. Even those who are not investing in cryptocurrencies would know these two tokens.
But as you begin your search for profitable crypto investments, you will eventually find what's really inside the blockchain. Some of the new technology and developments you'll find fascinating are the concept of borrowing cryptocurrencies through DeFi, playing games to earn crypto, voting for the future of blockchain projects, collecting JPEGs, using them as your profile pictures in social media, and staking.
Last 2021, both staking and collecting NFTs have become more popular as more people slowly become aware of the privileges and benefits of decentralization. In fact, one of the projects that made a significant breakthrough is Axie Infinity–a play-to-earn decentralized game where you own NFTs (Axie) and use them to play to earn $SLPs. In the Philippines alone, it was reported that some players who got in earlier in the game had amassed fortunes amid the pandemic. Subsequently, $SLP hit its ATH at $0.399727.
Meanwhile, the NFT market has become a shopping mall for investors. There are huge collections that made a mark in 2021, including Crypto Punks and Bored Ape Yacht Club. Those who minted from these collections early are now earning massively as more people continue to support the NFT community.
The same goes for staking cryptocurrencies. Although proof of stake has been around since 2012, just a few years after Bitcoin was found, it hasn't been fully utilized for revenue until recently, when validators and staking-as-a-service platforms became popular.
We know you're here because you plan to participate in staking soon. The good thing is that if you are holding some cryptocurrencies and collecting NFTs, you can stake them all at the same time to increase your profits. Let's look at the essential things to know about staking your crypto and NFTs.
Overview of Proof Of Stake
Compared to Proof of Work, Proof of Stake is a more straightforward process of making new blocks in the blockchain. Proof of Work uses hi-tech computers to mine blocks, which is expensive for miners. Those who can afford to mine using their expensive computer equipment can surely make money. However, there are issues when it comes to energy consumption. Proof of Stake resolves this issue by allowing crypto holders to put their cryptocurrencies in a staking pool, and after some time, they will earn a certain percentage of yield. This makes mining new blocks easier and more affordable for those who don't have expensive computer equipment but want to earn more. It also becomes a way to reduce energy consumption, which makes mining "greener" or more eco-friendly. With the development in blockchain, staking crypto and NFTs are now possible.
Staking Your Cryptocurrencies
When staking your cryptocurrencies, you need to learn a series of simple steps so you wouldn't get lost in the process, even if you are a newbie. Besides, there is nothing much to learn in the staking process if you know the technicalities of opening an exchange wallet and depositing cryptocurrencies to your account. Once you have your exchange wallet, here are the following steps:
#1: Find your staking platform.
A staking platform is basically a place where you can stake your cryptocurrencies. Right now, you can choose from several options since crypto exchanges are already adding more services and features. For instance, Binance isn't just a crypto wallet anymore. The platform continuously expands and adds more services, such as buying NFTs, providing liquidity, lacking cryptocurrencies, and staking. If you have an account with them, you don't have to go to other staking platforms anymore. You can conveniently stake your crypto within the exchange, although you are only limited to cryptocurrencies such as BNB, BTC, ETH, and CAKE. The available tokens for staking also vary depending on the exchange's offers.
Meanwhile, there are platforms that are solely for staking. One good example is RockX. RockX is a staking-as-a-service platform that offers staking services for several tokens such as Polkadot, Kusama, StaFi, Oasis, and ETH 2.0. Here, RockX acts as a validator node representing the stakers when joining a staking pool.
Finding your staking platform wouldn't be a challenge, given the options you can choose from. But, you should be able to find the right one by looking into the percentage of rewards (APR) it offers annually. The higher the APR, the more beneficial it is for you.
#2: Choose your staking period.
When staking your cryptocurrencies, the next essential step is to ask, "how long?" Proof of Stake could challenge your patience as you will spend most of your time waiting. In essence, you are like lending your tokens to networks that need them in exchange for interest. The longer you wait, the more you can earn. The shorter the waiting period is, the lesser your profits are. Time is an essential factor when staking. So, if you haven't planned to use your cryptocurrencies yet, it's better to utilize them to earn more passive income in the market.
The staking period is different for every staking platform. Binance offers 15 days as the shortest and up to 90 days as the longest. You will also find validators that allow a minimum of 30 days for you to earn from staking.
#3: Select the cryptocurrencies with the best APR.
Of course, the rate of interest or reward you will get from staking matters a lot. This is where your earnings come from. The good thing with staking is that you get to choose which one to stake. Bitcoins and Ether might be the most popular cryptocurrencies, but other tokens like ADA, DOT, and ROSE have the higher APR as of this writing. Being able to scan the best cryptocurrencies with high APR would require a good amount of research. Try to visit some popular staking platforms and compare their APRs. This way, you can quickly check who has the best offers in the market.
After selecting the cryptocurrencies you want to stake, the last step is waiting for the staking period to finish. Afterward, you will receive your original investment plus the interest you earned from staking. That's how pretty easy staking cryptocurrencies is. There is no technical knowledge required at all as long as you can do your research about staking pools and staking periods.
Staking Your NFTs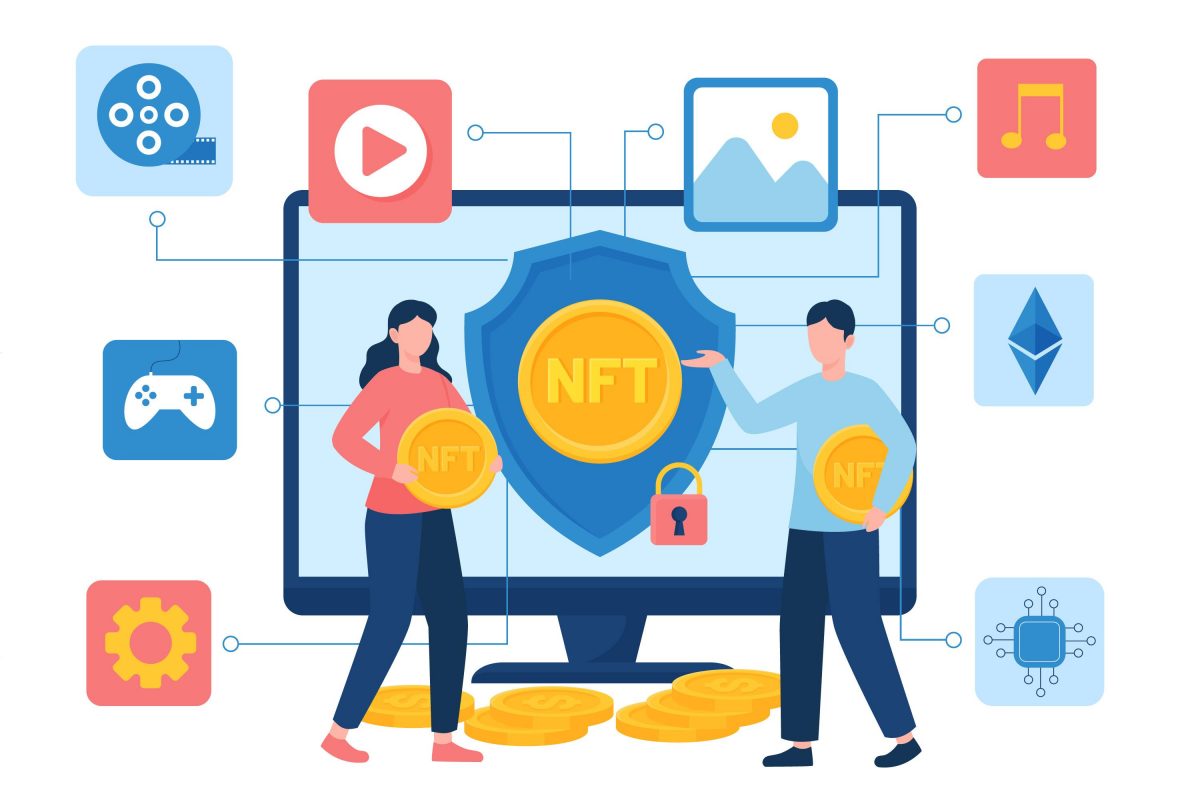 But what's new with staking? The boom of the NFT marketplace has paved the way for more DeFi projects to come in with new ideas. Just recently, we've discovered that you can now use NFTs to "farm." This also means staking your NFTs to earn an additional token. So, staking crypto and NFTs are great to do simultaneously. While NFT projects are working on this similar strategy already to garner more investors and holders, new DeFi projects are already doing it.
Honey.finance is one good example of DeFi that allows borrowing against your NFTs. The platform offers NFT Loans, Metaverse Liquidity, and NFT Pools. NFT Loans are simply borrowing loans using your NFTs as collateral. Metaverse Liquidity is all about helping Metaverse games become more financially resourceful within the digital world. Lastly, NFT Pools introduces instant liquidity by getting rid of the peer-to-peer paradigm.
#1: Look for a DeFi platform that allows NFT staking.
To start staking your NFTs, simply head to honey.finance, launch its app by clicking the button at the top right corner of the screen. You will be asked to connect your Solana wallet like Phantom. Honey Finance allows NFT staking for Solana-based NFT collections. Once you're in, you will see the "Farm" on the left side menu of the screen. You will now see the list of NFT projects that are live and completed. As of this writing, staking for collections such as Guano Pool, Girlfrens, and Cozy Cubs are still active.
#2: Select the NFTs you want to stake.
Like choosing the cryptocurrencies you want to stake, you select the collections you wish to lend to the platform. For example, if you choose Cozy Cubs from the list of live NFT projects, you have to click on it as displayed on the screen, and it will show how many NFTs you can stake. You can choose to stake one or all of your collections.
#3: Wait for the staking period to end.
To maximize your profits, wait for the staking period to end. At honey.finance, the period is short as it allows the staking of multiple NFT collections. So, for example, if you are staking your Cozy Cubs NFTs, you will have one week to stake your collectibles. The same applies to other collections. However, it will depend on the agreement between honey.finance and the specific collection.
#4: Earn cryptos!
Last but not least is earning cryptocurrencies in exchange for staking your NFTs. However, the rewards will depend on what the staking platform will offer. Using honey.finance as the same example, you will earn $pHoney depending on how many collectibles you are staking. This token is exchangeable to the platform's native token after its IDO. For some NFT projects, they are also offering their native tokens as your rewards when you stake their NFTs.
Staking crypto and NFTs is now possible. And the good news is that you can also stake the cryptocurrencies you are holding to maximize your digital resources. Whether you're a newbie in the space or not, staking will always be one of the easiest ways to earn from the crypto market.